Volunteer Spotlight: Nicole Pomerleau, '13
A teacher at heart, Pomerleau volunteers to impact NIU's SEED students
By Eva Richards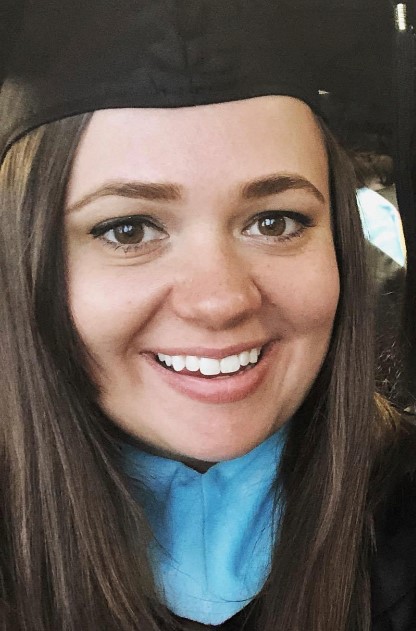 Nicole Pomerleau, '13, finds joy in serving NIU's Department of Special and Early Education as a member of its teacher panels and its Professional Advisory Council.
When she was growing up in Lake Zurich, Illinois, Nicole Pomerleau, '13, always knew she wanted to be a teacher.

"My parents love to tell stories about me lining up my stuffed animals to 'teach' them how to read," Pomerleau said.

Growing up, Pomerleau was a bit of an overachiever, with a passion for math and literature. With an eager work ethic, she volunteered often and held down part-time jobs while getting good grades in high school and participating in Student Council, National Honor Society, and a handful of other school clubs.

For Pomerleau, her high school years were a time of self-expression and learning about herself.

"Because I was a pre-teen and teenager in the early-aughts, I enjoyed experimenting with my style, donning nearly every color of the rainbow in my hair at one point or another," she said with a laugh.

Still, these years of self examination allowed her to pinpoint what she really wanted to do. After trying her hand at a few colleges, she came to NIU as a junior, with a defined focus and sense of purpose.

"I studied Special Education at NIU and simultaneously earned endorsements in middle grade social sciences, general sciences and English language arts," she said. "My time at NIU was one of the more formative times in my life in regards to my professional career, because it helped shape my work ethic in and out of the classroom."

Pomerleau felt the Special and Early Education Department (SEED) felt like home right away.

"Beginning at NIU as a junior led me to be more career-oriented than I had been previously, and I was able to take advantage of academic opportunities, including serving as a research assistant and conducting my own research with an Undergraduate Student Opportunities in Academic Research (USOAR) grant."

Since graduating in 2013, Pomerleau has been living the dream, serving as a special education teacher in a number of different roles, including as the instructional coach for special education for District 120 in Mundelein, Illinois. She is currently a candidate for a Ph.D. in teacher leadership at Concordia University Chicago.

"NIU helped shape how I problem-solve and ensure that students are provided support as dictated by their legally binding IEP," she said. "However, the most important lesson I learned is how to balance everything: How to enjoy life and still be effective and successful in the classroom; how to push myself and still feel supported by my colleagues and mentors; and how to ask for help and reach out a hand to help someone else."

As an alumni volunteer, Pomerleau has participated in quite a few activities, including several virtual open houses, NIU email communication workshops, 'Making Connections through Conversation,' the NIU Huskie Postcard Project and the NIU Alumni Admissions Letter Writing Campaign. She has also volunteered directly through SEED as a member of several teacher panels and as part of the department's Professional Advisory Council (PAC) meetings.

"Through the letter-writing campaign, I made a connection with a current NIU freshman, and we have had a handful of phone conversations about what it means to be a special education teacher and how to navigate being a college student," she said. "Participating in the SEED PAC has meant a lot to me, because my next goal is to be an adjunct instructor in classes that serve teacher-candidates, and I enjoy being a part of the conversations about the direction of the special education program."

For Pomerleau, looking out for future teachers and fellow Huskies comes as naturally as 'teaching' a room of her stuffed animals when she was a kid. Giving back is a part of who she is.

"I believe others should give back to NIU, because—as a public university—NIU offers an affordable, dynamic education that will provide a strong foundation to students as they enter their respective professions," she said. "Plus, it's fun! It is wonderful to experience the energy and excitement of young adults who are just at the start of something great."