Lizandra Gomez-Ramirez, J.D. '20, Helps the 'Underdog' as Assistant Public Defender
By Eva Richards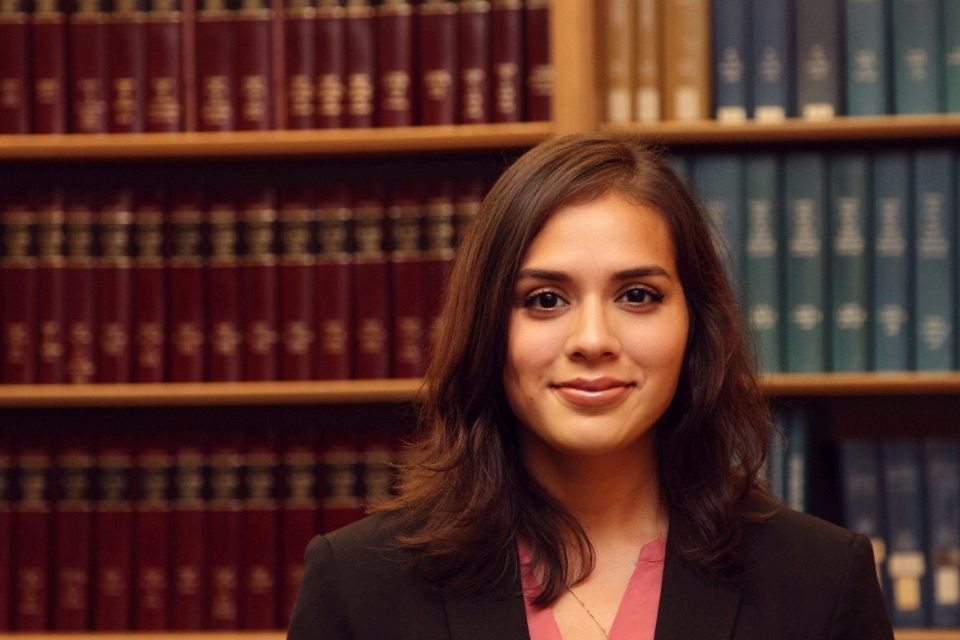 An idealistic person, Lizandra Gomez-Ramirez is a zealous advocate for her clients.
While growing up in Rock Island, Illinois, Lizandra Gomez-Ramirez, J.D. '20, was interested in understanding her identity as a first-generation Mexican-American.
"I focused on my family's migration story to Rock Island and understanding the racial landscape in the United States," she said. "Then, I had to piece that together to understand how I fit in. I am privileged to receive the education that I have, to have been supported by my family and my community. I was always interested in fighting for the underdog and making the world a better place."

That passion for her history, culture and fighting for those who need representation led Gomez-Ramirez to pursue a career as an attorney. A year after graduating from NIU with her J.D., she now serves as the assistant public defender in the same city where she grew up.

Her journey to the courtroom began nearly a decade ago. After high school, Gomez-Ramirez attended Augustana College in her hometown, earning degrees in political science and anthropology, with double minors in Latin American studies and sociology.

"I chose NIU Law because of its reputation as a public interest law school with small class sizes, and because it was affordable," she said. "I knew that I wanted to work in the public interest field and use my skills to help people. NIU Law was the exact environment I was looking for in a law school."

While in law school, Gomez-Ramirez had hands-on experiences that helped her develop the skills she needed to be a public defender, such as the opportunity to participate in the National Latino/a Law Student Association (NLSA) 2018 Moot Court Competition, the NIU Mock Trial Competition, the trial advocacy class, and the NIU Prisoner's Rights Clinic.

"I took a risk when I agreed to be on a team for the Latinx Law Student Association and compete in the NLLSA Moot Court Competition," she said. "I worked closely with my moot court partner and was coached by Professor Robert Jones. That competition and the training I got from Professor Jones was an epiphany for me, and I realized that I wanted to do litigation. From there, I did the NIU Mock Trial competition, and I took the trial advocacy class, which was challenging for me in a good way, and I learned a lot of valuable skills."

The NIU Prisoners' Rights Clinic was a great experience and a foreshadowing of Gomez-Ramirez's work as a public defender.

"I signed up for the Prisoners' Rights clinic because I wanted practical experience and the structure and guidance from the faculty," she said. "I have always been interested in social justice and civil rights. This clinic gave me real world experience and was a great way for me to use the skills I learned in my first two years in law school."

In her role as a public defender, Gomez-Ramirez does "a little bit of everything," from working on traffic cases, misdemeanors, and felonies. She also helps clients in Mental Health Court, a diversionary court where where a criminal offender joins a rehabilitation program to help remedy the behavior leading to the original arrest.

"On a typical day, I can guarantee that I will be in court for some part of the day," she said. "I will have client meetings, type up client meeting notes, and make counter offers to the prosecutors. A big part of my job is talking to the clients and working with them to find a resolution."

Because it is only Gomez-Ramirez's first year, she is still learning the law, doing research, and asking a lot of questions.

"I am lucky that I work with a great team of lawyers who are dedicated and passionate about being a public defender," she said. "I am looking forward to learning and becoming a better lawyer every day. Law school was a great experience, but I am so excited that I can finally do the work and advocate for my clients."

NIU influenced Gomez-Ramirez's success by the community that it provided her. She made lifelong friends, and the professors there were very involved and supporting. NIU's law school gave her an advantage in the job market because of its reputation as a public interest law school but also because it has a reputation of producing smart, dependable, and competent lawyers.

"This work is fulfilling to me because, since I was younger, I have always wanted to make the world a better place. I know how cliché that sounds, but I mean it," Gomez-Ramirez said. "I am an idealistic and stubbornly optimistic person. Law school was a necessary step in my career. I understand the structure and protections that the law provides, as well as the obstacles. Criminal convictions have drastic consequences on people's lives, and I can do my part by assuring that my clients have a zealous advocate for them."