Loyola Medicine's Peggy Norton-Rosko, '87, Joins NIUAA Board of Directors
By Eva Richards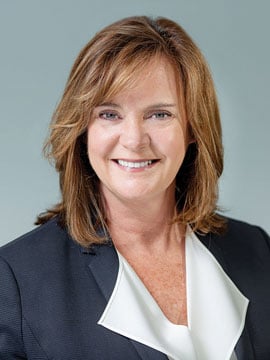 As regional chief nursing officer for Loyola Medicine, Peggy Norton-Rosko, '87, supports the many nurses who take care of the hospitals' patients.
Building a network of support has been a big part of Peggy Norton-Rosko's nursing career.

When Norton-Rosko, '87, moved into Stevenson North dormitory in January 1984, there were more people in her building than in her tiny hometown of Earlville, Illinois.

"My high school graduating class only had 23 people," she said. "I initially thought I would stay at NIU for a semester or two and transfer to a different school, but I really liked the big school atmosphere and felt fortunate to have been admitted to the very competitive nursing program, so I decided to stay."

Norton-Rosko graduated high school a semester early and started her college semester three days later! Since she was entering college a little younger than other freshmen, it was helpful that her two older sisters attended NIU at the same time.

"I come from a family with six kids, so there was always something going on," she said. "I was always very proud of my siblings and learned a lot from them."

A people person, Norton-Rosko got to know many of the other students in the program and the nursing students were very supportive of each other. This camaraderie stuck with her throughout school and the years after.

"The BSN nursing curriculum is a tough course of study, and moving into clinical rotations was very stressful for all of us," she said. "You could always count on another student to be there for you if you were anxious about some of your experiences."

The nursing faculty was also very supportive and available to help students, Norton-Rosko added.

"My favorite memory is the nursing pinning ceremony. All programs have a graduation ceremony, but the pinning ceremony is unique to nursing and has historic significance," Norton-Rosko said. "The pin is a historic symbol that identified educated women who were qualified to act as nurses and provide healthcare in society. It actually dates back to the 12th century, when knights who aided the sick and injured were given the Maltese cross to wear and, in more recent history, it commemorates the recognition that Florence Nightingale received when she was given the Red Cross of St. George."

While on campus, Norton-Rosko was active in the Student Nurse Organization and this experience helped her to know early on that she wanted to take on some type of leadership role.

"The education I received in nursing provided the best foundation I can imagine for a nurse starting out in the profession," she said. "The great thing about nursing is that you can do many different things wrapped up in one career without ever changing professions."

Like many in her field, Norton-Rosko started as a nurse in a hospital setting and worked many years at patients' bedsides, feeling privileged to care for them and their families at their most vulnerable times. Next, she moved into an advanced practice role, which provided her the opportunity to specialize in cardiovascular nursing while working very closely with nurses, leaders and physician providers to care for a complex patient population. After nearly 20 years, Norton-Rosko moved into a formal management position as the manager of an intensivw care unit. She held progressive leadership positions ever since. She currently serves as the regional chief nursing officer for Loyola.

Norton-Rosko notes the only title she likes better than "nurse" is "Mom, and she is a proud mother of three sons. Still, her caring and nurturing attitude extends outside her family to her nurses.

"My work as regional chief nursing officer for Loyola Medicine is an honor!" she said. "I really view my primary responsibility as taking care of our nurses who take care of our patients. My best days are when I get the opportunity to work with nurses on the frontline and the managers who directly support them. They teach me about what we need to do better to care for them and for our patients."

Her years of caring accountability have brought Norton-Rosko to a point in my career where she is able to identify the key influences that led to her accomplishments.

"My NIU education was the foundation for my career, and I want to give back and connect with other NIU alumni who are making a difference," she said. "Through my work as a board member, I hope to help raise awareness about NIU and the great education provided by the University.

"It would be great if my participation on the board can help new alumni make the connections they need to get their careers started on the right path."