Raymond Banks, M.S. '86, and Dr. Eric Erickson Raise Stakes for Huskies United
By Tony Scott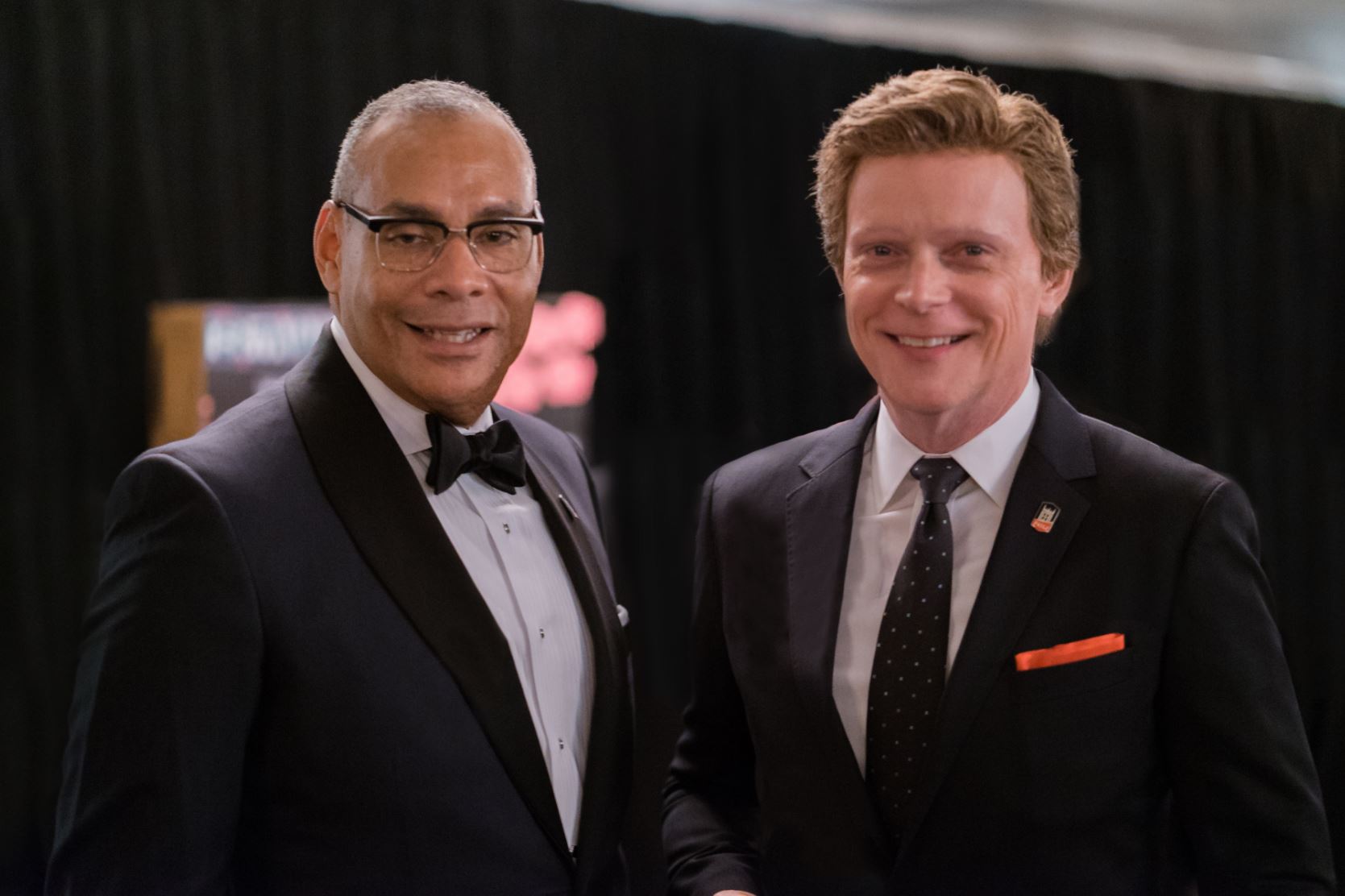 Banks (left), who earned an M.S. in geology at NIU, and his husband Eric Erickson have been demonstrating their passion for philanthropy for years through their Banks-Erickson Scholarship Fund.
Raymond Banks, M.S. '86, says when he and his husband, Dr. Eric Erickson, attended college, they each received a helping hand in the form of financial assistance, which allowed them to pursue advanced degrees and gave them greater opportunities. Giving back is a way they can be a force for good in the world, Banks says.

"We want young people to discover themselves as we did, to find out what they are good at and what they love to do, and to apply it to good endeavors that are right, just and better," Banks says. "Finally, we want young people to realize that the proverbial person 'who picks themselves up by their own bootstraps' is about as rare figuratively as they are literally. Everybody gets some help along the way. The most humbling three words you'll ever say are, 'I need help.' The most rewarding are, 'I can help.'"

Banks, who earned an M.S. in geology at NIU, and Erickson have been demonstrating their passion for philanthropy for years through their Banks-Erickson Scholarship Fund, which provides financial assistance to undergraduate students. They also have an enduring commitment to many other NIU funds.

But during the Huskies United giving day event, the couple is stepping up in a big way with their Banks-Erickson Huskies United Participation Challenge. When 1,000 gifts are made during Huskies United, a gift of $150,000 from Banks and Erickson will be unlocked into giving totals to support student scholarships.

"Eric and I had the opportunity to attend college and pursue advanced degrees because of financial assistance, probably granted by people we never knew but who also wanted some deserving student to have the same experience and opportunity that they had," Banks says. "We are simply the next extension of that ongoing goodwill and spirit of progress and enlightenment. We hope the students that benefit from our grants discover things about themselves, and the world around them, and learn to contribute to society in a positive way."

In 1961, Banks was born the seventh of eight children to Jack, a career army officer, and Gertrude Banks, a homemaker, in tiny Savanna, Illinois. As with many military families, Banks' family moved often. While his father was serving in Vietnam as a military adviser in 1964, the family moved to Oklahoma near relatives who were stationed at Fort Sill. From there, after his father returned from Vietnam, the family would move to Fort Sam Houston, Texas, West Germany, and Fort Sheridan, Illinois, before settling in for civilian life in suburban Park Forest, Illinois.

Banks' father is an American of African descent and his mother is white and is a naturalized U.S. citizen of German ancestry. Banks says that coming from a family that is both racially and nationally mixed made for some impactful life experiences. |

"My parents met when my father was stationed in France and Germany in the late 1950s," Banks says. "Following their marriage in Germany, my mother immigrated to the U.S. in 1960 when they returned stateside, and she became a naturalized citizen of the U.S. in 1967. My parents were very much pioneers in this regard, and it took great courage and love to get through the early trials, but they made it, separated only by my father's death in 1994."

Banks adds that the sad irony of his parents' relationship is never lost on him. They were able to get married in Germany, less than 15 years after the fall of Nazi Germany, but could still not be legally married in half the states in the U.S. in the late 1950s.

Banks says the experiences had a profound impact on his upbringing, especially since he was raised on military bases that had been integrated shortly after World War II ended and were considered safe for black people and multiracial families like his.

"My parents did a great job of sheltering us kids from some of the uglier sides of race relations in the 1960s," he says. "My father had to do his homework before we traveled by car and would usually go into an establishment while we waited in the car to find out if we would be welcome, especially at motels. Sometimes we would have to move on. I often think about the indignity my father had to endure. By 1967, he had already served his country for 25 years, was a veteran of WWII, Korea and Vietnam, and he was still being turned away from business establishments because of the color of his skin, sometimes in uniform. That said, my parents were always focused on the future and never allowed themselves or our family to get sidetracked. Things were getting better and things would be better, especially for us children, and they were and are better."

Banks says his family is tight-knit, and he says he never heard his parents utter a negative phrase about someone based on their skin color, religion, nationality or sexual orientation. Being raised in a house free of bigotry shaped his perspectives in adulthood, he says.

"I'm sure it has given me my more diplomatic approach to life and a tendency to solving disputes amicably which carried through to my career and made me a better negotiator in business, who people trusted," he says.

Banks' decision to come to NIU was happenstance, he says. In the summer of 1983, Banks was a student at Illinois State University pursuing his undergraduate degree in geology when he attended a field camp program in the Black Hills of South Dakota. At the time, ISU and NIU were running their field camps together. It was during the camp that he met Dr. Clarence "Clancy" Casella, one of the NIU professors who would become a mentor.

"Dr. Casella was great, he would point to an outcrop of rock and ask the group of students there with him some question like, 'what rock type is that; sedimentary, igneous or metamorphic? Or, what formation is that?'" Banks says. "And of course, being anxious students, eager to show how smart we are, someone would blurt out an answer. Then Dr. Casella would lay into us: 'How do you know? You haven't even walked up there and looked at the rock! Don't be lazy; walk before you talk.'"

Dr. James Kirchner, a professor at ISU, first approached Banks with the subject of graduate school, but at the time, it was not in the cards for him.

"I was the first generation on either side of my family to attend college," he says. "Just getting to and through undergraduate school was daunting enough financially for both me and parents. I did it with help from my parents, working summers and holiday breaks, and with student loans. When I finished undergraduate school, I was in debt and needed to get to work."

Banks was having trouble finding a job in the oil and gas industry at the time because many required a master's degree. So he swallowed his pride and got a job at the shoe store he worked at during high school and college after some encouragement from his father. Eventually, though, Banks managed to land a job as a lab technician at Mobil Chemical Company in Kankakee, Illinois.

It was during his time at Mobil he was contacted by Dr. Malcolm "Mac" Weiss, a geology professor at NIU, who asked if he would be interested in pursuing a graduate degree and working for him doing research in Utah. Banks had come highly recommended by Dr. Casella through the field camp program. After telling Dr. Weiss that he couldn't afford graduate school, the professor gave him some life-changing information.

"He told me that there are teaching and research assistantships that I could apply for that could offset the cost, and that got my attention," Banks says. "After securing a teaching assistantship, I made the decision to attend graduate school at NIU and to work with Dr. Weiss out in Utah. I would not have been able to do it without the financial assistance from the teaching assistantship, and I was amazed that Dr. Casella would remember me—much less recommend me—for such an opportunity. It changed my life. Because of Dr. Casella and Dr. Weiss, it will ripple into the future and help change the lives of our families and deserving students at NIU through the Banks-Erickson Scholarship, College of Liberal Arts and Sciences Advisory Fund, the Casella Field Camp Fund and the Malcolm P. Weiss fund, which we support."

By supporting those funds, Banks and Erickson ensure that the legacy of influential professors like Casella and Weiss lives on.

"Beyond getting me to NIU in the first place, Dr. Casella and Dr. Weiss were a constant source of wisdom and knowledge, encouragement, and friendship," Banks says. "Both were advisors on my thesis. One of the first things Dr. Weiss made me do was take a writing class. I protested, thinking my writing skills were pretty good, but he told me, 'No they're not; nobody comes here who can write well enough and if you're going to work with me, you're taking a class.' So, I took 'technical writing.' You know somebody truly cares about you when they tell you all the stupid things you are doing, not just the good, and neither of these gentlemen were shy in that regard. I gravitated toward the equally rough and refined edges in both men, and I guess they reminded me a bit of my own father, which was familiar. With Dr. Casella, it was more 'be brief, be bright, be gone.' With Dr. Weiss conversations were more nuanced, as we looked for ways to thread the needle. Both were helpful at the right times."