Rachel McBride, '13, M.S. '16, Named NIUAA's 2021 Outstanding Young Alumna
By Eva Richards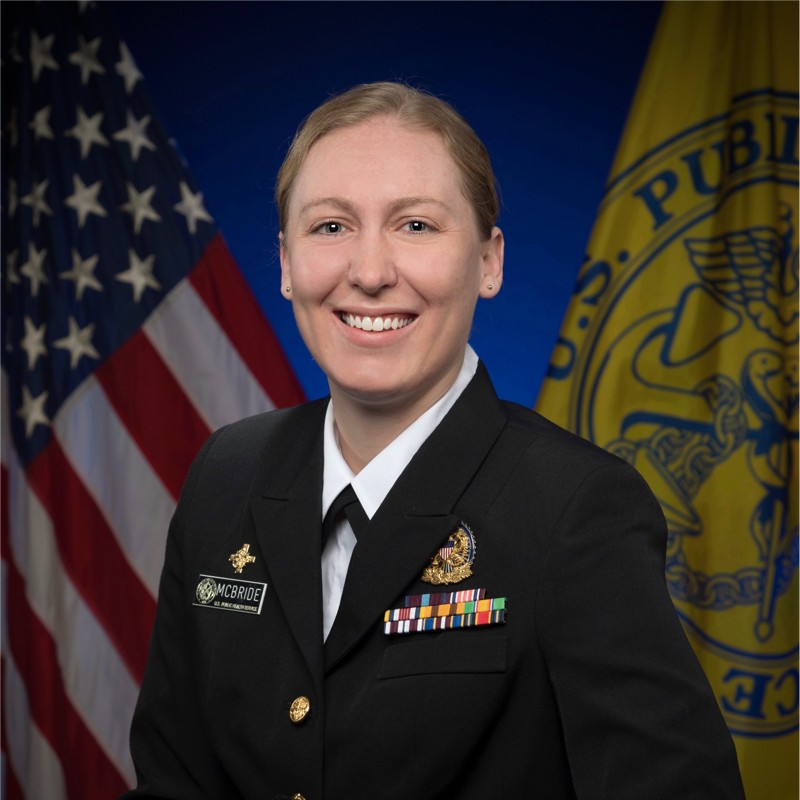 McBride, '13, M.S. '16, was recently selected to promote to the rank of Lieutenant Commander and serves as a training branch program coordinator at Commissioned Corps Headquarters in Maryland.
While on campus to study nutrition and dietetics, Rachel McBride, '13, M.S. '16, was not afraid to try new opportunities.

"I don't go the cookie cutter route. I looked to take unique opportunities, and then when I got there, I gave it my all," she said, referring to the risks she took and opportunities she carved out for herself during her career.

That adventurous and generous spirit resulted in an interesting and high-impact career "making the world a healthier place for people to live," along with being honored with this year's NIU Alumni Association's Outstanding Young Alumna Award.

McBride has never been one to follow the road most traveled.

After earning her master's degree in 2016, McBride looked for an opportunity with the Indian Health Service, which landed her on a Navajo Nation Indian Reservation in Arizona for nearly four years.

"I was brand new, and my supervisor embraced my enthusiasm and willingness to learn," she said. "I became a Certified Diabetes Educator, and I worked in the high school's teen clinic and other remote clinics. By the end of my time there, I was driving a mobile healthy living center to remote communities, where I would help solve nutrition-related problems for people who needed it. I would give diabetic foot exams, retinal screenings, and it was a super-unique opportunity."

For McBride, working on the Navajo Nation was about more than helping people get access to healthy food.

"It was an opportunity to learn about the Navajo culture and about a lot of the historical trauma and struggle that Native Americans have been through," she said. "They have been resilient in overcoming so many challenges, and my work was such a great opportunity to see that and live with them for a few years."

During her time in Arizona, McBride became a commissioned officer of the U.S. Public Health Service Commissioned Corps, which is one of eight uniformed services within the federal government, under the supervision of the U.S. Surgeon General and the Assistant Secretary of Health.

When COVID-19 took hold in the United States in February 2020, McBride was deployed to Travis Air Force Base in Solano County, California, for the quarantine of a cruise ship. She returned to the Navajo Nations just in time for a COVID-19 outbreak in her hometown of Tuba City, Arizona. Joined by CDC officers, National Guard and FEMA, McBride served the community, coordinating COVID-19 testing and counselling the community on how to stay safe through contact tracing.

"What a challenging experience! But it was incredibly rewarding," she said. "We were connecting with people from the community who were coming in and trying to provide glimpses of hope in a really dark time. We created a Public Health Department in response to COVID, and I never thought that I'd get to do something like that. We created standard operating procedures, policies, and began hiring all at a very challenging moment."

Most recently, McBride was selected to promote to the rank of Lieutenant Commander and serves as a training branch program coordinator at Commissioned Corps Headquarters in Maryland.

"I put on the uniform every day. Our uniforms look a lot like a U.S. Navy Officer's," she said. "When I was at NIU, I had never heard of the U.S. Public Health Service, and I didn't think the traditional military would be a good fit for me, but the Public Health Service definitely is!"

McBride credits her time at NIU for preparing her for a career in public health outreach.

"Of course, at NIU, my nutrition and dietetics classes were essential, and those were the things you have to complete and absorb as much as possible," McBride said. "But I am a kinesthetic learner, and all the experiential learning that NIU afforded and the mentors who help you navigate have prepared me for a lot of what I have done so far."

As an undergraduate student, McBride worked at Kishwaukee Hospital in DeKalb as a room service operator and at the Aurora, Illinois, Farmers' Market, connecting with the community, providing healthy recipes and working with other nutrition students. She also helped manage Ellington's Restaurant on campus, creating the menu and working with hospitality students to serve food to those in the community.

But it was not until she took part in a microfinance seminar led by NIU instructor and donor Dennis Barsema, as part of the Honors program, that McBride realized she had an opportunity to use her personal talents and gifts to help those who are vulnerable.

"I had a lightbulb moment in one of those seminars, that I should seek opportunities and pivot from more traditional dietetics and nutrition role to helping underserved populations," she said. "I didn't know what that would look like at the time, but I began to look for opportunities."

When McBride heard about Public Administration Professor Kurt Thurmaier's Tanzanian work trips, she felt compelled to be a part of it. Joining one of his teams, she worked to analyze a Tanzanian boarding school's menu for children, and her work showed why the schools' low-protein food offerings did not support the children's learning as well as possible. Because of her research, the schools' menus were changed.

"That project in Tanzania paved the way for me to get an internship with the United Nations in Rome," she said. "At NIU, you never know where the opportunities will lead you."

In Rome, McBride worked for the Food and Agriculture Organization, planning a nutrition conference for 60 people from many different countries. She earned great experience mapping school meal nutrition guidelines in developing countries.

After earning her B.S. in nutrition and dietetics, McBride began working toward her master's degree. While taking graduate courses, she had a research assistantship doing food and nutrition research with Northern Illinois Food Bank in Geneva, Illinois.

"That work was so practical and applied to a real situation with real people who could benefit. I really enjoyed that work a lot. That is really my passion," she said.

For McBride, it all comes back to connecting with people.

"It's so easy to get distracted with all the tasks you have to complete," she said. "I try to bring it back to the fact that, on the other end of our data—blood pressure, weight, blood sugar levels—there is a human being with feelings and a story."

Looking back, she says her non-traditional approach to a nutrition career all began as a Huskie.

"Doors continued to open because of the experiences I had at NIU, and in that way, it prepared me and gave me the platform to share my story, too."