Laura Skarnulis, '88, Named CEO of DANB and the DALE Foundation
By Eva Richards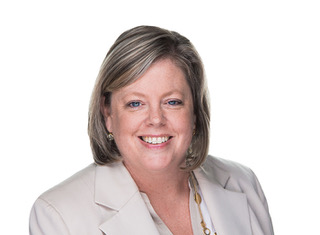 Laura Skarnulis, '88, will be the new CEO of DANB and the DALE Foundation. She previously served for more than eight years as the Chief Operating Officer (COO) of the American Board of Medical Specialties.
Laura Skarnulis, '88, learned to be enterprising at an early age.

As one of five children being raised by their single mother in Park Ridge, Illinois, Skarnulis was a social and energetic child, but she was expected to get her work done before she could have fun.

"I loved to be doing things, seeing people and going places," she said. "While I had many household responsibilities during my youth, as all of my siblings did, I would work diligently to get my chores and schoolwork done so I could do all the fun things I had on my list. One of the fun things I remember was starting a club with the neighborhood kids. We distributed a neighborhood newsletter that we sold to families on the block to raise money for our clubhouse décor."

Skarnulis held different jobs since she was in eighth grade, including caddying at the local country club until her senior year of high school.

Skarnulis had always thought she wanted to be a teacher when she grew up because she liked to be the person in front of the room, teaching, engaging and grading papers. That changed when she took a bookkeeping elective class in high school.

"I found happiness and a strange sense of satisfaction in creating payroll journal entries on a 13-column ledger pad," Skarnulis said. "That class led me to pursue accounting as a college major and follow in the footsteps of one of my older brothers. Even today, I have been known to pull out a financial statement to read occasionally, if I need to find my happy place."
When she came to NIU in the mid-1980s, the rigor and process for admittance into the College of Business and the Department of Accountancy required discipline, focus and time management skills – all of which Skarnulis has drawn upon throughout her career. The NIU Certified Public Accountant (CPA) exam-preparation course took hard work and preparedness to the next level.

"Throughout my time at NIU and as an accounting major, I was exposed to a wide variety of experiences and learning opportunities. I was impressed with the business acumen and the intellectual capital of the professors and educators, as well as engagement and intellectual curiosity of my fellow students," she said. "Exploring all facets of business and leadership was encouraged, and I learned to look at problems and issues holistically and from a varied, diverse perspective."

Skarnulis noted that NIU provided her with the opportunity to engage with individuals from across the country, as well as those with viewpoints from across the spectrum of specific topics. This would become an immensely valuable foundation for establishing her leadership style and philosophy.

Skarnulis's accounting experience speaks for itself. After earning her Bachelor of Science degree in accountancy and passing the CPA exam, Skarnulis started her career in public accounting at Grant Thornton. She went on to work in a variety of finance and operations positions, including as senior financial analyst at World Book, chief financial officer (CFO) consultant, CFO and senior vice president of finance and administration at the Arena Football League and its affiliate af2, and CFO and COO for the United Way of Metropolitan Chicago.

Most recently, Skarnulis served as the COO of the Association of the American Board of Medical Specialties (ABMS), an organization that establishes the certification and continuing certification standards for its 24 Member Boards, certifying more than 920,000 physicians in one or more of the 40 specialties and 87 subspecialties offered. Under her leadership, ABMS successfully created and launched an innovative longitudinal assessment platform that both transformed the user experience and delivered exceptional customer satisfaction. She also created ABMS's first diversity, equity and inclusion initiative focused on addressing systemic biases driving inequities of healthcare delivery, while concurrently serving as the leader of the organization's pandemic response to COVID-19.

In addition, Skarnulis was named a 2019 Notable Woman in Healthcare by Crain's Chicago Business and was a finalist for the Financial Executives International's CFO of the Year award in 2012.

In August 2021, Skarnulis will begin her next adventure—joining the Dental Assisting National Board (DANB) and the Dental Advancement through Learning and Education Foundation (the DALE Foundation), DANB's official affiliate, as the organizations' new CEO.

"Initially, I will spend my time learning, listening and sharing," she said. "It is as important to gather a solid understanding of an organization's history, its perception and its beliefs about itself as it is to obtain the same from external stakeholders and constituents."

Always the diligent worker, Skarnulis looks forward to helping to create the blueprint for the future strategic and growth goals to advance the dental assisting profession and the organizations' efforts to improve oral healthcare.

"There is a strong foundation established at DANB and the DALE Foundation," she said. "My goal is to build upon that and begin the process of setting a focused strategic direction for the future. Over the past 20 years, I have found that I truly thrive and make the most impact in organizations whose mission is to improve the lives of people and communities.

Skarnulis is excited about the many opportunities to advance dental assistants and others in the oral healthcare profession through innovations in assessment, collaboration/partnerships and educational offerings.

"Board and staff leadership are enthusiastic about the future, which was important to me as I accepted this role," she said. "I am excited to join this talented team of professionals as we work together to achieve our collective goals."