First-Generation Huskie Chuck Morgan, '54, M.S.Ed. '60, Reflects on Four Decades of Teaching
By Eva Richards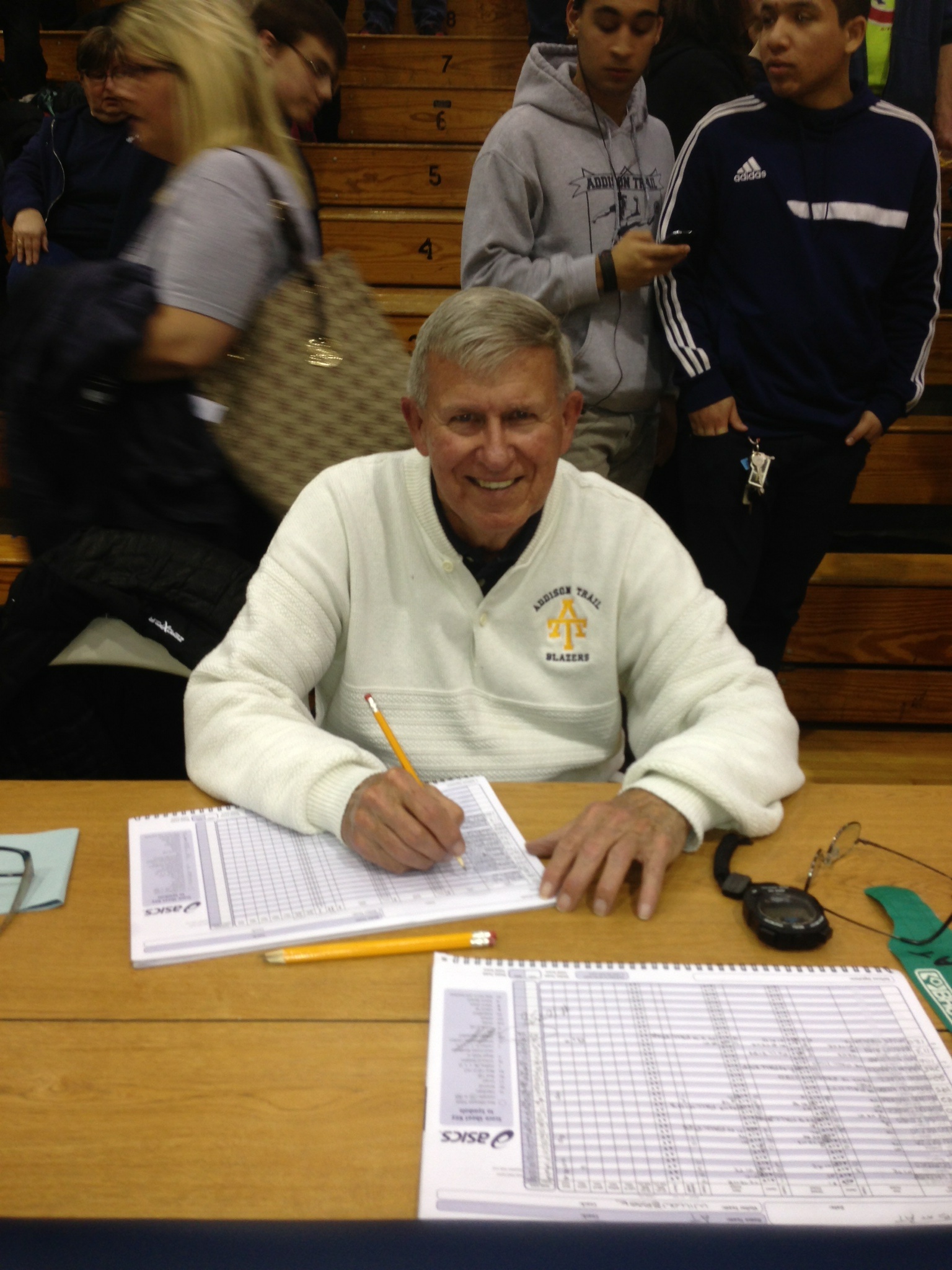 Chuck Morgan keeps score at an Addison Trail High School wrestling match. Even though he is retired from teaching, he still finds ways to help students.
When Chuck Morgan, '54, M.S.Ed. '60, enrolled at Northern Illinois State Teachers College, he had a new-found focus on becoming an educator.

"I had no idea what I wanted to do until my senior year in high school," Morgan said. "It was then that I thought about the good teachers and the bad teachers I'd had for the first 12 years of my education, and I decided I wanted to be a good one."

The first in his family to go to college, Morgan immediately made the most out of his time on campus, joining the track and cross-country teams, as well as helping establish the Delta Eta chapter of Tau Kappa Epsilon.

Morgan found mentors and friends on campus—two things that forever changed his life.

"Coach Carl Apell, my track and cross-country coach, taught me to always work hard and to never accept failure," he said. "He was the kind of man you'd run through a wall for and be happy doing it."

In recent years, Morgan helped to raise funds for the red granite boulder outside the entry to the new track stadium in Coach Apell's memory.

After graduating with his bachelor's in education in 1954, Morgan spent two years in the army before coming back to campus to pursue his master's in education.

It proved to be a wise decision in more ways than one.

"One day when I was sitting in the Swen Parson library, this young lady walked in and, as they say, the rest is history."

Not long after, he married Alice (Beach) Morgan, '58, and the couple have now been married for 63 years.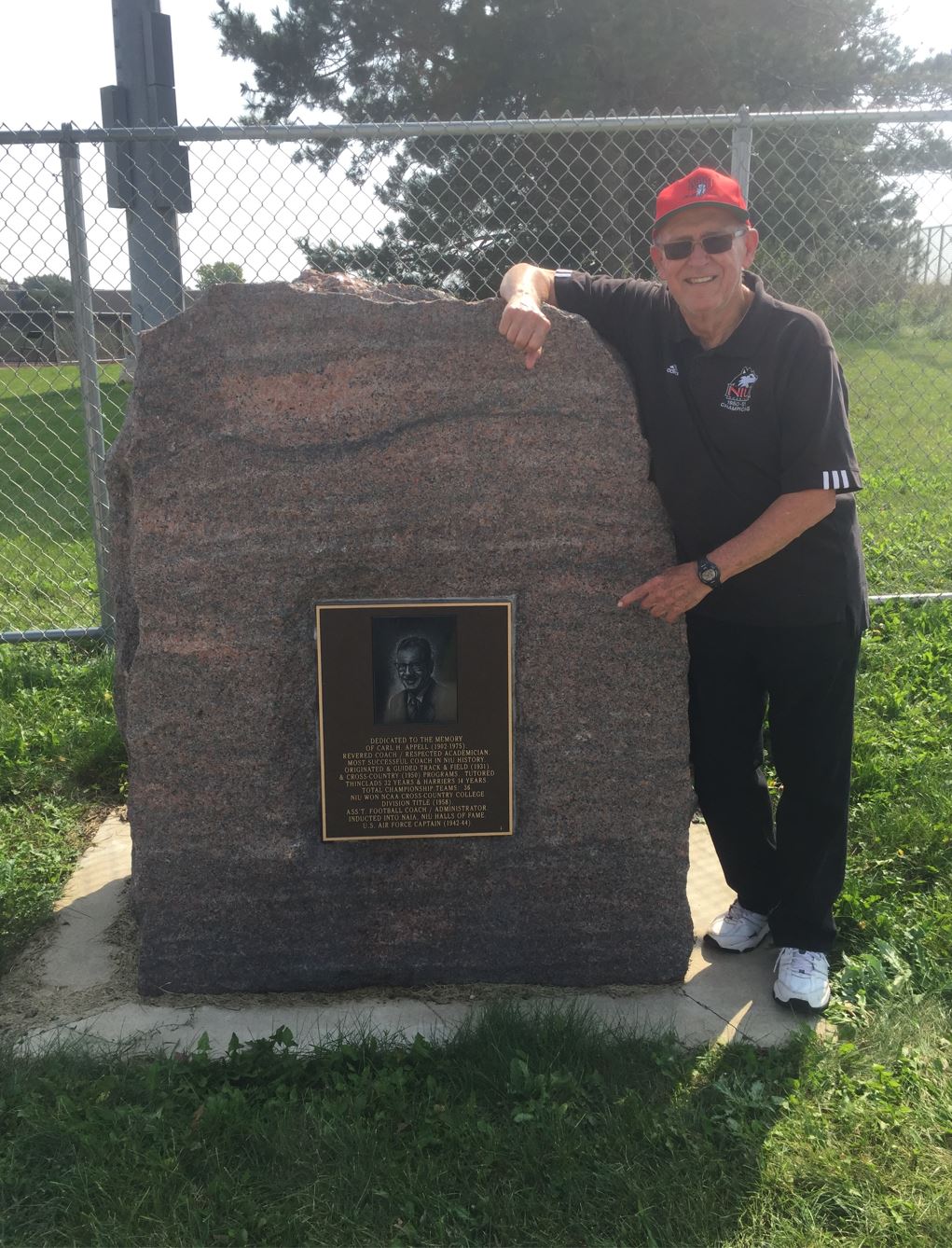 Once Morgan earned his master's degree, he went on to teach in a junior high for nine years before moving on to teach economics at Addison Trail High School in Addison, Illinois, where he would work for more than 30 years. Always dedicated to being "one of the good teachers" for the students he taught, Morgan would arrive an hour before classes started each day, teach six periods of economics and then coach after school.

"My number one priority was to teach my students how to think, and I did that through the use of economics and during my coaching career coaching as a state champion coach for girls' track," Morgan said. "Probably the top thing I found fulfilling about teaching for 40 years was getting the kids to think. I had a favorite saying, and it was 'I don't know doesn't go.' I told them to think and give me an answer. Even if it was wrong, I knew they were thinking."

Morgan's commitment to his work made an impact on his students.

"The most meaningful story I can remember was about a girl I had in class and on my track team," he recalled. "She was a hard worker and had five state medals in track. After she graduated, I hadn't heard from her for a few years. One night, I got a phone call, and when I answered, a voice said 'Hi, Coach.' I knew right away who it was. When I asked her how she was doing, she answered 'I'm in the hospital.' After an 'oh my God!' moment, she said, 'Don't worry, I just had my first child, and I wanted you to be the first to know.' That's what I call a relationship! And, to this day, we still get together after 39 years."

Now retired, Morgan's heart is still with young people who are trying to find their way in the world. At 89 years old, he still works as a volunteer girls' track coach at Downers Grove North High School in Downers Grove, Illinois.

"I want young people to know that it's important to work hard at getting a good education, but at the same time, to have fun because it will one of the best times of your life," he said. "I am proud of the years I spent at NIU and like to share my memories with others. Northern was a fantastic success for me academically, socially, and athletically, so obviously it helped me in my teaching and coaching."