Renee Powers, M.A. '12, Promotes Social Justice Through Feminist Book Club
By Eva Richards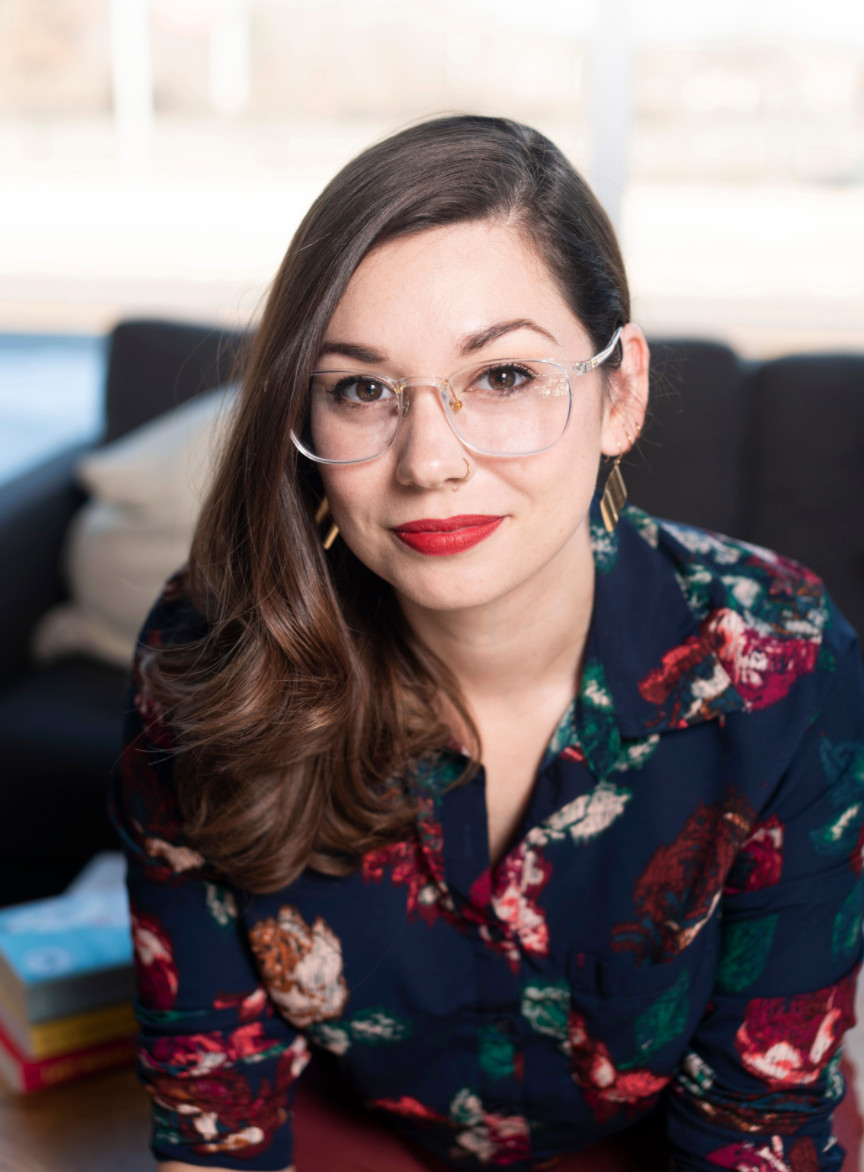 Renee Powers, M.A. '12, credits her NIU education with teaching her how to teach, how to research, how to ask questions, and how to trust herself. "The questions they encouraged me to ask about the world provided a framework for the work I do today," she said.
Renee Powers, M.A. '12, was once an overachieving, artsy kid who loved school and spent most of her spare time doing theatre, singing in choirs, reading books, journaling, or working at the local frozen custard shop in her home town of South Bend, Indiana.

"If TikTok were around back then, I would've been obsessed," she said with a laugh.

However, her creative tendencies morphed into more serious ambitions and a drive to build something she was proud of, from the ground up.

"I've always been an early adopter of communication technologies, such as blogs, podcasts, and online communities," she said. "I knew I wanted to work for myself but I wasn't quite sure how to get there."

After earning a bachelor's degree in gender studies and communication studies from Saint Mary's College in Notre Dame, Indiana, in 2008, Powers began interning for several politicians. That work led her to a job in Joliet working for a congresswoman, but when she was ultimately disappointed with her role, she decided to pursue a graduate degree.

"I started looking for programs that felt like a good fit for me," she said. "I visited NIU and met with a professor in the Department of Communication and knew it would be a great next step. When I started the M.A. program, I felt like I had found my people. They were interested in the same questions I wanted to ask and saw the world through a similar lens."

Powers credits her advisory committee—Dr. Mehdi Semati, Dr. Kate Cady, and Dr. Robert Brookey—for pushing her to think even more critically about media and technology.

"The questions they encouraged me to ask about the world provided a framework for the work I do today," she said.

After earning her master's, Powers taught classes in communication studies at University of Illinois at Chicago, managed social media for small businesses, and worked for clothing subscription box company Stitch Fix, all while dreaming up what her next big step would be.

"Once I was out of school, I knew I wanted to read more fun books, not just school books," she said. "I had recently moved to Minneapolis, so I started an online book club with my friends in Illinois, which slowly began to grow, as more friends of friends were invited. It dawned on me that, although there are a number of book subscription boxes on the market, none of them are solely focused on reading through a social justice lens."

In fact, Powers' background working for Stitch Fix, her degrees in gender studies and communication studies, a graduate teaching certificate from NIU, racial justice facilitator training from the YWCA, and a penchant for new media technology, made her uniquely qualified to create her next venture—a feminist-focused, book subscription box.

"I bought the domain and launched Feminist Book Club in July 2018 and learned a little more each month," Powers said, adding that she strived to learn as much about the business end of her new company as quickly as possible. "Thanks to small business incubators and accelerators like WomenVenture, Lunar Startups, and most recently, the Tory Burch Foundation, my business knowledge has grown leaps and bounds, and I'm finally comfortable calling myself the CEO of this business."

Today, Feminist Book Club is the premier online hub for intersectional readers and anyone who wants to infuse social justice into their bookshelf. Powers seeks to highlight other woman-owned businesses each month in addition to feminist literature because "we know that when women lead successful businesses, the money they earn is more likely to be invested in their communities through livable wages, sustainable goods and ethical practices."

When someone subscribes to the Feminist Book Club subscription box, not only are they supporting feminist literature, but they are also supporting several small woman- and queer-owned businesses at once. Each box features two or more carefully curated products from businesses the company admires.

In true non-hierarchical feminist fashion, members have the opportunity to suggest titles for an upcoming box. Members then vote on these suggestions to determine which book will be in the next box. Each month, the members connect via Zoom to discuss the books and invite the authors to participate. Subscribers also get the opportunity to connect with other members all over the world through the club's Slack and Facebook groups.

Ultimately, Feminist Book Club is more than a book club, and it is more than a subscription box service.

"We're a full-blown media company with about 20 creators who contribute to our blog, podcast, and high-quality social media content," Powers said. "Over the next few years, I would love to lean into our content to establish ourselves as the go-to resource for all things intersectional feminism, social justice, literature and media."

In the last three years, Feminist Book Club has made a splash, earning ringing endorsements from O, The Oprah Magazine, Cosmopolitan, Marie Claire, Glamour, and Shondaland, among others. Recently, Powers was recognized as a 2021-2022 Tory Burch Foundation Fellow. Burch, an American fashion designer, businesswoman and philanthropist, broke the good news to Powers herself.

"I am humbled that of over 1,000 applications, I was one of 50 woman entrepreneurs selected for this competitive fellowship," she said. "It means so much to me that Tory Burch and her staff believe in me and my business, as I've admired her from afar for so long."

Still, even as Powers enjoys her growing success, she credits NIU with giving her the skills to finally be the social justice changemaker and entrepreneur she aspired to be.

"At NIU, I learned how to teach, how to research, how to ask questions, and how to trust myself," she said. "It was a pivotal two years of my life, and I am eternally grateful for my M.A. experience!