Eric Caliendo, '91, Shares "The Chicago Experience"
By Eva Richards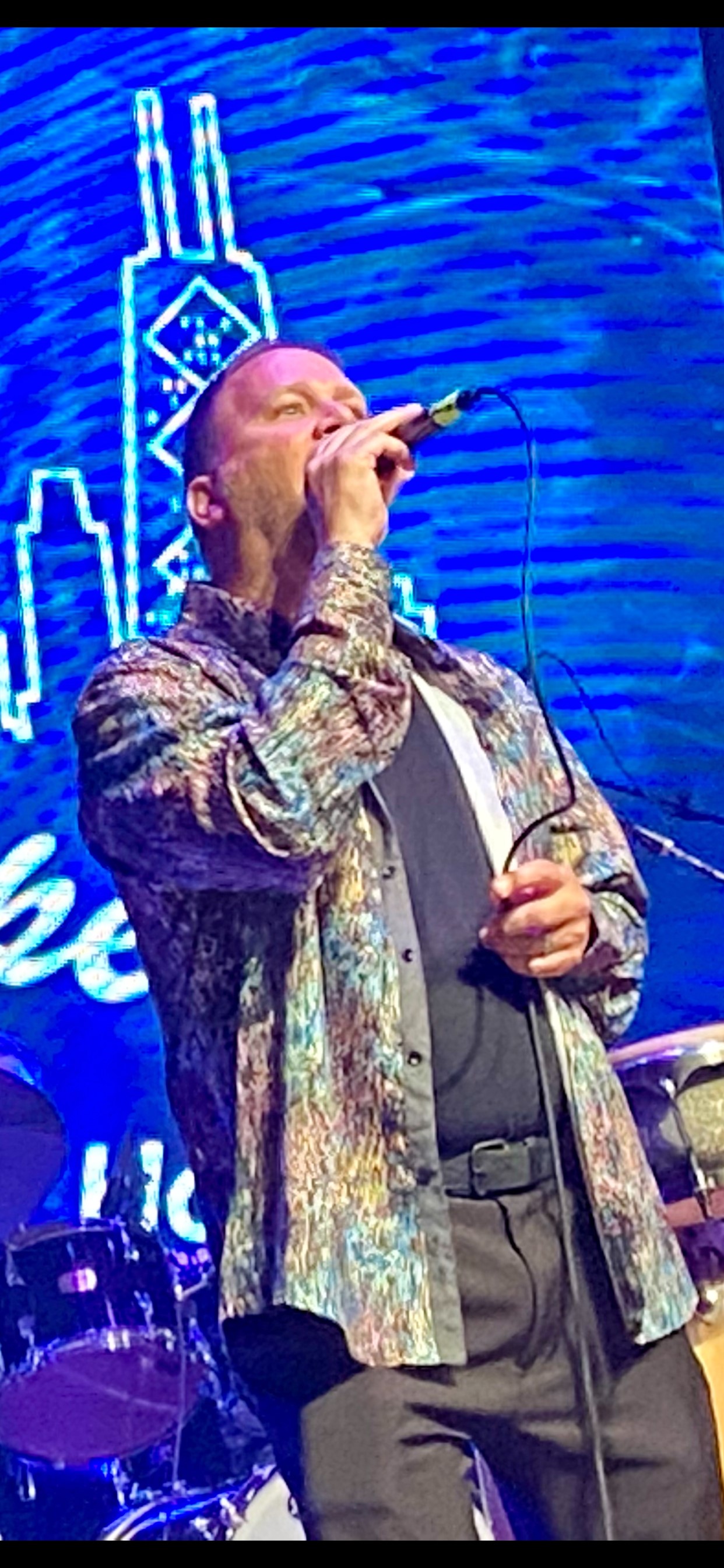 Eric Caliendo is a lead singer of The Chicago Experience, a Chicago tribute band.
When Eric Caliendo, '91, earned his bachelor's in music education, it was no surprise when he began a career as a music teacher in Schaumburg, Illinois. Today, as the band director at Jane Addams Jr. High School in Schaumburg, Caliendo has been teaching in the same district his entire 30-year career.

Still, even while he pursued a more practical music occupation, he could not resist the lure of the stage.

"Even though teaching is my main profession, I have been in one rock band or another, sometimes multiples at the same time, ever since that first band in high school," he said.

Most recently, Caliendo joined as a lead singer for "The Chicago Experience," a tribute band that transports audiences back to the horn-centered rock sound of the band Chicago.

"I am actually the newest member of the band," Caliendo said. "I was asked to join the band a little over a year ago when their former singer relocated to a different state. There are three lead singers in this group to recreate the sound of Chicago's original singers Robert Lamm, Peter Cetera, and Terry Kath. I am the 'Terry Kath singer' for The Chicago Experience."

He says the best part of playing in The Chicago Experience has been the level of attention to detail with everyone in the group.

"We take great pride in recreating the wonderful music of Chicago and work very hard to get things tight," he said. "It has been so much fun recreating the great Chicago harmonies with the other two amazing singers, Brian Hemstock and Ron Brandt."

While the pandemic slowed the bands performance momentum, they are now scheduling shows for the summer and fall.

"Our coolest gig so far that I have been involved with The Chicago Experience was when we got to 're-open,' the Arcada Theater in St. Charles, Illinois. We were the first show back after COVID-19, and it was a blast getting to play on that great stage with a wonderful audience cheering us on."

Growing up in Hoffman Estates, Illinois, he was always interested in music, as his father was a junior high band director and also played keyboards, trumpet and sang in a rock band.

"I was brought up in a musical family," he said. "I had a rock band practicing in my house my entire childhood. I was blessed to be able to perform with my dad and my sister, Kristyn Reed ('96), in a band called the Ultimate Party Band for over 20 years before my dad passed away a few years back. I think of him every time I am on a stage performing or directing a band."

Caliendo started playing piano when he was in second grade and then added the trombone in fifth grade before adding singing and playing keyboards in a high school rock band called Double Exposure when he was 15.

When it came to where he would go for college, Caliendo said it was a no-brainer.

"The main reason I ended up at NIU was because of the trombone teacher there at the time, Dr. Paul Bauer," he said. "I had studied with him in high school when I was in the M.E.R.I.T. music program in Chicago. He was a great teacher, and the reputation of NIU's music program was highly regarded. He was a music education major but was able to get a ton of performing experience, as well, with the NIU Wind Ensemble, NIU Jazz Ensemble, and the Huskie Marching Band. The Jazz Ensemble under the direction of Ron Modell at the time was an intense performing group, and we got to play with a multitude of amazing guest artists when I was in the band."

Getting to play with pro musicians like Louie Bellson, James Moody, Jon Faddis, Slide Hampton, Carl Fontana, Bob Mintzer and Clark Terry, to name just a few, gave Caliendo an incredible look into what it takes to be a successful performer for a living. Many of the lessons he learned playing there he still uses in the classroom and when he is performing.
"NIU definitely prepared me for both of my careers—teaching, and performing," he said.

Another important aspect of Caliendo's college years was his participation in the NIU Marching Band.

"I absolutely loved being in the marching band at NIU. While I had amazing performing experiences in the music building, there was a difference playing with the marching band students, many of whom were not music majors. Getting to see students who just loved making music and performing with the marching band but weren't making a career out of it definitely helped me as a teacher, as most of my students are not going to be professional musicians."

Caliendo tries to instill the sense of pride and family that he learned as part of the NIU Marching Band into the junior high students he teaches.

"My most valued friendships from college came mainly from the marching band," he said.

Caliendo's daughter Nina and stepson Andrew are both in the current NIU Marching Band, and it has been a great opportunity to revisit this part of his life through their performances. He also performs with the Marching Band Alumni Council each Homecoming, allowing him to play with old friends and current band members.
As part of a tribute band for a legendary Chicago favorite, Caliendo gets to experience the fun of an enthusiastic fanbase and the buzz of live performance.

"Performing music for live audiences is one of my most favorite activities in life," he said. "While I have performed as a trombone and keyboard player for multiple groups, singing has always been my favorite position for my rock band life. The Chicago Experience gives me the opportunity to focus entirely on vocals and everyone in this group is at the top of their game and so much fun to perform with."

His personal goal with this band and any group he performs in is to do the music justice and put on the best show possible every single time he steps on a stage, no matter where it is or who he is playing for.

"It is also important for me as a teacher to be able to draw from my performing experiences to help my students become the best performers they can be," he said. "Frank Bibb, the marching band director when I was at NIU taught us from Day 1 to 'Give 110% effort 100% of the time.' That has served me well in all of my 'careers.'"