Greenwood Project's Elois Joseph, M.B.A. '15, Helps Minority Students Thrive in Finance Roles
By Eva Richards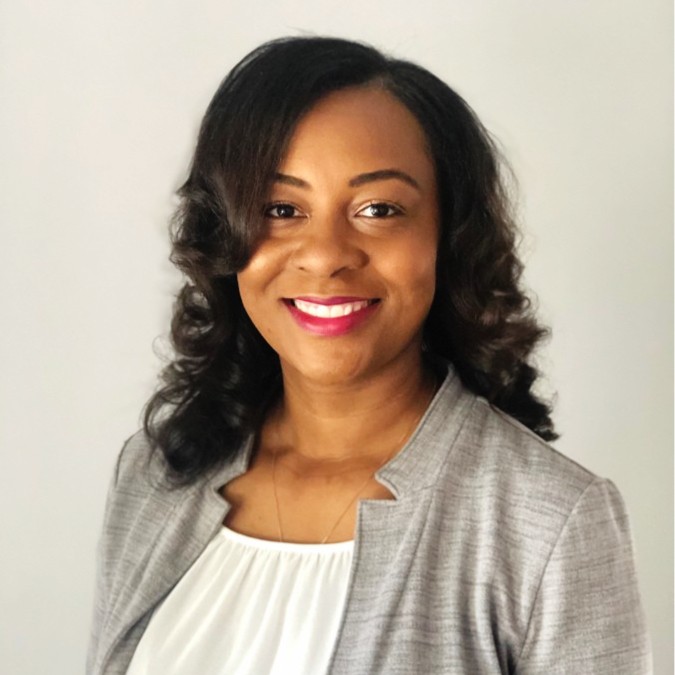 After more than 20 years in the financial industry, Elois Joseph, M.B.A. '15, helps Black, Latinx and women students to get a foot in the door at large financial companies through her nonprofit, Greenwood Project.
When Elois Joseph, M.B.A. '15, was growing up on the west side of Chicago, she did not realize her community was what others would consider "underserved."

"As a child, I didn't know or understand what it meant to be from an underserved community," she said. "I just knew I felt loved, supported and protected by my family, neighbors, and Lawndale Community Academy teachers, and I had a ton of friends."

In her early years, Joseph was very active in extracurricular activities, such as her school's Orators Club and other programs designed for high-achieving students.

"I was always interested in speaking," she said. "I was the teacher's pet. I remember, I went to the principal's office every morning to go on PA system and say the Pledge of Allegiance."

Even with uncovering her speaking talent, Joseph had no idea what she wanted to do in the real world when she grew up.

"You can't be what you can't see," she said. "In our neighborhood, there were not a lot of finance professionals. What I saw was very limited, like we might have seen postal worker, hospital workers, bus drivers, teachers. I would have never dreamed that I could do what I am doing now."

When Joseph graduated high school, she knew her family expected her to go on to college, but being the first one in her family to attempt college meant that she had little guidance on how to enroll, select courses and a major, and adapt to college life.

She enrolled at Columbia College in Chicago to study journalism. In the first semester, she tried classes that sounded fun and interesting—like Japanese—but they were difficult, and her grades reflected her struggles.

"I didn't understand how my choices that first year would impact my GPA, and I didn't understand what credit hours were needed for classes that pertained to my major," she said. "Then, my sophomore and junior years, I had some 'a-ha moments.' I was wiser and began to understand the importance of selecting classes that aligned with my major."

During her second year of college, Joseph began working at the Chicago Board Options Exchange (CBOE). She had no previous introduction to the finance industry but completed an application because she needed a job. This was in 1997, when the minimum wage was $4.25 an hour. The CBOE paid upwards of $10 an hour! When Joseph earned her degree in journalism, she was disappointed by the starting pay was for entry-level journalism jobs. It was much, much lower than what she was making at the stock exchange and decided to stay.

Over the next 20 years, Joseph held different roles for multiple trading firms, obtained a number of financial licenses such as the Series 7, Series 63 and more, and eventually became a compliance officer. Eventually, she realized that she had grown as a financial professional but lacked the skills needed to catapult her into senior and/or executive-level roles.

""Even though I had extensive trading floor experience and licenses, I felt like my leadership and organizational skills were underdeveloped,"she said. "I decided to go back to school. I looked at different schools—University of Chicago, DePaul and NIU. I realized the quality and accreditation at NIU's M.B.A. program was the same as a school like DePaul, or even Harvard, even though it was a fraction of the cost."

Enrolling in NIU's Saturday Executive M.B.A. Program was a perfect match for Joseph's busy schedule.

"It just worked," she said. "I started the program, and I was able to implement skills learned during class time immediately. It was amazing. By the time I earned my M.B.A. in 2015, I had learned so much in the program about organizational management, responsibility for training, development, leadership and the culture of a company. I was able to effectively communicate my value to the hiring managers during interviews, which is something I couldn't do at before attending NIU. I clearly communicated my value, and I started getting offers left and right."

In 2017, Joseph landed her dream job as a senior examiner for a major financial regulator. At the same time, Elois and her husband created the Greenwood Project based on their experiences as Black professionals within the financial industry. An organization with a mission to expose, educate and immerse Black and Brown youth in the finance industry.

For Joseph, it all came down to what he had experienced a child in inner-city Chicago—"You can't be what you can't see."

"The financial industry is a white-male-dominated industry, and all through my 20-year career in finance, I was one of only a few women and often the only Black person in the company. My husband was having that same experience in New York. We started wondering, 'Why is it that we know so many smart kids who are not going into this industry?"

Joseph knew that many young people she spoke with were either intimidated by the industry because they "don't like to do math" or simply had no awareness or access to the financial industry. What so many talented individuals fail to realize is that there are so many jobs in the industry that do not rely on math, like communications, compliance, marketing, legal, education, advising and more. The Josephs decided to put their hearts, souls, and savings into their startup nonprofit—Greenwood Project—with the goal of exposing students to the trading floor and education and immersing them in the skills needed to do well in that world.

"Today, five years later, Greenwood Project has served approximately 400 students, and it continues to grow." she said. "We have partnerships with 40 financial institutions, including the NASDAQ, Peak 6/APEX Clearing, Cboe Global Markets, and William Blair & Company. These companies invest in us to identify and professionally develop potential future hires—women, Black and Latinx talent."

As part of the program, students participate in four weeks of summer training and learn how to interview, how to create a resume, how to dress and how to conduct themselves professionally.

"I teach them about Outlook, how to send a proper email, and everything I wish someone had taught me back when I was 18 or 19 years old," Joseph said.

The program also includes a boot camp-style accounting program and finance training, which is open to all majors, to help them understand the basics. Once a student passes the four-week program, they go into an internship with one of Project Greenwood's partner firms—a priceless experience for any young person. In addition, the program pays the students an hourly stipend, plus resources like professional clothing, to come and learn.

"We want to remove any barriers a student has to get to our classes and to get into the financial industry," Joseph said. "I have removed those barriers because I know what it feels like to have no guidance. I know how it feels to have ill-fitted for interviews, so we give them all that they need."

The Greenwood Project has also begun a high school component, where students have opportunities to learn about careers in financial technology (FIN-TECH) and financial literacy from experts over a six-week period in the summer.

"We pay those students, as well, and so in a way, we are keeping these kids off the street," she said.

Due to the pandemic, the Greenwood Project began a national pilot program, which will connect students from all over the country virtually.

With the success of Project Greenwood, Joseph often considers where she came from and the opportunities her NIU education afforded her. Because of her affinity for her alma mater, she is an ambassador for the College of Business, and she will teach a foundational business course for NIU in the fall.

"My M.B.A. education equipped me with the skills needed to help create and build the Greenwood Project," Joseph said. "I took all that training and used it to make critical decisions to build our organization. A lot of students ask me if they really need to attend a prestigious Ivy League school to do well, and I tell them that is the biggest myth out there. Education is the first step. It's what you bring to the table, and how you communicate your value that makes the difference."

"I have equivalent skills and competencies as a person who went to a high-priced prestigious school—maybe even more—and I know how to communicate my worth."