Heather McGuire, J.D. '09, to Bring Growth, Improvements as City Admin
By Eva Richards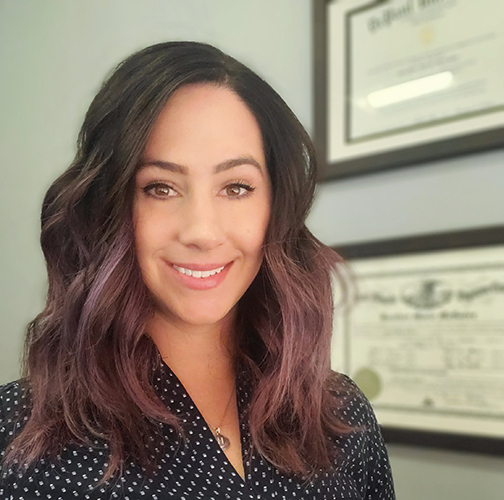 Heather McGuire, J.D. '09, recently became the city administrator for the city of St. Charles, Illinois.
In her new role as city administrator of St. Charles, Illinois, Heather McGuire, J.D. '09 says her daily work is somewhat chaotic, but she would not have it any other way.

"Every day brings on new projects and challenges to work through," she said. "Many of my friends and family do not really understand what a city administrator does, so I liken it to the chief administrative officer of a business."

The city administrator oversees all the city departments, inlcuding public works, utilities, police, fire, economic development, finance and human resources.

"One of the things I enjoy most about my job is the diverse issues with which I am tasked," McGuire said. "I can jump from discussing a flooding issue in a residential neighborhood, caused by a massive rain event, to negotiating with a developer to bring a large business into the city. Every day brings something unique, and I enjoy both learning about and figuring out solutions to problems—especially when, most of the time, the problems are impacting the residents."

McGuire hopes to carry out the vision of St. Charles Mayor Lora Vitek and the city council, bringing new growth to the city.

"They are eager to restart economic development initiatives after more than a year of the pandemic," she said. "There are some in-progress projects I will continue to see through, but mostly I am hoping to bring a fresh set of eyes and ideas to present to the council on how to continue to promote and better the city."

McGuire says the most fulfilling aspect of her new role is getting to improve the city, both in organizational structure and for the residents.

"I enjoy being able to see progress as the city improves infrastructure, aesthetics, and businesses," she said.

Growing up in Joliet, Illinois, McGuire had a lot of the same qualities she does now—"a little type A, a little bit of a perfectionist, a little bit of a problem solver."

"However, I always put others first and wanted everything to be fair," she said. "That quality grew as I aged into a strong sense of empathy and wanting to help others. That's ultimately what led me to law school—wanting to advocate for those that were unable to navigate a complex system. I wanted to be a voice for the people who needed it."

After high school, McGuire earned a B.A. in psychology from DePaul University in Chicago before deciding to pursue a law degree.

"I went to NIU because the law school was relatively newer and focused on a more personalized experience," she said. "There were smaller classes and opportunities that I didn't believe I would get at some of the other law schools in the area. I was able to participate in moot court, mock trial and work with one of my professors on a research project in the area I wanted to practice."

While she initially wanted to practice in healthcare law, and even took an unpaid position at St. Joseph Regional Medical Center in South Bend, Indiana, to further her experience, her first opportunity was with Joliet-based McKeown Law Firm representing several local government entities. She was mentored by an attorney who was the municipal attorney for several organizations and learned a vast amount from him, practicing mostly in municipal law with a little real estate and some minor litigation while with the firm.

Although she was not versed in municipal law when she started her practicing career, McGuire was able to use her research background to help her excel quickly.

"NIU has a strong legal research and writing program, which was much more extensive than other schools, and that helped me to learn about ordinances and government structure on a local level," she said. "This helped facilitate policy setting via ordinances and agreements. I also was able to assist in human resources, which is a close pairing with a law license, as so many human resources functions are rooted in statues and caselaw."

When McKeown Law Firm dissolved, she was given the opportunity to go to an in-house attorney position with the City of Crest Hill, Illinois. There, she quickly began participating in assignments and duties that were not strictly related to the law, such as economic development agreements.

"After I went in-house with the City of Crest Hill, things really took off for me. I was able to really get invested in the projects of the city and see projects through in a way I hadn't before," she said. "I was also able to better plan for items knowing the residents and city council's desires and wishes, and that's what I really enjoyed. Moving into city administration and getting to use my legal background to expedite and creatively solve problems was the best combination for me."

When the existing Crest Hill city administrator left for another position, McGuire stepped in as the interim and was able to successfully move into the permanent role after that.

Her current employment agreement with the city of St. Chalres runs through the spring of 2025, which coincides with the mayor's term of office.

As McGuire works to better her community, she cannot help but remember how NIU helped set her down her path to city administration work.

"Being a Huskie means using my skills to engage and better the community I am part of," she said. "I am honored to be able to help make the city a place I can be proud to call my home. I'm really excited to be part of the team that's going to carry out the vision of the next chapter."