Nathan Lupstein, '16, Advocates for Students as Google Talent Strategist
By Eva Richards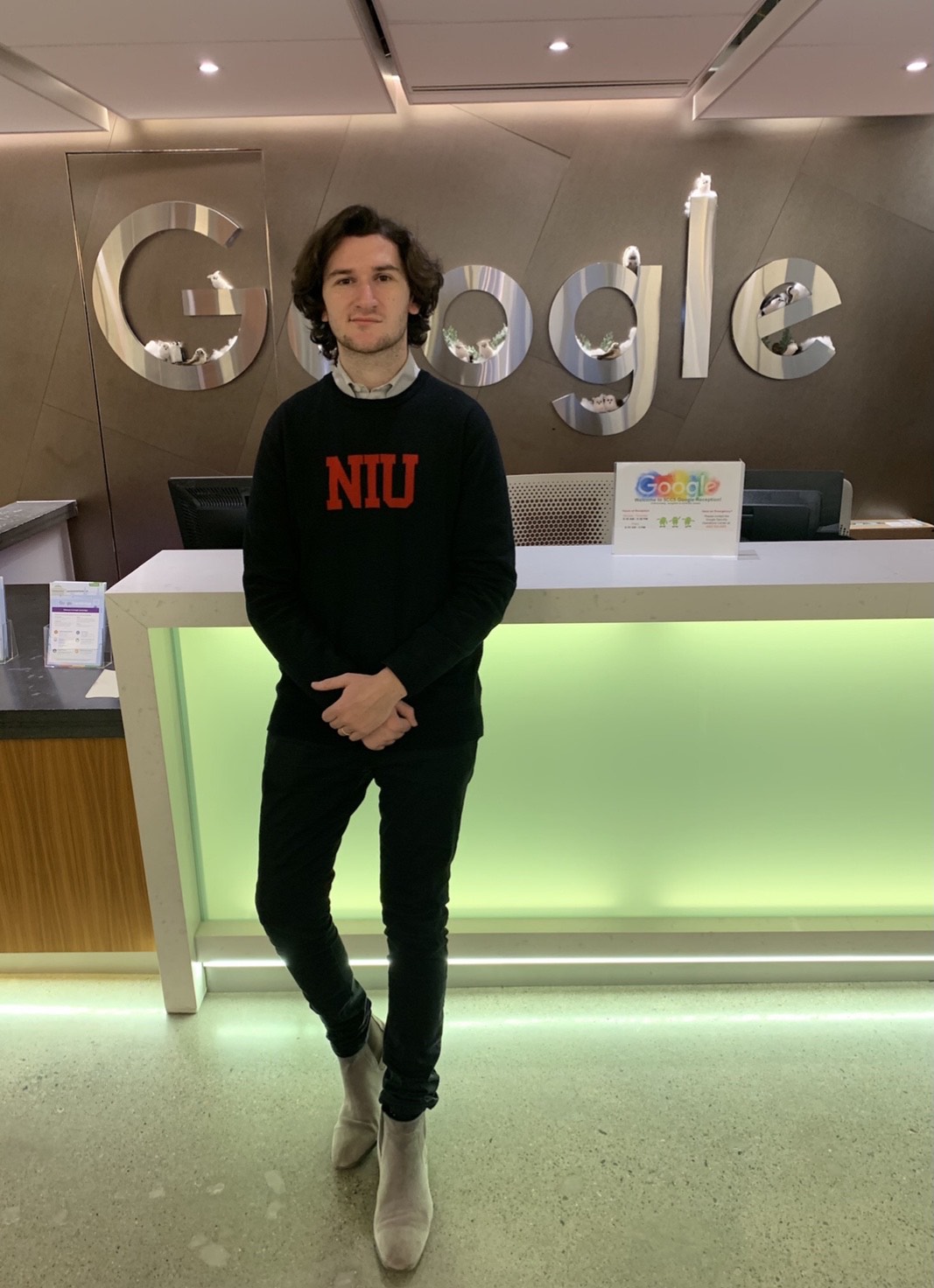 Nathan Lupstein, '16, has found his ideal role as part of Google's University Programs.
As a teenager in Aurora, Illinois, Nathan Lupstein took a creative approach to his surroundings, applying critical thinking and making up his own mind about what he wanted to learn.

"Especially in adolescence, I wrote poetry and music extensively as a teenager and, through art, I found myself taking an interest in politics and philosophy," he said.

Once he began as a freshman at NIU, Lupstein began thinking about how he might be able to align those interests in developing a career.

"Ultimately, I decided to study political science, with a focus on political philosophy, intending to enter law school after graduation," he said. "I was primarily interested in being an entertainment attorney, which was a career I believed would allow me to further my understanding and interest in politics and philosophy while also providing me with an opportunity to be close to the arts and advocate for artists and their creativity."

Advocating for and encouraging the creativity of others remains a strong theme in Lupstein's work and life today, despite having taken a different career path.

His plans for the future began to change as soon as he had some impactful experiences on NIU's campus.

"I did just about everything you could do on campus during my time at NIU!" he said, with a laugh. "I belonged to over 12 different organizations throughout my four years and served as president of four of those organizations. I met so many incredible student leaders that I still keep in very close touch with."

One of the most formative experiences Lupstein had while on campus was serving as student body president, where he met thousands of students and learn about how he could enhance their NIU experience.

Very early in his term, he realized that he wanted to dedicate his career to advocating for students.

"Through the guidance of a few truly exceptional mentors, I was introduced and got involved with campus advocacy efforts and student affairs," he said. "Ultimately, my work and involvement with social issues and student affairs on campus led me to pursue a career in education and a role that's dedicated to activating students."

Lupstein noted that some truly exemplary professors influenced him because they clearly cared about intellectual engagement and growth just as much as assignments and exams.

"These classes helped nurture my creativity, critical thinking skills, and demonstrated the incredibly poignant lesson that every subject is endlessly interesting if you pay enough attention to it," he said. "Cultivating this mindset has allowed me to employ a creative and conscientious approach to problems within my industry and beyond, which, I believe, has helped me stand out as a candidate and in interviews."

Directly after graduation, Lupstein worked for a short stint as a talent agent representing models in Chicago, Los Angeles and New York. However, after only a few months in that role, he began to miss working with students. He inexhaustibly searched the job market for roles that could offer student-centered work and stumbled upon an ideal opportunity with Google.

"I didn't know anyone at Google, nor did I have any experience in the technology industry, but I had a passion for working with students and a demonstrated record of education advocacy," he said. "Ultimately, I was invited to interview and was extended an offer to start my career working on Google's University Programs team in Cambridge, Massachusetts. I love to tell this story because it's what I tell my students all the time—Google is a place where you belong and a place that needs you!"

Over the past five years, Lupstein has worked tirelessly to create and facilitate programs that help students prepare for internship and full-time employment. As his career has progressed and his responsibilities have expanded, he has worked with dozens of institutions and thousands of students across the country. Now based in Chicago, Lupstein's team delivers engagement programs for students, helping them feel confident and comfortable in searching for internships and jobs, with the overall goal of creating a more representative tech industry by reaching every student from every background.

"Through my work, I've managed our relationships and partnered with a wide array of Historically Black Colleges and Universities, Women's Colleges, and Hispanic-Serving institutions," Lupstein said. "My goal now is actually quite similar to the goal I had while at NIU—to ensure everything student is empowered and activated to pursue exactly the type of work they're passionate about. I'm the ultimate believer in the ingenuity of our students and seek to do all I can to let them know that industry needs their brilliance and creativity, that industry needs perspectives from everyone to truly be successful."

Lupstein sees his work as an evolution of the passion he cultivated all those years ago, while working toward his undergraduate studies.

"Google has provided me the opportunity to pursue student advocacy on a truly remarkable scale, and I'm genuinely energized and humbled by the opportunity my team has to serve students and universities," he said.

Still, Lupstein credits NIU with showing him the fundamental importance of educational equality in practice.

"As a public institution, I'm so proud of how academically and financially accessible NIU is," Lupstein said. "The school takes seriously their charge of educating and empowering as many students as they can. Educational equity has always been of paramount importance to me and now serves as the crux of my career, so I have a deep respect for how NIU operates."