Student Directors Learn About Leadership, Philanthropy with NIU Foundation Board
By Eva Richards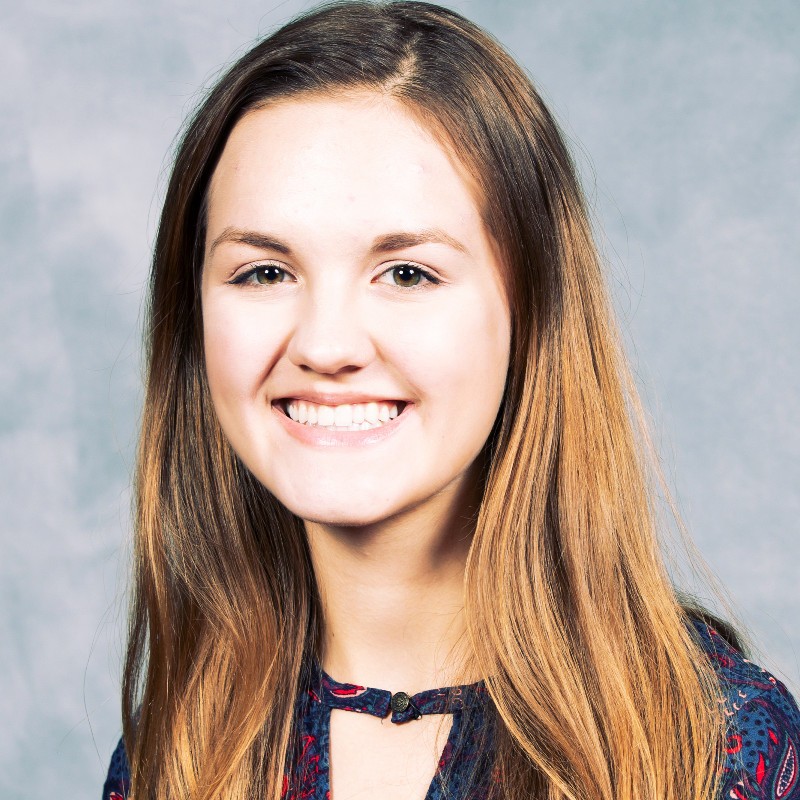 Isabelle Vondra is a biomedical engineering major who is a current student director for the NIU Foundation.
Northern Illinois University is dedicated to experiential learning.

In fact, it is a key tenet in the University's mission statement: to empower students through educational excellence and experiential learning as we pursue knowledge, share our research and artistry, and engage communities for the benefit of the region, state, nation and world.

One unique and often little-known opportunity where students garner real-world experiences on campus is through the student director roles with the NIU Foundation's Board of Directors. Each year, there are two revolving director positions, and this year's student directors are Sophia Arnold, a theatre arts major, and Isabelle Vondra, a biomedical engineering major.

Vondra is the newest to the role, stepping to the position this fall. As a student who transferred here from another college, she has become involved in all sorts of different projects and organizations and has met some exceptional professors at NIU who truly prioritize students' learning. She noted that the affordability of NIU has made her long-term goals more accessible.

"I left behind a hard-won, full-tuition scholarship at a liberal arts college early to study engineering," she said. "I initially intended to major in neuroscience, but I did not feel appropriately challenged where I was, and I realized I wanted to graduate with well-developed problem-solving skills rather than just textbook knowledge. I knew I was taking a big risk, but I felt strongly that I would have regrets if I did not make that decision. Now, I feel like it was the right one!"

Vondra hopes to pursue medicine eventually, she would like to be able to merge medicine and engineering in some way in her future career. She sought out the NIUF role because she was attracted to the chance to learn about the inner workings of a nonprofit organization.

"I haven't gotten to see much of how people put business skills in action to truly help others, but you can see that this is exactly what many of the foundation directors and staff are passionate about," Vondra said. "I think the NIU Foundation is just one of many tools necessary to make progress in addressing student needs, but I think it is an important one."

So far, Vondra has been impressed with the caliber of individuals and the depth of knowledge she's been exposed to through her role. Plus, she hopes to bring the student perspective to the role.

"To me, the student director position is most important for its ability to bring a student perspective to a team of professionals," she said. "The directors are extremely effective and knowledgeable. They are the real deal, but I think nobody can have their finger on the pulse of student needs as well as a current student can. I hope to incorporate my experience from working with fellow students with a wide range of backgrounds, majors and goals into decision-making and communication on the board."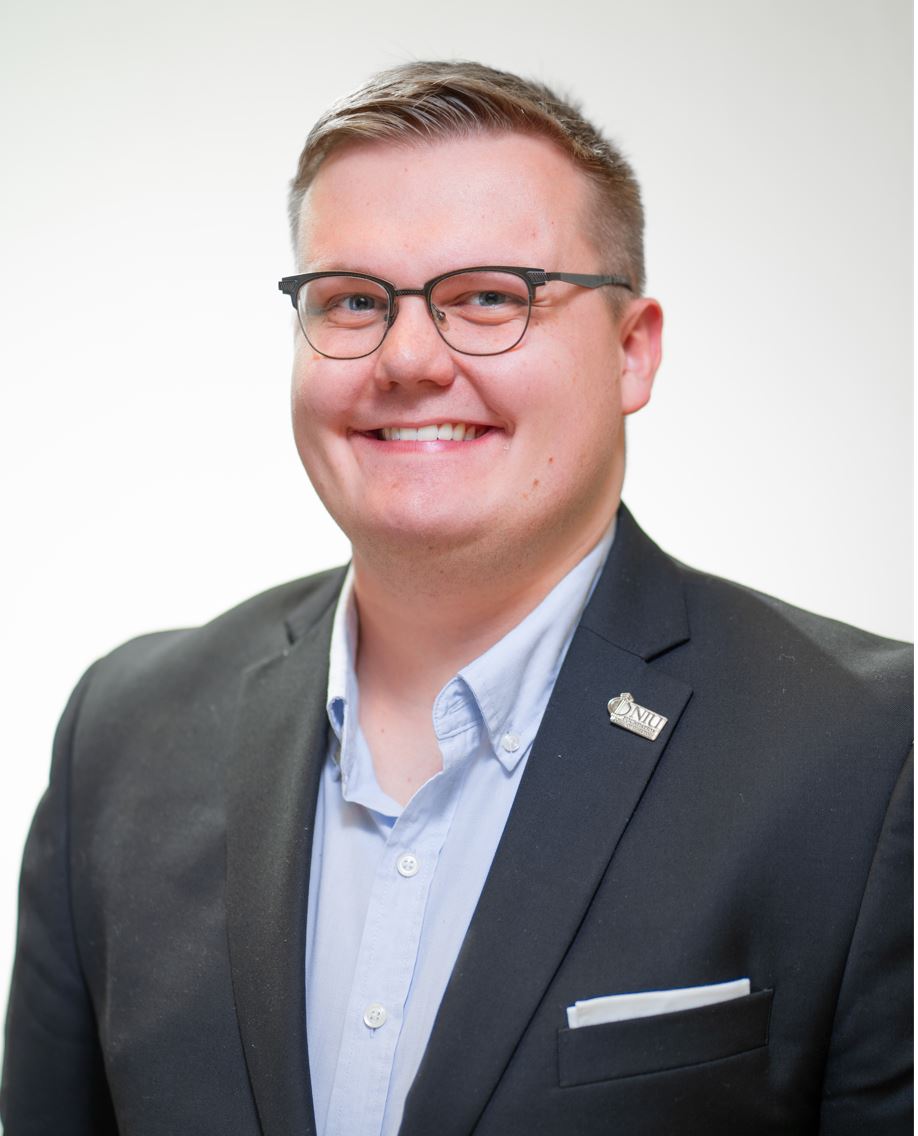 Board member Cindy Crocker was part of the team of board members who instituted the student director roles in 2012. As part of the Nominating and Governance Committee, Crocker is responsible for the selection and election process of the candidates, and she also takes times to mentor each student who comes on board.

"Each time I talk with our student directors, I soon discover that they really don't need much from me," she said. "I am continually impressed with the dedication and professionalism. They bring the student's perspective to the board on various issues, especially the importance of scholarships."

Ian Pearson, who graduated with degrees in non-governmental organization (NGO) studies and political science in 2020, was a student director for the NIU Foundation Board of Directors while on campus. Now a graduate student pursuing his master's in public administration at the University of Wisconsin-Madison, Pearson was interested in volunteerism and community engagement since high school. When he came to NIU, he was looking for a particular volunteer experience, and he got more than he bargained for!

"When I first heard about the student director role, I was a newly minted nonprofit and NGO studies major who really wanted to learn about nonprofit governance," he said. "Leadership and management are topics that have always interested me, so having the chance to serve on a nonprofit board at such a young age was an amazing opportunity. It seemed like the perfect fit because working with the NIU Foundation enabled me to give back to the school that provided me with so many opportunities and memories."

Like Vondra, Pearson wanted to effectively voice the perspective of his fellow students.

"The board was full of amazing people, all experts in various fields and subjects. The unique skill that I could bring to the table was sharing the student experience, both the highlights and the challenges," he said. "In the three terms I served on the board, I believe I was successful in that endeavor and helped the board successfully steer the organization."

Pearson said his experience on the board was truly unique, as it was a period of growth and evolution for the organization. He had the opportunity to witness the creation of landmark initiatives like the foundation's annual day of giving and work on a range of projects.

"I think what makes it a uniquely valuable experience is the ability to tailor your role to align with your goals and interests," Pearson said. "Over my tenure, I worked on a handful of committees and work groups, each teaching important lessons related to my major and career interest. I learned a great deal about topics like nonprofit finance, program management, and creating a strong organizational culture."

In addition to leadership, one of the foundation's goals for student directors is to instill an understanding of the importance of philanthropy.

"We teach students that philanthropy can be a time or a money commitment," Crocker said. "I think we accomplish that goal, as many of the students eventually go on to donate to support NIU."

The relationships and bonds gained from this kind of endeavor are lasting. Crocker says that she still receives Christmas greetings from several student directors every year, and she loves hearing about their weddings, children, adventures and jobs.

As for Vondra, she hopes other students will consider trying this unique leadership experience when the next term opens.

"I think the NIU Foundation is made up of a special team of alumni. They are doing what they do because they care about the school and about the students," Vondra said. "Getting to connect with them as a current NIU student makes me feel optimistic about being a part of the broader NIU community in addition to being a valuable learning experience."