Tina Thomas, '76, Flies High as Owner of Poplar Grove Airport
By Eva Richards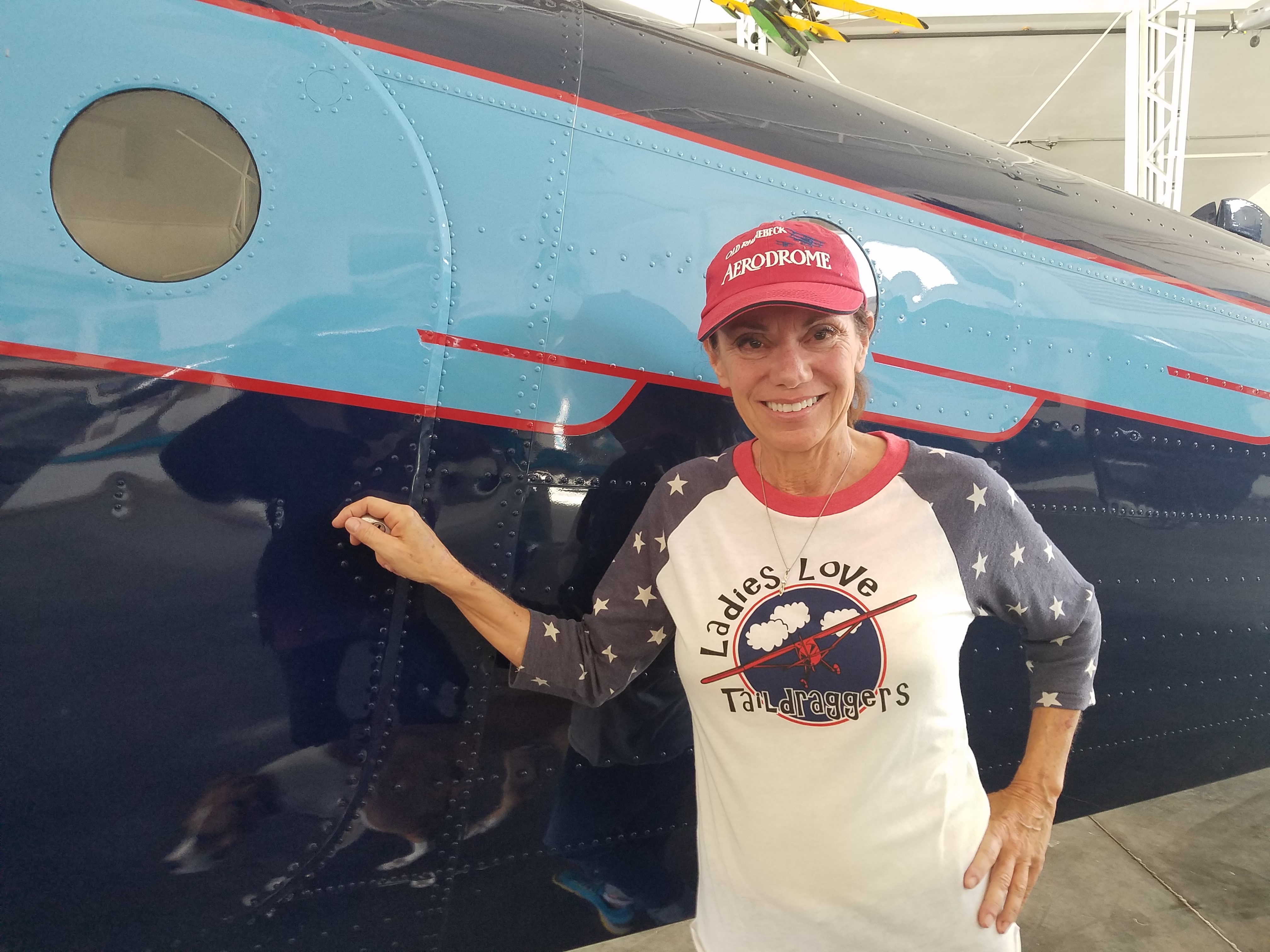 While NIU provided a solid nursing foundation for Tina Thomas, '75, she found her true passion when she met her husband Steve on campus, and he taught her about aviation.
It took a little while for Tina Thomas, '76, to get her head in the clouds.

Growing up in Danville, Illinois, Thomas led a quiet childhood and became intrigued with biology after being inspired by a high school teacher. And because only certain careers were often earmarked as "women's jobs" at that time, Thomas' mother encouraged her to become either a teacher or a nurse.

"My interest in science led to me choosing a nursing career," Thomas said. "And NIU seemed appropriate because it offered a bachelor's degree in nursing."

Thomas did not realize the structure, curriculum demands and guidance at NIU, would benefit her in her future work as a nurse, as well as in the unforeseen career on the horizon.
"My ability to resource information, reason, analyze and make decisions, all grew from my years at NIU," she said.

Thomas began her program in 1972. A year into her studies, she met her now-husband Steve on campus, and their romance really took flight!

"Steve was a pilot," Thomas said. "I had never been in an airplane before and was amazed at the whole idea of taking to the skies as I began to fly with him. At the time, his father owned Belvidere Airport, a private airport in Boone County, Illinois, with a flight instructor, aircraft mechanic and a couple rental hangars. We began a love affair with old airplanes and aviation, and we began to work to restore some antique airplanes while attending NIU."

Thomas' interest in flying continued to develop, and after graduating with a Bachelor of Science in nursing, she earned her pilot's license in spring 1976.

After college, Thomas first worked at DeKalb Hospital as a registered nurse, and then went on to become a school nurse for eight schools in Winnebago County, Illinois. She then went to OSF HealthCare, where she worked as a nurse until her three children were all born.

"At the same time, I continued working and helping my father-in-law at the Belvidere Airport. My interest in aviation grew, and I received all my ratings—Instrument, Commercial, Multi-Engine and Flight Instructor and Instructed for the airport. My father-in-law became ill and when he passed away, Steve and I bought the land and airport business and developed it into Poplar Grove Airport."

The pair sold lots, developed a premier airpark and grew the business by building new hangars, adding more flight instructors and aircraft mechanics. Thomas' nursing career ended, as she and Steve took "this 24/7 plunge while raising a young family."

Currently, the airport has over 400 airplanes, between its 100 airpark homes and many hangars. The airport's maintenance facility—Poplar Grove Airmotive—is very busy with its Engine and Airframe Shop. Its flight school has at least half a dozen flight instructors under Thomas' personal management.

While flying is a passion for Thomas, she always finds time to give back to her community through her work—especially to young people who have a passion for aviation.

"We donated 12 acres of land to the Poplar Grove Aviation and Education Association for a 1930s-reminiscent campus, complete with a 1932 anchor museum building and many other buildings from the era for preservation and educational purposes," Thomas said. "Through the years, the Poplar Vintage Grove Wings and Wheels Museum and our family has given thousands of dollars in scholarships to youth who are interested in going forward with careers in aviation flight or maintenance."

Inspiring young people and women to follow their dreams of flying is immensely satisfying for Thomas, who felt limited in her career choices when she was a young woman.

"Being a positive role model for students, employees and having a good relationship with all of our customers, residents and tenants is what makes this people business work," Thomas said. "Steve and I now have our three grown children helping us run our family business at one of the U.S.'s busiest private airports that is open to the public.

"Flying in an airplane is the most life-changing, satisfying and fun way that I've found to live," Thomas said. "For me, it's so much more than a hobby."