William "Dre" Buchanan, '99, Recognized for Alumni Achievement in the Arts
By Eva Richards and Colleen Leonard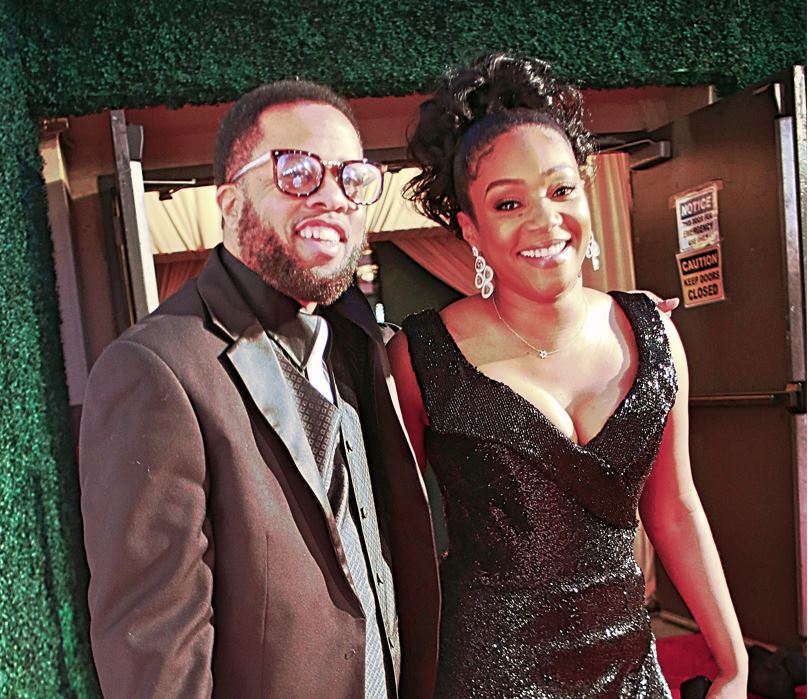 William "Dre" Buchanan has met many celebrities, such as Tiffany Haddish (pictured with him at an Oscar Gala), as he has built his career in the entertainment business.
The future did not always look bright for this year's Alumni Achievement in the Arts Award winner, William "Dre" Buchanan, '99.

As a child, he was a smart, semi-athletic kid but was also disruptive, a class clown and frequently found himself in trouble with teachers and adults.

"The funny thing is that those traits are an asset for me today, in the entertainment industry," said Buchanan, who is also known as William Andre Buchanan or Dre Buchanan.

But as a teenager, Buchanan was not a stranger to the street culture surrounding gang activity.

"I found myself seduced by a few situations surrounding gang affiliation," he said. "Unfortunately, we all are, at some point, if you come from the inner city."

As a freshman at NIU, he got into a gang fight and was put on academic probation. The turning point came for him when he was jumped by several men. On his behalf, Buchanan said, Chicago gang members were ready to drive out on his behalf for a gang war, and he didn't want to be responsible for it.

"When I had to make a decision to not retaliate after being jumped, that was a real crossroads in my life," he said. "That wasn't the way my mother raised me, and it was the key decision that changed my course," he said.

He decided to call off the planned retaliation, walk away from the violence and stay in school.
The electrical engineering major said he always wanted to get into the entertainment industry, but he knew he had to make a living. After graduating from Northern with a bachelor's in electrical engineering, he worked in the industry for several companies. He was a project engineer for Underwriters Laboratories and later became a project manager for Transit Television Network to supervise the installation of broadcasting monitors on public transportation systems.

However, coming from a family of entertainers—Buchanan is related to the Staples Singers, Little Richard and Oprah Winfrey, who is also related to the Staples family—his passion for composing music called. Taking after his parents who also performed, and following in the footsteps of his sister who had previously pursued a singing career in Los Angeles, he decided to make the big move to Los Angeles to see if he could break into that world. Like many in the industry, the career change was a major struggle from which he eventually had to pivot.

"Today I'm a marketing and advertising executive, an angel investor and a film financier," he said. "No day is average for me, as I am involved in a lot of ventures, either marketing activations; brand awareness campaigns for clients who are celebrities, influencers, brands or studio clients; or hearing pitches, investing or fundraising for business founders."

Buchanan has worked as a music consultant, composer and artist manager. He is executive producer for an animated short called "The Dobermans - Genesis," the first release on a feature franchise launch that was set to star among others, Hollywood Legend Ed Asner, who unfortunately recently passed away. In addition to the animation project, which will also incorporate his music compositions, he is also producing a TV docuseries called "A Star Untold." Lastly, he is launching a film-funding entity this year to help the Black, Indigenous, and People of Color (BIPOC) community and struggling filmmakers get off the ground, while also coming out of "music retirement," headlining and producing Chicago Style Steppers music and vintage hip hop.

"I leaked a single on YouTube a few weeks back called 'Rhythm Of ILL,'" he said. "And I cannot confirm nor deny that there is a rumored biopic in the works that will be based on a story about my early days in the music industry. I can't give more details because it is still in development. But I can say that it will cover the underground music group ILL Noyse Family (INF), which also consisted of a few members that also attended NIU."

In his role as a manager for artists, Buchanan represents Louis Price, an actor and the former lead singer of The Temptations, and his sister, Jocelyn Buchanan, who was the grants manager for Oprah Winfrey foundations and is a former recording artist for Motown and Death Row Records. He has also worked behind the scenes with producers on albums for singers Missy Elliott, Monica, The Diplomats, Rocafella records (the former label of Jay-Z), Common, The Chi Lites, The Violators and several other artists, including a current projects with hip hop legend Buckshot, formerly of Blackmoon and current CEO of Duckdown records.

Even with all he has going on, Buchanan has a heart for service. He helps several celebrities and nonprofit organizations with fundraising events, including Magic Johnson, Holly Robinson Peete, Berry Gordy, Bo Jackson, NBA moms and several other organizations including Mary's Court, a charity founded by Hall of Fame basketball player and Chicago native Isiah Thomas. Despite the distance from his hometown of Chicago, he returns every year for fundraising and volunteer efforts to benefit youth.

Buchanan remembers how difficult his teen years were, and he wants to give back. Through the program called "Be the Miracle," Buchanan helps raise funds for children in Chicago Public Schools and arranges mentorships for them. His involvement as a board member of the program stems from his longtime friendship with Hyde Park high school classmate Hassahn Liggins, who is the CEO and co-founder of the organization. He also partners with Marcus Ware, a '00 NIU graduate, who is assistant principal at Paul Cuffe MST Academy in Chicago. Together, they open up a school gym to neighborhood children to build rapport and offer guidance.

"To be honest, the discrepancy gap is so large that I feel like I don't have a choice except to help my community," Buchanan said. "A lot of people who have higher profiles get praise for their philanthropy but, to be honest, that money and time never really reaches the youth in my community, which is why we continue to see high crime rates and high pregnancy rates. It's not about giving back, it's about empowering. We don't want handouts or to be given anything. We just want a fair chance. That happens with information, resources and investment."

For his service work, Buchanan was recently recognized by the "Chicago Defender" and inducted into the 2021 Men of Excellence class. This award event celebrates local African American men who motivate others through their actions and character, embody paramount dedication, conviction and dignity, as they inspire change in their professions and communities.

Buchanan gives credit to NIU for turning his life around and says classmates from different ethnic backgrounds changed his perspective. In addition, Buchanan is thankful for the problem-solving skills that he learned from the electrical engineering program and the leadership skills that he acquired as a supervisor at the Student Recreation Center, where he worked for four years under the Athletic Director John Sweeney.

"The key to me succeeding in school and engineering was changing my surroundings and joining a study group, which taught me the importance of networking and teamwork," he said. "The late nights of study gave me work ethic, which was something that I lacked, but it would later come to be the key in being a successful entrepreneur."