Elizabeth Start, M.S. '84, M.S. '86, Hits the Right Note with Composing Career
By Eva Richards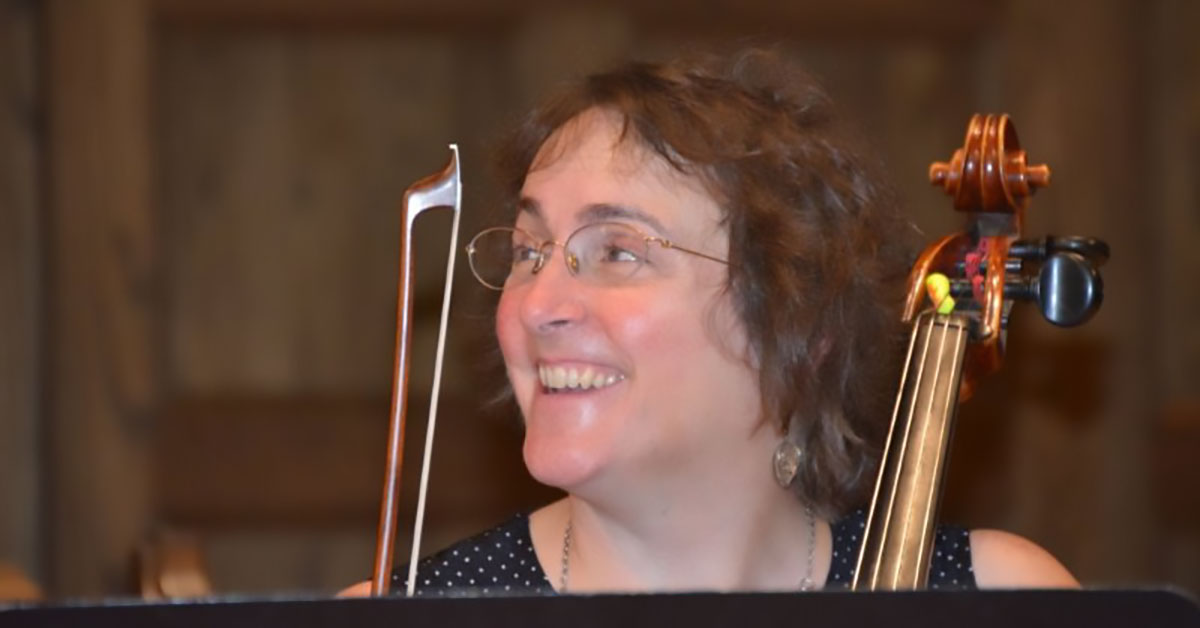 Elizabeth Start earned her master's degree in orchestral performance in 1984, followed by her master's degree in music theory and composition in 1986.
Math and music are intrinsically linked, or so anyone with knowledge of music composition will tell you. Just ask Elizabeth Start, M.S. '84, M.S. '86, who is a prolific composer, regular music educator and symphonic performer.

Growing up in Kalamazoo, Michigan, Start was involved in music at an early age, first with the piano and then the cello in elementary school. Academically, she was very interested in math and science. After high school graduation, she went on to earn dual bachelor's degrees in mathematics and cello performance from Oberlin College and Conservatory in Oberlin, Ohio.

In the 1980s, Start went on to pursue her graduate studies at NIU's School of Music.

"I earned a master's degree in cello performance in 1984 and another master's in music composition in 1986," Start said. "NIU was a big draw for string players at the time because the world-renowned Vermeer String Quartet was there. The Vermeer's cellist, Marc Johnson, was a wonderful teacher as well as an excellent cellist. I began composing music, learning early electronic music technology, working as a recording engineer, taking classes in film and multi-image slide projector programming, and I was part of the performance art group, 'The Neoteric Ensemble.' So, my time at NIU very much widened my musical and artistic interests and experience."

Start noted that, if it were not for Professor Paul Steg's class in 20th century music composition techniques, she may never have started to compose music.

"He structured the course so that if you wrote a short musical piece each week, you didn't have to take the final," she said. "I figured the music I wrote didn't have to be any good. It just had to show I understood the techniques, so I wrote a piece a week and, about halfway through the semester, Steg suggested I consider studying composition. So, I did."

After earning her master's degrees, Start attended the University of Chicago as a Century Fellow and completed a Ph.D. in music composition. During that time, she began freelancing as a cellist and teacher in the Chicago area, became a member of the Elgin Symphony in Elgin, Illinois, and joined the Chicago Composers' Consortium.

"I have ridden the waves of opportunities ever since, always working many different jobs," she said. "This has included teaching a wide range of things, including basic math and acoustics, music history, theory and music in world cultures, as well as cello and composition. I have taught at many places, including Columbia College, DePaul University, McHenry County College, Suzuki School of Elgin and Kalamazoo College."

Start has played in more venues than she can remember, including gigs with Andrea Bocelli and Tony Bennett. She has played as a constant with the Elgin Symphony for nearly 35 years and the Kalamazoo Symphony for nearly 20 years.

In 2001, Start returned to her hometown of Kalamazoo and settled into a part-time position running the Michigan Festival of Sacred Music's Connecting Chords Music Festival. This festival is a nonprofit arts organization, which views the term "sacred" as including not only faith traditions, but cultural traditions, human dignity and the environment. Start is also secretary and treasurer of the Kalamazoo Federation of Musicians, Local 228 of the American Federation of Musicians and she continues her activities with the Chicago Composers' Consortium.

While continuing to take other compositional and performing opportunities as they present themselves, Start enjoys coaching a "Chamber Music for Fun" camp for adults at Blue Lake Fine Arts Camp and a chamber music workshop for Kalamazoo area youth.

"As a result of presenting the NIU chamber choir at our festival in Kalamazoo many years ago, I was asked by NIU choral director Eric Johnson to speak at a convocation for music students at NIU about being a musical entrepreneur," she said. "This was the first I had ever heard myself labeled as such, and it caused me to think about the importance of working with opportunities that present themselves, valuing one's unique background and keeping ties with one's lifelong contacts. This seems to be what I have endeavored to do, and it has been relatively successful, although I am certainly not a 'big name' in any field. But it has been enriching."

The waves of opportunity keep coming. In October, Start will have an original recording that will be released as part of an album being recorded by Sphinx Competition Laureate Thomas Mesa. The piece was the result of an Elgin Symphony fundraising auction, where Start offered a "custom" solo cello piece composed for the winning bidder. "Echoes in Life" was written for Ramona "Monie" Burns and was influenced by her life and the bicultural world Burns lives in.

"It begins and ends with misty harmonics, giving a sense of a fantastic landscape, where wisps of melody can be heard," Start said. "These initial melodic lines, which come back as reminiscences at the end, are inspired by Native American melodies of the Paiute. Their occurrence at the beginning and end reference ancestors and heritage, and their ongoing and unchanging presence in our lives. The melodic fragments grow into longer lines, sometimes accompanied by throbbing beats of left hand pizzicato—a drum or heartbeat."

When Start saw the opportunity to submit the work for Mesa's album, who had performed a concerto with the Elgin Symphony a few years prior, it seemed a perfect connection.

"I look forward to the final release of the entire album this fall, which will include many wonderful works by different composers," she said.

Start adds that it has been fulfilling to be able to create works that are appreciated and speak to certain times and situations.

"It is always interesting to see what lives the works take on as they are released into the world," she said. "I have enjoyed writing works that bring together different forces, and I have always written for people, situations, or opportunities, rather than writing works in a more abstract atmosphere."

Start has continued to grow in her art over the last 35 years. For instance, during the pandemic, as her musical groups found they could not present "normal" festival events, they focused their energies and funds instead on what they could do.

"We arrived at new ideas, including commissioning musicians to write pieces that responded to artworks in an exhibit at the Kalamazoo Institute of Arts for our 'Resonance Project.'" she said. "This project was selected by the Kalamazoo Regional Educational Service Agency (KRESA) Education for the Arts program as part of their curriculum for the 2021-2022 school year. We also commissioned musicians to write pieces about their favorite places in Kalamazoo, celebrating both the community and our area artists, in our 'Music in Place' project."

After a long musical career, doing exactly what she set out to do, Start credits NIU with opening her eyes to new possibilities.

"I think my time at NIU caused me to consider doing things I may have thought I couldn't do," she said. "As I remember telling the students at that convocation—if someone asks you to do something that you think is out of your wheelhouse, don't reject it. If someone else thinks you can do it, perhaps you can and should give it a try."

"NIU also helped me to appreciate and pursue the opportunities I have, rather than wishing for other perhaps 'bigger' opportunities to present themselves."