EmBARKing on a New Mission
By Tony Scott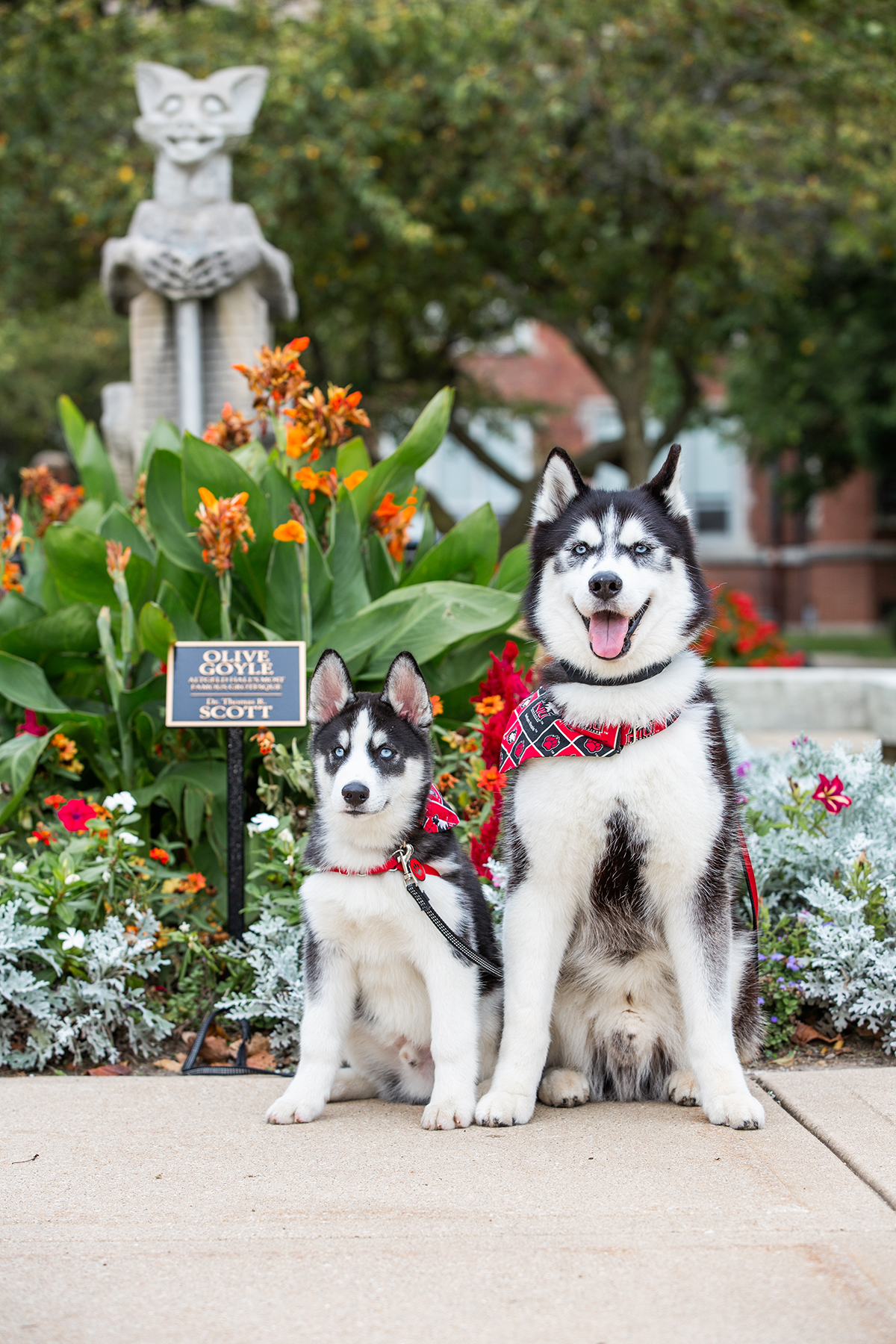 Mini Mish and Mission began appearing together on campus and at events as part of Mission II's training.
He won't get a gold watch or a set of golf clubs, but the first official live University mascot, the original Mission, will retire in a ceremony on Sept. 11, when the football Huskies take the field at the home opener against the University of Wyoming Cowboys.

The new Mission mascot, formerly known as "Mini Mish," who turned two years old on July 6, began his mascot term in June; the original Mission will turn 10 years old in December, according to both dogs' trainer, Lisa Boland. The first Mission began his tenure as mascot in late 2013. Both mascots have been funded thanks to the philanthropic support of proud alumni and donors John, '75, and Cassandra McKearn, '75.

"The McKearns' support has been invaluable to the program's success, and we are thrilled that they are pleased with the strides the program has taken," Boland says.

For the past two years, the new Mission mascot has been accompanying the original Mission and Boland to events and around campus to get the young one acquainted to mascot duties. Boland says the original Mission, who began his tenure with NIU in 2012, will be moving with his "retirement family" to 57 acres in beautiful Kentucky.

Boland says choosing the right successor to Mission was a complicated process and began when "Mini Mish" was just a young pup.

"I brought Mini Mish home when he was 10 weeks old," Boland says. "I had been in touch with his breeder starting at two weeks old and evaluated him several times before committing. The process of choosing the 'right' Mission is complicated and detailed—the mascot job requires that a dog be confident, outgoing, people-oriented, fearless and biddable. The new Mission is all of those things, and he spent a full two years training to begin his mascot duties on a solo basis."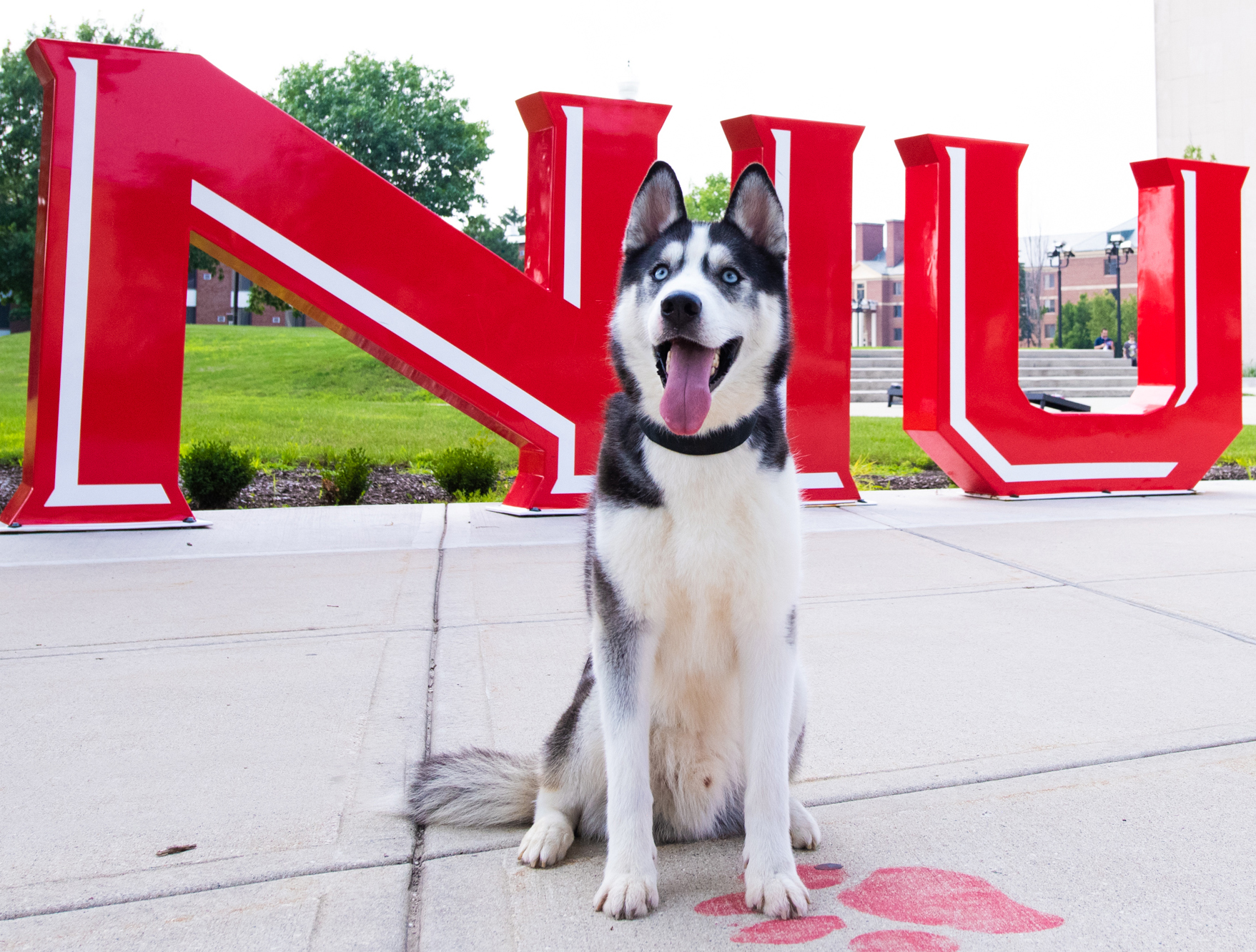 Boland says Huskies are a unique breed.

"Huskies are a personable and hardworking breed," she says. "They are incredibly intelligent and are eager to adventure. Their insatiable energy allows them to run the football field after touchdowns, and to walk around campus for hours spreading joy."

But becoming a mascot takes a lot of training in addition to unique intelligence.

"The new Mission has his first obedience trial coming up soon, is working on several trick titles, will be submitting for his first parkour title, and will be working on obtaining his breed championship this year," Boland says.

The former Mission mascot has been involved with therapy dog programs at Northwest Medicine Kishwaukee Hospital and other programs. Boland says she hopes the new Mission will be participating in those as well, in time.



"COVID-19 interrupted some of the old Mission's therapy work, and the new Mission will hopefully follow in his pawsteps, earning his therapy dog certificate in a few years," Boland says.

Each dog has their own very distinct personality, Boland says.

"The original Mission is a much more formal and dignified dog, extremely food-motivated, to the point of ignoring someone if they don't have treats, and a calmer pup during events and outings," she says. "The new Mission was specifically selected for having a higher energy level, being more motivated by people and interactions, and is a constantly enthusiastic new mascot in the dynasty."