Dr. Diane Hillard-Sembell, '82, Reflects on Award-Winning Ortho Surgery Career
By Eva Richards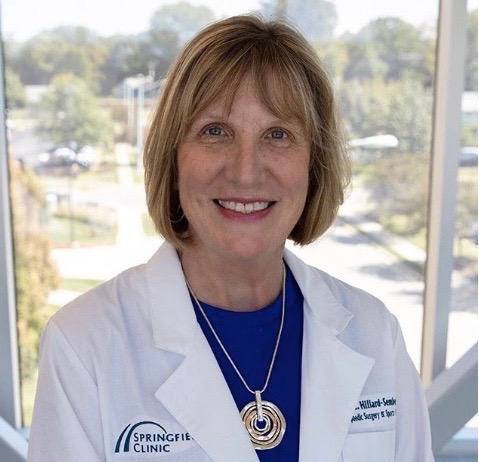 Dr. Diane Hillard-Sembell, '82, is a senior partner and orthopaedic surgeon at Springfield Clinic in Springfield, Illinois.
By the time Diane Hillard-Sembell came to NIU's campus in 1978, she was already familiar with "The Hard Way."

Growing up in Alexis, Illinois—a small town with a population of about 900 near Galesburg—Hillard-Sembell was the second youngest of six children, living in a converted one-room schoolhouse.

"People sometimes can't fathom it, but we didn't even have running water until I was in junior high," she said. "Yes, we had an outdoor pump and an outhouse. In the summers, while my brothers were hired farmhands for neighbors, I was the foreman of a crew that walked and weeded soybean fields for the local farmers. We all were kids of rural people and learned the value of hard work!"

Hillard-Sembell noted that she is thankful to be raised in such an environment, as she is certain that the Midwestern values and work ethic she witnessed all around her as a child and adolescent helped to mold who she became.

As a kid, she was "interested in everything," especially sports. While there were not the youth sports of today, Hillard-Sembell staged track meets in her yard and competed with her brothers and neighbors.

"It was during my freshman year of high school, in 1974, that Alexis High School first added organized sports for girls, after Title IX had been passed in 1972," she said. "I was so very lucky, because sports has really paved the way not only for my collegiate path, but also for my career in general. We had three high school sports: basketball, volleyball, and track. So, guess what I played—three sports: basketball, volleyball, and track!"

When it came time to go to college, Hillard-Sembell chose NIU because she wanted a large university, one that presented many exposures beyond her small-town upbringing. She admired that the campus was surrounded by the cornfields and bean fields that reminded her of home, while also exposing her to new people and points of view.

"I liked the eclectic blending of people from Chicago, the rural Midwest, and across the country," she said. "Most importantly, I was set on a path to pursue physical therapy, and I was drawn to the chance to be part of this new program just then starting at NIU. I was blessed to receive the University Scholar Award, which was a full academic scholarship, an award for which I am forever grateful."

Her experience was diverse and full of memories. She took advantage of on-campus entertainment and recreational activities, but one of the best decisions she ever made was to try out for the NIU women's basketball team as a walk-on player.

"I will never forget attending tryouts surrounded by scholarship recruits and incredibly talented women, and working my tail off!" she said. "I was lucky to be one of the 12 women selected for varsity, and those four years were life-changing."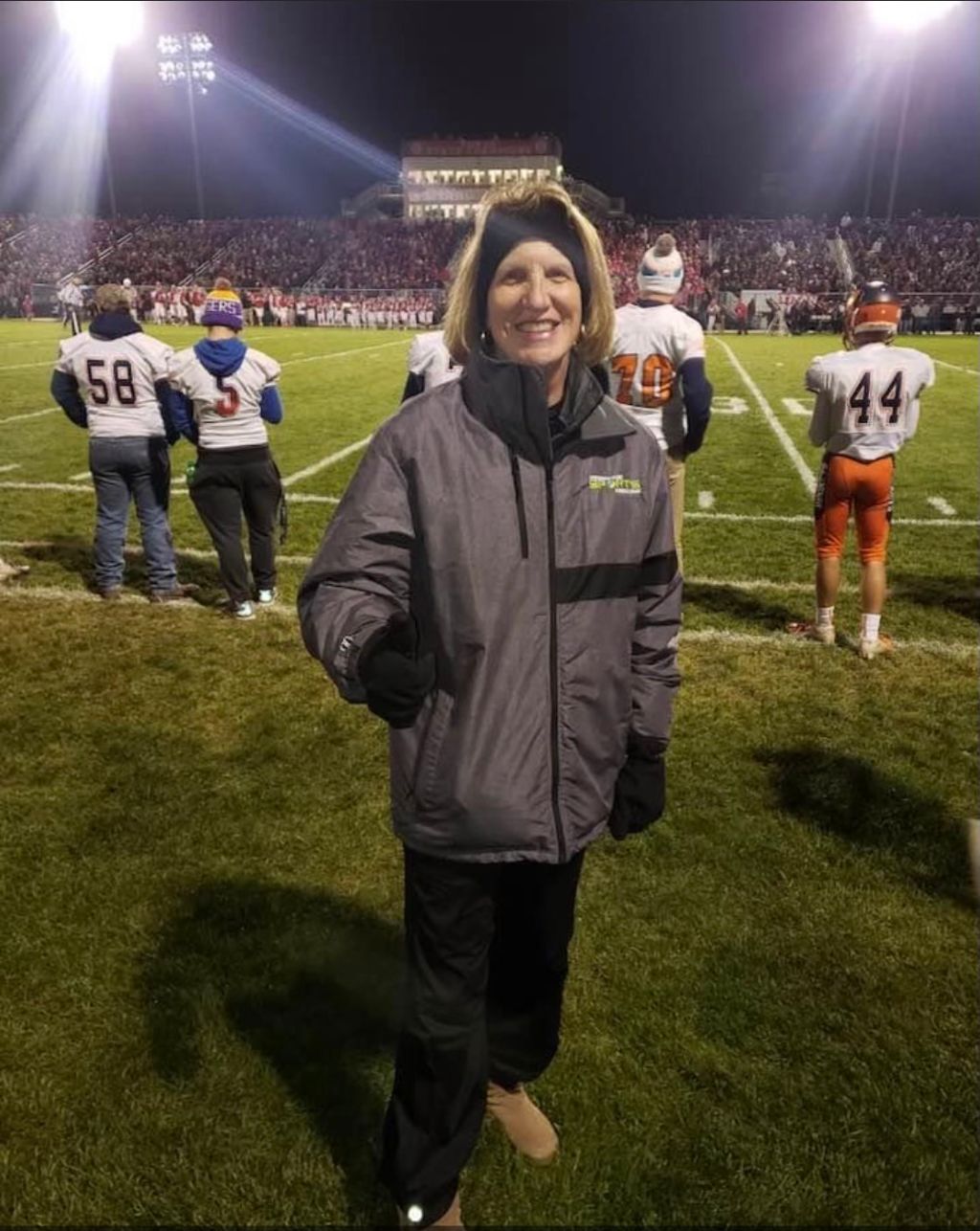 Hillard-Sembell also ran track for two years as a pentathlete until a short hiatus with funding caused the track program to be suspended, and she was on the volleyball team for her first two years. She received the Mid American Conference (MAC) Scholar-Athlete Award as a senior, as well as Female Athlete of the Year. She was inducted into the NIU Athletic Hall of Fame in 1993, and this recognition was the culmination of her athletic career.

"Balancing the physical therapy course load with basketball wasn't always easy, and there was a lot of studying on our bus trips and even some creative travel separate from the team when I was on away rotations for PT clinical rotations," she said. "While in my third year of PT school in one of my clinical rotations, I was given the opportunity to observe surgeries, and it was while watching a total knee arthroplasty, I had what I consider an 'a-ha moment.'"

While Hillard-Sembell had previously enjoyed taking care of the patients doing the rehabilitation portion, she suddenly thought, "This is fascinating, and this is what I really want to do!" She explored the medical school application process, met with my NIU PT faculty who were supportive of her decision, and was very fortunate to do well enough on the MCAT test, given the tight time constraints surrounding her decision.

"I finished the applications and interviews, and the rest is history!" she said. "The NIU physical therapy program was rigorous and prepared me well for what was ahead, and to this day, the education that I received at NIU and my degree as a physical therapist makes me a better physician. I know that God had a plan for me, and throughout my life he has placed me in the right places with the right people."

Hillard-Sembell credits NIU with giving her the opportunity to learn and grow, as well as to develop her greatest strengths.

"The critical thinking skills that I learned at NIU have helped me throughout life," she said.

After graduating from NIU in 1982 with a bachelor's degree in physical therapy, she took and passed her PT licensure exam, and then went on to medical school at Southern Illinois University School of Medicine. There, she enjoyed all specialties, but it was a natural progression and no surprise that orthopaedic surgery and a specialty in sports medicine were her calling.

Following completion of her orthopaedic surgery residency at SIU from 1986 to 1991, she received a one-year sports medicine knee fellowship in San Diego at UCSD/Southern California Kaiser Permanente and then considered several career opportunities, including San Diego and academia. She chose to join the Springfield Clinic in Springfield, Illinois, and to help expand the orthopaedic department.

For the last three decades, Hillard-Sembell has been the lead physician in developing the clinic's Sports Medicine program. She has served as group and hospital orthopaedic department chairs, is currently on hospital medical executive committee, and is now the senior ortho partner at the Springfield Clinic.

"When I first started the practice, given the demographics of our group and the city, I did general orthopaedic surgery including trauma, arthroplasty, hip and knee replacements, hand surgery and even foot surgery," she said. "Thankfully, over many years we have recruited specialists in every area, allowing me now to be a super-subspecialist with my practice, limited to knee surgery and sports medicine, in keeping with my fellowship subspecialty training."

Like most professions, the pandemic has changed Hillard-Sembell's workflow and many other aspects. Early in 2020, with the cessation of elective surgeries, her orthopaedic workload was drastically reduced, and many of her orthopaedic team members were utilized in other areas.

"In Illinois, without most fall sports being allowed in 2020, our athletic trainers became screeners, office assistants, and even deliverers of food to the needy. A common theme continues to be the ability to adjust, pivot, and to be resilient. The increased utilization of telemedicine has given us the opportunity to reach more patients in remote locations, and we have learned to create more efficiency," she said.

When asked what she is most proud of in her professional life, Hillard-Sembell focused on the growth of the Springfield Clinic Sports Medicine program and its ability to continue to provide services to all the area athletes.

"When other entities could not continue, and even during the pandemic, we were there, and were able to keep our athletic trainers employed," she said. "I was also extremely honored to receive the National Honorary Member Award by the National Athletic Trainers Association, which is given to someone for their lifetime service and dedication to sports medicine and for the athletic training profession. My biggest pride and joy, however, is not awards but rather seeing the success of athletes who I have treated go back to what they love after recovering from injury, and many have gone on to choose a medically related field themselves."

This year, Hillard-Sembell received Athena Award for her community service, professional accomplishment, and mentoring of other women professionals.

"I love the fact that the Athena Leadership Award is named after the Greek goddess of mythology who is known for her strength, courage and wisdom," she said. "Recognition with this group of amazing women warms my heart with extreme gratitude, and to be recognized for career and community contributions is so gratifying and humbling."

She continues to mentor and hopes to serve as a role model, telling her mentees that they CAN have it all, but just not at the same time—to everything there is a season.

"I think I have the best job ever! I love being an orthopaedic surgeon and going to work each day knowing that I will make a positive difference in someone's life," she said. "I get to work with individuals of all ages from young athletes with sports injuries to seniors with arthritis, and every day is unique. It is so satisfying to know that I can help alleviate pain and improve a person's enjoyment and quality of life."

But Hillard-Sembell can't talk about her career without talking about her family and life balance, which is so important to her.

"I married Mark Sembell in 1986, and he has been so supportive of me in my career, as well as putting up with many of my crazy ideas, decisions, meetings, schooling and projects! I am also very proud to be the mother of Evan who is 24 years old and a second-year medical student!" she said

Looking back, Hillard-Sembell admits her success is owed to teamwork.

"I would like to use a sports medicine analogy: each person on the team has a role, the starters may change, and injuries may call for 'the next man up,'" she said. "Over the years, I have played several positions as needed: coach, captain, substitute, spectator, cheerleader, statistician, and more, but always with a goal in mind. I love being part of a team, whether in the operating room, in the office, on the court or socially. Synergy makes us all better."