Liz McSpadden, '10, M.B.A. '16, Gives Back to NIU Through Grace, Grit and Gratitude
By Eva Richards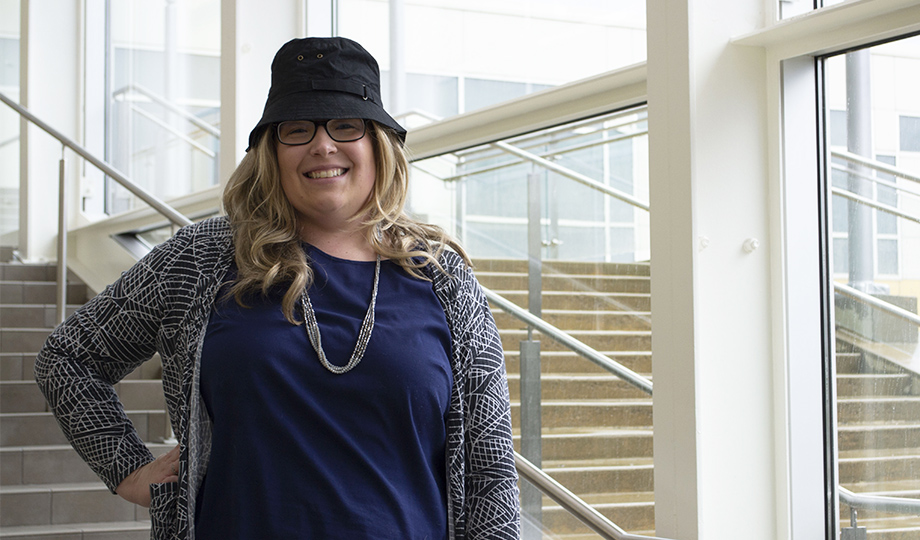 Liz McSpadden, '10, M.B.A. '16, was positively impacted by Dennis Barsema's servant leadership model.
Liz McSpadden, '10, M.B.A. '16, says she lives by three principles—grace, grit and gratitude.

Now in her mid-thirties and going through her third round of treatments for stage IV breast cancer, it is easy to see why she has needed grit. But her grace and gratitude are the traits that are most impressive, as she finds time to volunteer her time to several organizations, including her alma mater.

"Even when I was a student, I always tried to give back to NIU, whether it's talking with transfer students, speaking at high school fairs, and participating in open house," she said. "I continued to come back to campus after graduation to help students because I see how much my background with NIU has helped me—my degrees, my friendships, my relationships, and all my time there taught me. I wouldn't be here if it wasn't for NIU. That's exactly why I want to give back."

Because of her medical expenses, McSpadden cannot donate financially, but she is happy to "donate her time and skills, her personality and her attitude."

"When I was on campus, I was lucky enough to have a class with Dennis Barsema," she said. "He taught us about servant leadership and serving others, and that really resonated with me. The concept that we have to give back means something to me, and we can do that in so many ways, from cleaning up and visiting classrooms to listening to others and so much more."

McSpadden, who has always been a positive person, says cancer has taught her that she doesn't always have to be positive to know she is strong or resilient.

"You're still a good person if you're asking for help. That's where the grace, grit, gratitude come in," she said. "Those three values completely encompassed the last few years for me. Before my battle with cancer, I thought I knew my values, but now I am going to get these three tattooed on my arm."

McSpadden says everyone who is going through hardship needs some version of hope, faith or grace.

"Something has a drive in you to keep going," she said. "Tomorrow will be better. It's okay if today isn't the best day. I'm here and I am alive, and I am going to do something with this life."

When it comes to gratitude, McSpadden has been practicing this principle for many years.

"You have one life to live. You are only here on this earth for so many years. There are so many things you can do with your time and so many things that need your help and your efforts. Whatever you choose to do with that, use your talents, and find your voice. For me, it's serving others, and teaching people about cancer awareness whenever I have the opportunity.

McSpadden has championed several organizations that are important to her. In 2014, after her father passed away, McSpadden launched a little pie company at my mother's bakery, Poundcake Bakery in Lisle, Illinois, which gives back to cancer charities.

"We've selected METAvivor—a breast cancer survivor support organization—this year as the charity we are helping. Our organization—Paulie's Pies—was created after my dad's love for pies, and his belief in me. His support was what gave me wings, and he encouraged me to go after my passions. Paulie's Pies represents just an ounce of how I can help make changes for businesses and give back. Customers love how buying a pie supports cancer patients."

Through her work with METAvivor, McSpadden volunteers for their "Lightup MBC" campaign, which coordinates landmarks all over the world to light up in colors for Metastatic Breast Cancer (MBC) on World MBC day, Oct. 13, each year. METAvivor raises awareness through the event as well as fundraises, and draws in national, and state support with landmarks in all 50 states.

McSpadden will be speaking live at #LightUpMBC Live on Oct. 13 at The Island, in Pigeon Forge, which is one of the landmarks she helped secure for MBC awareness, and the ferris wheel will be lit up in MBC colors. She has also joined another campaign of METAvivor's called Stage IV Stampede, which is working with Capitol Hill on advocating for bills to be passed for Stage IV breast cancer and other cancers.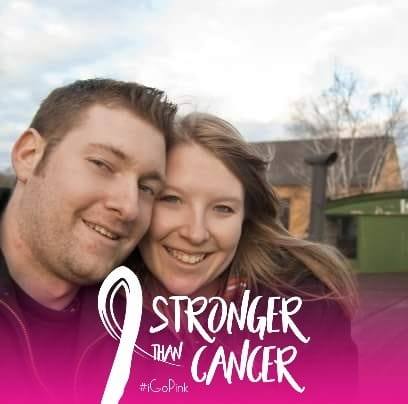 McSpadden's unique childhood has allowed her to adapt to changes and stay flexible through some of life's hardest moments. When she was growing up, she moved across the country every few years, experiencing different parts of the U.S. first-hand and going on adventures in Florida, Minnesota, California and Illinois through her parents' job transfers.

"I had a neat childhood," she said. "I just thought that was what everyone goes through. I made friends pretty easily and enjoyed seeing different places. Plus, my parents were good about making the moves fun and exciting."

McSpadden's mother worked in pharmaceutical sales for Genentech, and her dad worked as a salesman for Proctor & Gamble, providing excellent business role models for their daughter. However, McSpadden, who was a self-proclaimed "math and science nerd," decided early on she would not follow in her parents' footsteps.

By the time McSpadden was attending Naperville North High School in Naperville, Illinois, she had set a plan to major in chemistry and become a chemical engineer.

"I'd figured out my whole path for becoming an engineer," she said. "Then, I took an accounting course my junior year to count toward some credits I needed. At that time, I had always joked that I wouldn't major in business. I wasn't like my parents. But something about accounting spoke to me. It was like a foreign language, but I understood it! It made perfect sense."

She was already admitted to several top-tier engineering schools, and had received financial aid and some scholarships, but after taking the yearlong class, and taking first place in an accounting competition at College of DuPage, McSpadden began to doubt her engineering path. She wanted to change course, go to a community college and explore accounting, but she was nervous to break the news to her parents.

"I just remember thinking, 'I think I'm going to do this. This is what I am supposed to do. I am not going to listen to everyone else. This is how I keep my voice,'" she said. "I was 17 years old, making this huge decision for myself, and when I told my parents, I remember both of their jaws just dropped. Then my dad said, 'And you said, you would never major in business!'"

Once the accounting decision was made, "everything after that felt right" for McSpadden. After earning her associate's degree with honors from College of DuPage, she decided to transfer to NIU.

"The accounting program at NIU is one of the best choices anyone could choose," she said. "Those professors and the curriculum are solid. It is so well known by employers and employees, ranked highly, and highly regarded. It's one of the things that stands out on a resume. I have to attribute my great education at NIU in Barsema Hall, to my accounting and business professors, who set us all up for success. I have had so many accounting friends who have gone on to successful careers and great jobs at some of the biggest companies in the world."

After college, McSpadden had a forensic accounting internship at firm Meaden & Moore. She learned very quickly that there was no work/life balance in this type of role, between the travel and long work hours, and she began to climb the ladder at several large companies—including Invesco, Northern Trust, and eventually Northwestern University—looking for a role that fit her talents while allowing her time for family and friends.

Then, in 2015, McSpadden's father unexpectedly passed away, and her life outlook was forever altered.

"His passing shook me like a gumball machine, and all my gumballs fell out," she said. "It rattled me to my core. My dad's support was what gave me wings."
McSpadden decided to realign her priorities, moving from the city to be closer to her mother in the suburbs, and switching to a new accounting role at the Bradford Group, where she had ironically completed her experiential learning project during her undergraduate classes.

She also switched gears for her future plans.

"I had wanted to get my C.P.A., but right before my father died, he had convinced me to get my M.B.A. instead. He really believed it would be better for my career," she said. "After his passing, I took the GMAT on a whim. I applied to NIU's M.B.A. program the week he died, and I received my acceptance letter the day after his funeral. I just thought, 'This is a sign. I'm just going to go for it. I'm doing it Dad.'"

McSpadden took courses at night while working during the day. She began working in as a senior financial analyst for FTD Companies, doing a hybrid of accounting and finance.

"I saw so much of my M.B.A. coming into play, and I knew that this kind of work was exactly the kind of stuff that I really liked," she said. "I was communicating numbers to other departments, helping marketing, buying and the product teams, so they would understand what is going on."

After earning her M.B.A., McSpadden took an ideal role as a senior financial analyst for ALDI, where she is able to live close to family while also making a real impact the grocery store chain's cost savings and its famous cost-conscious culture.

"I love ALDI. I shopped there in college, and I have always been a customer," McSpadden said. "It's cool to still be a customer and see how my talents and skills can really help their people understand. It's amazing that my talents are actually doing something that matters."

Her devoted husband Dave, family, friends, and work colleagues have helped her to meet the challenges cancer brings each day, and they are always there for her. For this, she has nicknamed her circle of support "Team Sunshine."

"When I was first diagnosed, I was at work and received the phone call. One of my coworkers followed me into a conference room and brought tissue, and throughout the call, she hugged me and wrote down answers from the pathology report," McSpadden recalled. "It was the thing I needed the most during the darkest moment of my life. From that point forward, I didn't want to hide from cancer. My husband and I vowed that my breast cancer wouldn't rob us of our lives."

Even as her continues to fight cancer, McSpadden is a dedicated member of the Huskie Pack, giving back to the NIU community however she can, through grace, gratitude and grit.

"For me, giving back isn't hard. It's what sets my soul on fire, and reminds me why I am living and breathing," she said.