Experience NIU: Velchamy Sankarlingam, M.S. '90, Zoom President of Product and Engineering
Thursday, Sept. 30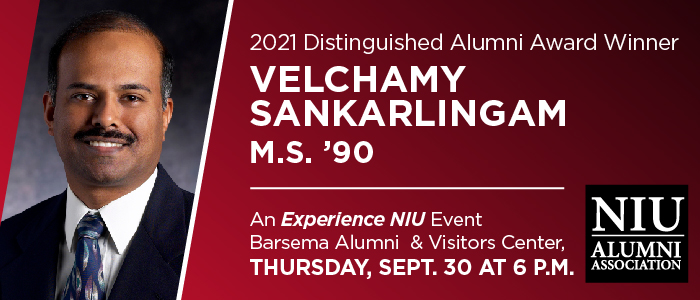 The NIU Alumni Association's Experience NIU series continues on Thursday, Sept. 30, as 2021 NIUAA Distinguished Alumni Award winner and Zoom President of Product and Engineering Velchamy Sankarlingam, M.S. '90, will offer his insights and expertise, including how he helped maintain and increase the company's operations during the pandemic.
This free event starts at 6 p.m. in the Barsema Alumni & Visitors Center Ballroom and will end at 7:30 p.m. Dessert and coffee will be served.
Questions? Please contact Dana King, '05, at dking1@niu.edu or 815-753-5421.

Event Details
COST:
FREE

When:
6:00PM - 7:30PM Thu 30 Sep 2021, Central timezone

Where:
Barsema Alumni And Visitors Center
231 N. Annie Glidden Road
DeKalb, IL 60115
[ Get Directions ]
RSVP Today!
The NIU Foundation follows the protocols and guidelines established by NIU regarding how to navigate the COVID-19 pandemic, which is based on the recommendations from the Centers for Disease Control and Prevention (CDC) and local public health organizations. NIU's protocols and guidelines are located at: www.niu.edu/protecting-the-pack.

Consistent with these protocols and guidelines, and out of an abundance of caution, beginning immediately the NIU Foundation and NIU Alumni Association requires masks for all indoor events (whether on-campus or off-campus) hosted by the NIU Foundation and/or the NIU Alumni Association.

We deeply respect and greatly appreciate our donors, alumni, community and friends. As we move forward – together – the NIU Foundation and NIU Alumni Association are committed to following the above guidance and making every effort to reduce any threat to everyone's safety, health and well-being.

We hope that you will decide to join us at an upcoming event and we look forward to seeing you.

Hand sanitizer and disposable masks will be available at our events. We encourage you to consider your health and personal well-being when deciding whether to attend.

Be well, and stay safe.