NIU Launches Career of Emmy Award-Winning Journalist Vicky Baftiri, '03, M.S. '05
By Eva Richards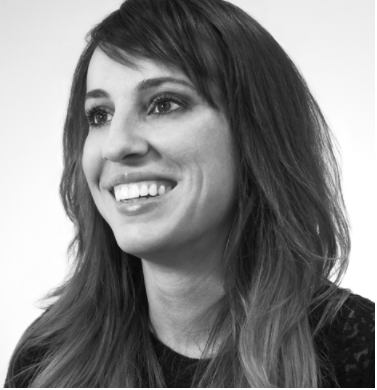 Vicky Baftiri believes in the "noble work" of modern-day journalism, and she has devoted her career to helping tell important stories in ways that people can understand.
Vicky Baftiri, '03, M.A. '05, has always been passionate about finding the truth. She and her three siblings were raised by a truth-seeking, matter-of-fact father.

"He had zero tolerance for bullshit," she said. "He stressed the importance of honesty."

With only one TV set in her house, Baftiri's father would always watch the news, especially world news. Even though she was only a small child, Baftiri began to develop a high interest in current events.

"TV was the only medium that made him feel connected to what was going on internationally," she said.

The daughter of Albanian immigrants from North Macedonia, Baftiri was born in Long Island, New York, before moving to Morris, Illinois, a small town about 65 miles southwest of Chicago. During the 1990s, as the Bosnian War was happening, she remembers her family being glued to their TV set in hopes of learning what was happening in her parents' homeland.

"I would spend childhood nights watching the news with my dad. I remember thinking, 'I want to do what the reporters are doing, informing the public of important events,'" she said.

As she grew up, Baftiri enjoyed listening to great storytellers, like her father and her great uncle, who told fascinating stories about WWII, what life was like for them in Yugoslavia, and folklore.

"One of my favorite memories of visiting my parents' homeland was listening to Albanian folklore," she said. "There were stories of wisdom, courage and legends. These are stories that have been told from generation to generation. Stories about loyalty and bravery, lessons of honesty and wisdom, and legends about faith."

In high school, she started to develop a passion for creative writing, and her teacher took notice of her skills and gave her the confidence she needed to keep pursuing writing. When she visited her older sisters at NIU in the late 1990s, she fell in love with the campus.

"I researched their media studies and journalism program, and I thought it was the perfect fit," she said. "I knew I would benefit from the renowned professors and advisors. At that time, the campus TV station, the student newspaper and variety of classes—they all offered great opportunities for learning."

As a first-generation college student, Baftiri knew the value of education. Her parents each had completed only four years of education, having grown up in very poor villages in what is now called North Macedonia, a part of the former Yugoslavia.

"They finished 4th grade, and then they worked in the fields," she said. "My dad was a shepherd at the tender age of nine, after his father died. He and his siblings had to work and take care of the family. Growing up, my dad would always say to my siblings and me, 'Education gives you eyes.' What he meant was knowledge gives you the freedom to become whatever you want to be. It's a window of possibilities. It gives you a path for a better life, to be respected, and to make a difference."

What a difference it made.

Baftiri was fortunate to have outstanding professors. Her newspaper reporting and media writing classes taught her many of the skills she still relies on today, like how to write TV scripts. The rigorous approach to education at NIU motivated her to be a critical and creative thinker, and that teaching approach propelled her career.

"I grew so attached to NIU, I wanted to continue my master's degree in media studies there," she said. "That speaks volumes to the student experience and the many aspects of intellectual and academic development I gained."

During her graduate studies, Baftiri was required to take on an internship in journalism, and she lined up an apprenticeship at WGN-TV.

"If it wasn't for this requirement of getting an internship, I don't think I would be in my current role," she said. "I didn't know anyone in the industry, but I applied anyway after my NIU advisor told me about the opportunity. To my surprise, I got a call back a couple of days later from the assistant news director. He asked me to come in the next few days, do several interviews, and take a writing test. I stayed up all day and night practicing how to turn newspaper copy into TV scripts. I couldn't afford to fail this test or bomb the interviews. This was my only shot. I couldn't screw it up."

When the day came for the interview, Baftiri walked into the iconic WGN building on Chicago's North Side, where drawings of Bozo and legendary TV journalists graced the hallways. It was a "pinch-me" moment she will never forget.

"Here I am, a daughter of immigrants, English as my second language, trying to be a journalist in Chicago?!" Baftiri remembered. "I couldn't believe it."

The next day, when she got the call that she was hired for a paid writing internship, it was one of the best moments in her life.

"My whole life I felt like the underdog and here I was about to write for WGN, Chicago's local news station with a national audience at the time. My hard work in college was finally paying off," she said.

The apprenticeship lasted six months and went by very quickly. Many of Baftiri's mentors didn't want to discourage her, but they gently suggested that, when her internship was over, she should start at a smaller TV market to get more experience. No one really starts working in the third-largest television market right out of college, they said.

"Many journalists scratch and claw their entire careers in hopes of getting a job in the top five markets," Baftiri said. "But the late, great journalist, Allison Payne, took me under her wings and requested I work with her on stories. I couldn't believe it. She saw my passion, my drive, my dedication, and she spoke to the higher-ups and the assistant news director offered me a freelance job."

Baftiri started to work on special projects with Payne, doing larger stories on Sen. Dick Durbin, then-Sen. Barack Obama, Speaker of the House Nancy Pelosi, Rev. Jesse Jackson, and more. Other anchors in the newsroom took notice of Baftiri's projects and requested to work with her. She began to produce stories on WWII and features like "Haunted Chicago," as well as daily stories about mothers who lost children to gun violence and the months-long corruption trial of former Illinois Governor George Ryan.

"Allison Payne saved me. She changed the trajectory of my life. I credit my entire career to her," Baftiri said. "I don't know what my future would have looked like if she didn't believe in me."

After working at WGN for three years, Baftiri was recruited to be a segment producer for two national shows for NBC Universal—Open House, a real estate, renovation, and design show, and "1st Look," a lifestyle show that airs after Saturday Night Live that features the best in entertainment, fashion and food. As a segment producer, she worked on Chicago segments that would then be transferred to New York where an editor put together half-hour shows to include stories from Los Angeles, New York and Chicago. She also interviewed celebrities like Perry Farrell, Ivanka and Eric Trump, and famous designers like Vern Yip and Nate Berkus, and many more.

In 2010, Baftiri received an Emmy Award for "Outstanding Achievement for Informational Programs" for her work on "Open House."

"It truly is a humbling feeling to be recognized for hard work, dedication, and creativity," she said. "This is a cut-throat field, and the competition is high. You wonder if all the sacrifices you make are worth it. So, this honor was something that I am very proud of."

While Baftiri says NBC was a "fun gig," but quickly found it less fulfilling than her journalism roots. "I wasn't doing the stories that I thought made a difference," she said.

Taking a chance on other opportunities, Baftiri began freelancing in advertising and then for CBS Chicago as a writer/fill-in supervising producer. There, she had the amazing opportunity to write and produce newscasts for two legendary broadcasters—Bill Kurtis and Walter Jacobson. Since 2017, Baftiri has returned to her roots at WGN, where she works a supervising producer of her own show, the WGN Evening News at 6 p.m.

"The stories I run include investigative stories, crime, political stories, stories about community, health, family, corruption, features and feel-good stories," she said. "It's a tough job, but a job I deeply enjoy. The daily deadlines and speedy rush of a newsroom can be overwhelming, but I understand my duty, that my role is a public service, and that we have the power to shape people's perspectives. It's a massive responsibility that I don't take lightly. We work day-in and day-out to provide factual coverage that does not perpetuate myths or stereotypes or spread misinformation."

Baftiri is involved with the entire editorial process, from story selection, storytelling and checking scripts, to making sure the video and graphics illustrate the story accurately.

"My team and I make sure there is a good balance of hard news and features. In a time where the news is all doom and gloom, we really try to give a good variety of stories to our viewers," she said. "It truly takes a village to put on the news, and I'm lucky to have an extraordinary team who helps me make it happen every single day."

In an era where many people are becoming citizen journalists, it is hard for readers and viewers to distinguish what is true and what is not. Baftiri works each day to cut through that noise.

"At the end of the day, I do what I do, not for the notoriety or the money, but for the greater good of humankind. This work is a noble act," she said. "We hold people of power accountable for their actions, uncover fraud. We are constructive but never careless. We are unafraid to ask hard questions to uncover the truth. Without great journalists, we would be left in the dark. It goes back to my dad's saying, that 'education gives you eyes.' I believe that journalism gives you eyes. Unbiased, factual stories open your eyes to see the world."