Lukas Bonnen, '17, M.S. '18, Takes 'Control' of His Career at M-Wave Controls
By Eva Richards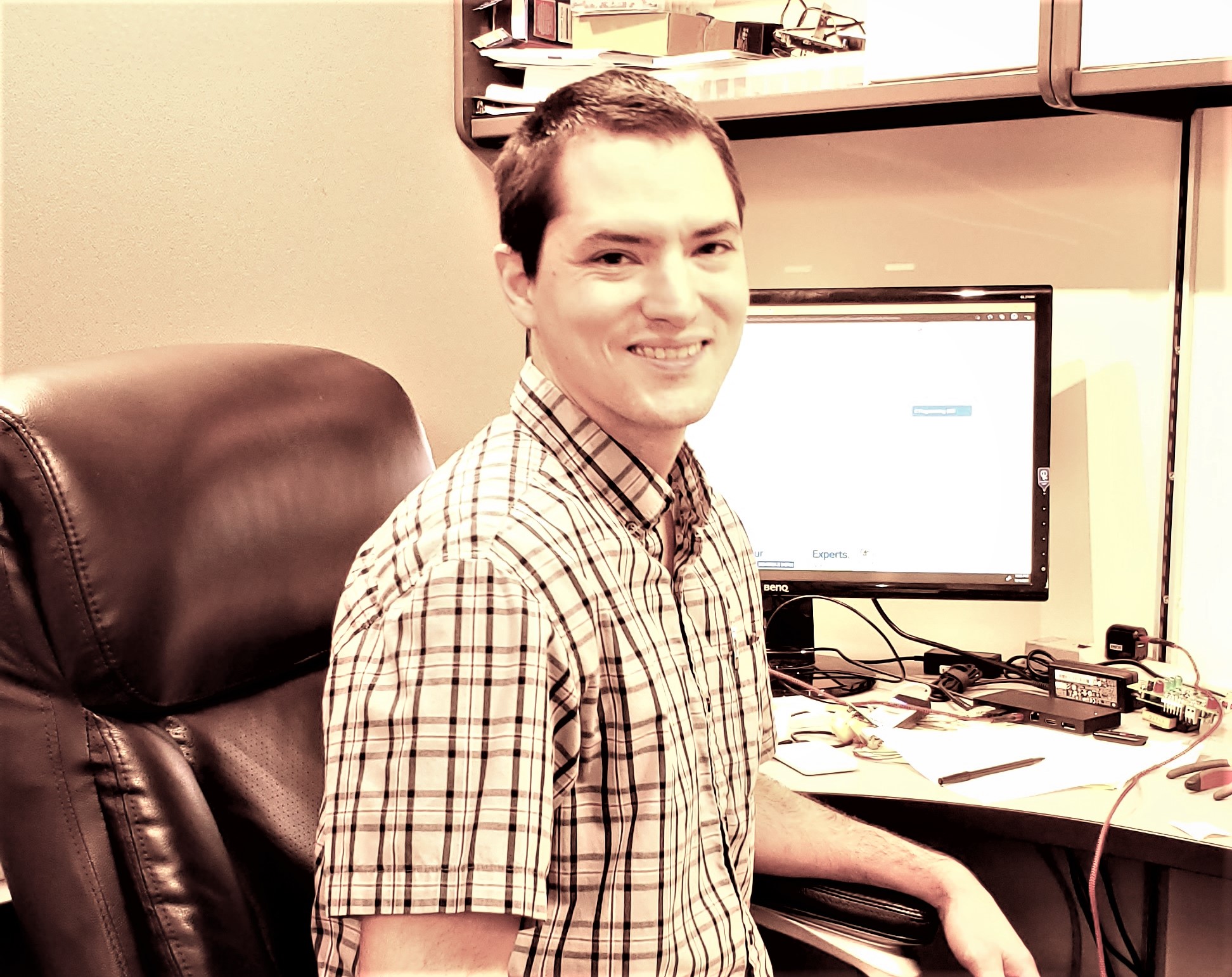 Luke Bonnen, '17, M.S. '18, is an electrical design engineer for M-Wave Controls in Aurora, Illinois.
It has been said that "those who cannot do, teach."

In the case of Lukas Bonnen, who earned his B.S. in electrical and biomedical engineering in 2017 and his M.S. in electrical and electronics engineering in 2018, working as a teaching assistant only helped him to do more.

Today, just four years after joining the workforce, he is a project engineer for M-Wave Controls, which specializes in electrical and electronic manufacturing, and is based in Aurora, Illinois. In his everyday work, Bonnen sticks to the fundamentals of what he learned in the classroom, with practical applications that would help people.

Growing up in Byron, Illinois, Bonnen was an amputee, losing his leg at birth.

"I missed out on a lot of school and some of the opportunities associated with it, due to frequent surgeries," he said. "However the Byron school system went above and beyond to ensure I got what I needed. Growing up with a prosthetic allowed me to see and experience some of the short-comings in limb replacement technology."

During high school, he was driven to improve limb replacement. He would come up with sketches while trying to consider the mechanical nature of the body-socket system. "Necessity may be the mother of invention, but she married curiosity," he said.

However, believe it or not, at one time, Bonnen was a "terrible math student."

"It wasn't until I moved on to Rock Valley College that my interest in math was discovered," he said. "Rock Valley College has an incredible mathematics department, and it was there I first realized engineering might be something I could do. I spent time volunteering at a prosthetics clinic, so I could see what other amputees experience, not just myself. It was the accumulation of events in my life, which influenced my decision to eventually pursue biomedical engineering at NIU."

As an undergraduate Huskie, Bonnen's senior design group worked on building a low-cost alternative to conventional myoelectric prosthetic hands.

"We succeeded in our design goals, and we received Institutional Review Board and U.S. Food and Drug Administration approval to conduct ethical patient testing," he said. "This project resulted in our team winning senior design for the Department of Electrical Engineering at NIU."

While earning his master's degree, Bonnen worked under Dr. Benedito Fonseca, who holds 22 patents of his own.

"The faculty are experts in their respective areas, with many engaging in inter-disciplinary research," he said. "NIU's unique academic environment champions student opportunity. While at NIU, I researched interesting topics and utilized the volumes of experience and knowledge provided by my thesis committee. This provided the opportunity to implement proven techniques from a range of disciplines towards my novel research topic."

Bonnen's chosen thesis topic focused on electromyography, which is a technique for evaluating and recording the electrical activity produced by skeletal muscles, as a control interface to prosthetic devices.

"During my graduate studies, I learned about the research process, the importance of clear research goals, and many advanced techniques in signal processing. In addition to new information, I was able to further mature my understanding of undergraduate engineering topics," he said. "Through my thesis, my belief was that a customizable feature-generation technique would benefit those who used prosthetics."

Bonnen also had plenty of opportunities to beef up other important skills while on campus.

"I took advantage of being a teaching assistant while earning my master's at NIU, and it was one of the most rewarding experiences," he said. "One of my professors reminded me that everything is an application of the fundamentals. In my responsibility to accurately present topics to students, I refined my understanding of those foundations. These lessons not only helped me understand more advanced topics in my graduate studies, but they have proven invaluable in my professional role as an engineer."

As with so many Huskies, an experiential learning opportunity became an important career move for Bonnen. During his final year of graduate studies, he began working as an electrical design engineer for M-Wave Controls, when leaders at the company took interest in his embedded programming and circuit design course background.

"I was assigned a project to develop a custom control system for a customer application on my first day," he said. "The responsibilities for this project included power conversion, buffering of analog and digital inputs, design of output amplifiers, and real-time embedded programming. Although I was nervous as any new professional engineer would be, I was able to rely on my academic background to see me through to project completion. I repeated the words of my thesis advisor often during those initial days, 'You have to be comfortable with uncertainty.'"

Since his first day at M-Wave, Bonnen has been put at the helm of many custom projects for customers. His first project, and one that he is very proud of, was to design a control for Direct Energy Transfer (DET) cooking.

"It allows for a grill to cook meat without a traditional heating element," Bonnen said. "In a conventional grill, the grill top is heated either through ohmic losses, or combustion. Both of these techniques require the cooking surface and the surroundings to increase their temperature. This can be a risk to the restaurant, as someone can get burned, or an accident could result in a fire. The DET technology allows for uncooked meat to be placed on a cool grill surface, cook the meat in under a minute, and have a safe-to-touch grill surface when the operator goes to retrieve the cooked product. This technique differs from a microwave in that it uses direct electrical contact with the product, and performs better when starting with frozen products."

In his role at M-Wave, Bonnen is exposed to a variety of different industries and their unique problems, which requires him to rely on all he learned in the classroom.

"In my current role as a project engineer, I have been expected to bring in new technology and skills to our team. This is critical to filtering through tools and techniques to best serve our customers needs," he said.

Looking back, Bonnen credits NIU's well-rounded education with allowing him to get an interesting and impactful job with a cutting-edge company right out of college.

"There was more to my education than a career in engineering," he said. "I went from being titled a student to actually becoming a student. Whether in medical devices, industrial sensing, or wireless communication, the College of Engineering prepared me to approach problems carefully and critically."