Michele Pankow, M.P.A. '08, Serves as First Female Fire Chief for Rockford, Illinois
By Eva Richards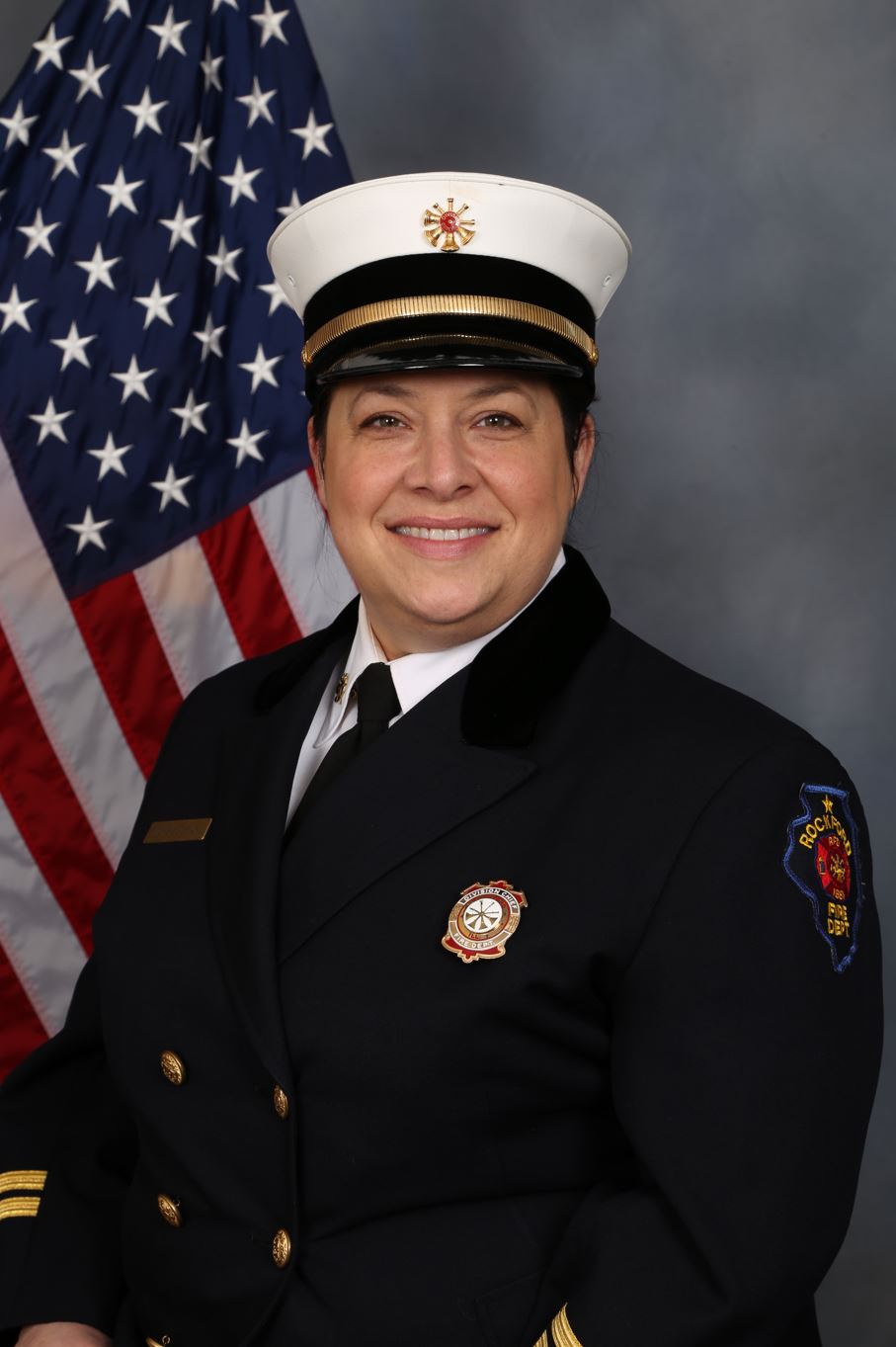 Michele Pankow received her M.P.A. in 2008, hoping to help move the Rockford Fire Department forward through her leadership.
When Michele Pankow, M.P.A. '08, was growing up in New York and Colorado, she was a bit of a tomboy with a rockin' dream.

"I grew up around horses, riding and showing them," she said. "I also loved singing, so naturally, I wanted to be a rock star when I grew up!"

Now, as the city of Rockford, Illinois' first female fire chief, Pankow reflects on her journey.

"As a child, I never thought I would end up fighting fires," she said. "This line of work was really never considered or presented as an option for young girls and women when I was growing up."

Pankow and her family moved Northern Illinois during her teen years, and she struggled to decide on her future direction until a friend suggested an unconventional path.

"As I began the firefighter training, I had numerous people tell me that the job was difficult and that I should consider doing something else," she said. "Naturally, this made me want to continue through with the training to prove them all wrong. But somewhere in the middle of all of that, I found my mettle. I learned just how far I could push myself, and then push just a bit more. So, it transitioned from feeling as though I needed to prove them all wrong, to feeling as though I needed to prove to myself that I had what it takes."

She began working as a firefighter in 1992 at the age of 22 and eventually became the district chief. In 2017, Pankow moved into the role of division chief of operations for the department. When the City of Rockford began a cohort program with NIU, and the partnership allowed Pankow to consider whether she would want to pursue a higher degree.

"The NIU master's of public administration program was ranked very well, so it seemed like a perfect fit," she said. "I was interested in getting my M.P.A. because I felt like it would provide me with the tools to continue moving the Rockford Fire Department organization forward."

Pankow's most symbolic and important experience at NIU was the day that she earned her degree.

"I walked for my diploma, and the overwhelming sense of the pride and feeling of accomplishment was something I won't ever forget," she said.

In August, Pankow made history being sworn in as the department's chief. While this role is very new for her, she is quickly learning what it takes to lead the whole department.

"Currently, my average day begins with a leadership team briefing, and is nonstop from there!" she said. "In addition to getting acclimated to my new position and new responsibilities and commitments, I am trying to engage in face-to-face communications with each fire station on each shift—which totals 33 visits—and I am meeting with stakeholders like elected officials and other departments within the City of Rockford."

Pankow noted that her new title brings opportunities to give back to her fire department family and the community that she serves.

"Giving back and serving… That truly is the most rewarding and fulfilling part of this amazing career!" she said.

While Pankow is being celebrated as the first female fire chief, she is honest about what that means.

"The challenge is to embrace the difference. I bring a completely different skill set, so embracing that I am different has been challenging over the years," she said. "I wanted so much to fit in that it took me a while to realize that different is not only okay, but it is an opportunity to move people and the organization forward."

She also embraces the opportunity she represents to other women and young people who are trying to reach their dreams.

"Being the first female chief means that being a firefighter, a lieutenant, a captain, a district chief, a division chief, and a fire chief are ALL options for young people today, regardless of gender," she said. "Every day, my goal is to continue moving forward, even if it is only one step at a time. Progress is definitely the primary driving force to my daily work."

Pankow credits NIU with teaching her how to flourish through growth and opportunity.

"NIU provided me with a foundation to navigate the different roles that I have had as part of the Rockford Fire Department leadership team," she said. "As my scope of responsibility expanded, I had the necessary tools to thrive. Thank you, NIU!"