One of the #ThousandsStrong: School of Music's David Maki, '89
By Eva Richards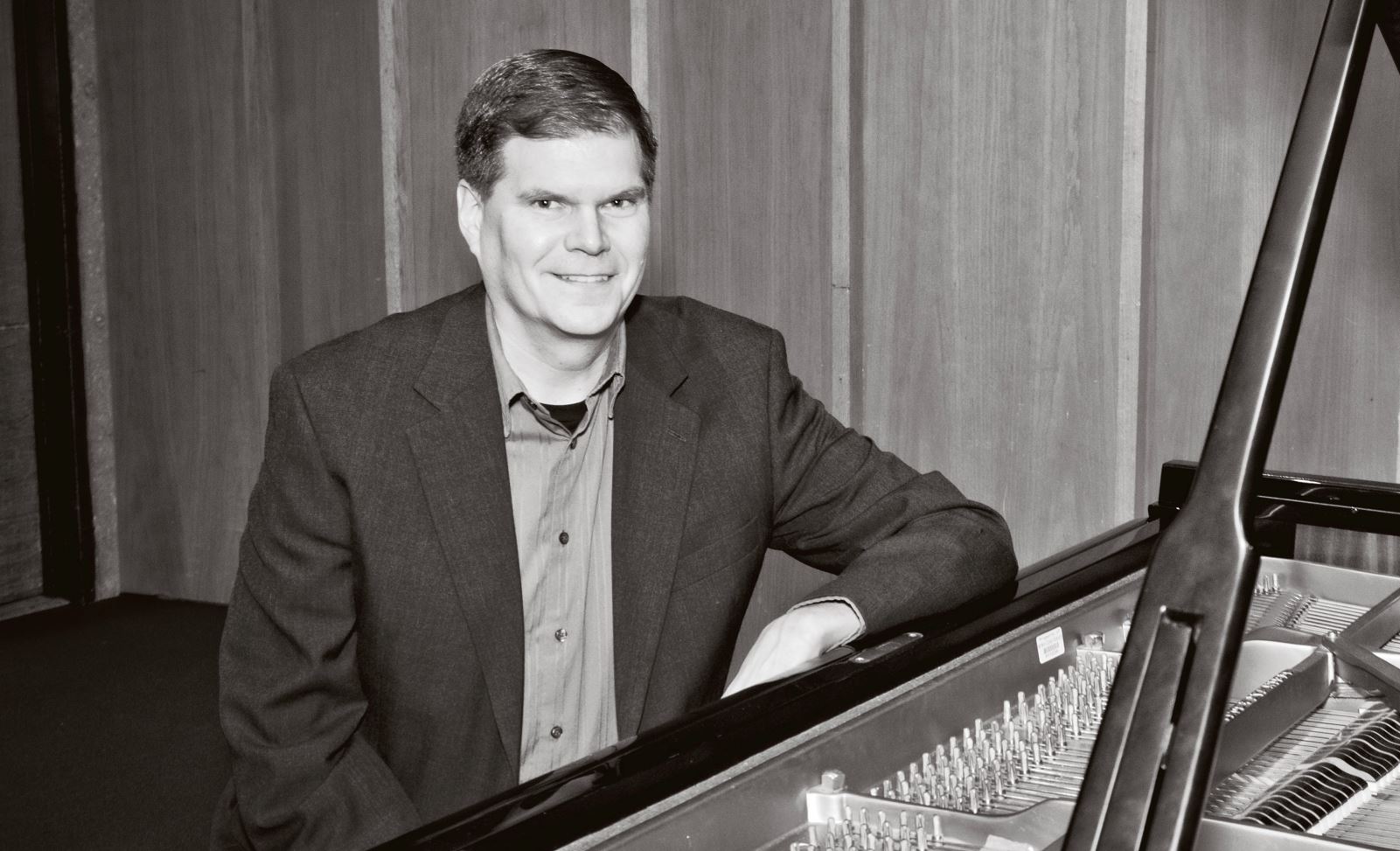 David Maki earned his B.M. at NIU in 1989 and went on to be a part of the School of Music's faculty.
When David Maki, '89, sets off for a day's work as NIU's School of Music's coordinator of music theory and composition, he knows it will be filled with beautiful melodies.

Teaching music theory and aural skills classes, as well as private composition lessons, a typical day involves teaching classes in the morning, teaching lessons in the afternoon, and in between attending to service and committee responsibilities for the School of Music and the University.

"I work closely with my colleagues in the School of Music and in the music theory area to ensure our students are succeeding and thriving," he said. "I keep in touch with composition alumni and help with their careers in any way I can. I am also always working on writing new compositions and finding performance or recording opportunities for my music. Sometimes, I even get to perform on the piano. Basically, I get to do everything I love—teaching, composing, and performing!"

But the most rewarding part of Maki's role is his interaction with students who are continually learning.

"There are so many wonderful moments of fulfillment or satisfaction in my work—the moment a student grasps a concept that they have been struggling with; watching and enabling a student to pursue an unexpected area of interest; hearing students perform musical works at a high level; seeing the musical and intellectual growth of students over the course of their time here; and finding a new way to explain a concept in the classroom. I've also been here long enough that I have had the pleasure of keeping track of many of our students' careers after NIU," he said.

Maki believes in his work because of the value of serious musical study in a university setting, which goes beyond preparing students for careers in music.

"It involves high-level, creative thinking, and it requires teamwork in the pursuit of excellence," he said. "It fosters intellectual curiosity in understanding how music relates to other disciplines and allows for new ways of thinking about human experience. On a larger level, it is about creative human expression, which is something beyond value in our often-fractured society."

Maki's respect for musical composition and performance began at an early age. Growing up in suburban Glenview, Illinois, Maki's parents were both teachers, and their home was always filled with music.

"My dad taught at Buffalo Grove High School (in Buffalo Grove, Illinois), and my mom taught piano lessons from the studio my dad built in our home. She had over 60 students a week, and I started piano lessons at the age of four and continued to study with her into high school. I remember that when my mom finally got some time late in the evening, she would practice the piano herself. I would often fall asleep listening to her play Debussy, Beethoven, Brahms or Schumann," he said.

Maki's parents also had concert subscriptions to the Chicago Symphony and they would sometimes bring him along, so music was in integral part of his life as long as he can remember.

Maki had a wonderful mentor at Glenbrook South High School—Dr. William Schnell. One day, when he heard Maki playing the piano during his lunch hour in the choir room, Schnell asked Maki whether he wanted to get more involved beyond playing trumpet in the band. When Maki agreed to do more, his musical career had begun.

"The next thing I knew, I was an accompanist for choir, was singing in the chamber choir, was playing trumpet in district orchestra, and was enrolled in a music theory class," he said. "I loved music theory and there was a small group of us theory geeks who were interested in continuing our studies beyond the one year. The school was able to create a whole new class just for us to study a second year of theory."

It was in these classes that Maki and his friends were exposed to composition and encouraged to write music. His new piano teacher, Bea Isaac, suggested Maki study music in college and work with Donald Walker who taught at NIU.

"So, I started looking into NIU and found a program where I could pursue all of my musical interests," he said. "Unlike other options nearby, NIU had a more affordable tuition rate and had some unique areas of study such as world music."

Just like many of today's music majors, Maki had little idea what was in store as he began a degree program in music. He also did not realize how much his time as a student here would set up the course of his life.

"Donald Walker did indeed prove to be an amazing teacher and mentor, shaping my abilities as a performer and musician in ways beyond what I imagined," he said. "Another NIU teacher who was a great influence was Dr. Jan Bach, professor of composition, who got me to develop a solid compositional technique while also retaining an imaginative and multi-faceted perspective to musical form."

Music majors spend a lot of time together and, as a result, Maki developed many friendships and professional relationships at NIU that continue to this day. In fact, he met his wife, Alison Maki, '90, while singing in concert choir. But the connections to NIU do not stop there. Alison's father Glenn Meeter, was a long-time member of the faculty in the Department of English, and Maki's brother, Bruce, earned a degree in geology in 1984.

"When I went on to graduate school at the University of Iowa and the University of Michigan, I realized how well my time at NIU had prepared me," he said. "For one thing, because of the rigorous study in music theory and history classes, I was able to test out of all graduate review classes in those subjects."

When Maki joined the NIU faculty in 2002, his former instructors became his colleagues and friends, and the NIU connection deepened.

"I am forever grateful for their dual impacts on my career, first as teachers, then as incredibly supportive colleagues who helped me navigate the challenges of beginning a career in academia," he said. "I try to maintain their high standards and commitment to teaching, scholarship and artistry."

This connection has pushed Maki to contribute to his alma mater in other ways, as a way of giving back to the institution that gave him so much.

"My wife and I want to support NIU in changing the lives of students and providing opportunities for others," he said. "Some of our contributions have gone to honoring former faculty, such as Dr. Jan Bach, and to starting a modest fund in the English Department in the name of Alison's parents, Dr. Glenn and Mrs. Marlene Meeter.
"We have decided to give back financially to NIU because we are grateful for the opportunities and experiences that NIU has provided to us."

Thousands Strong is an opportunity for alumni and friends to engage with NIU in an exciting, virtual initiative that will increase and expand alumni pride and engagement, cultivate donor prospects and celebrate the impact of philanthropy at Northern Illinois University. This year, this day of giving's virtual initiative will start the evening of Nov. 10 and run through Nov. 11, with a variety of opportunities to help students and the University.

Sign up to be an Thousands Strong Ambassador for the event.
Register for the Thousands Strong Kickoff Show on Nov. 10.