One of the #ThousandsStrong: Rena Cotsones, M.P.A. '04, Ph.D. '13
By Eva Richards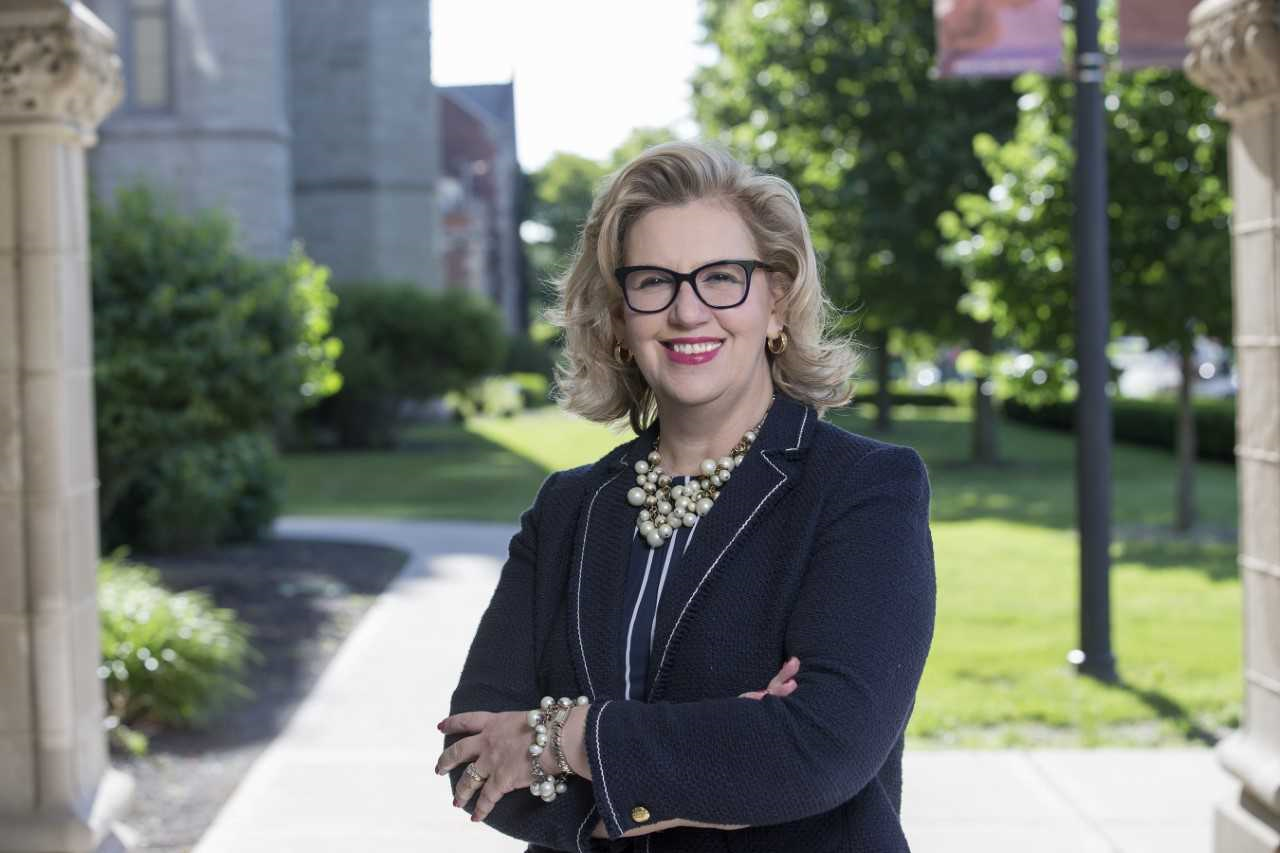 Rena Cotsones
Outreach and engagement come naturally to Rena Cotsones, M.P.A. '04, Ph.D. '13.

Growing up in Kankakee, Illinois, Cotsones' dad was a Greek immigrant and owned a restaurant, which served as a local gathering spot for lots of different kinds of people.

"My dad loved nothing more than connecting people for employment, supporting fellow small business owners and strengthening the community," she said. "I enjoyed the social aspect of it as a kid, and as I got older, I began to understand the tremendous positive impact he was making on a daily basis."

Because of her father's influence, Cotsones—who serves as NIU's chief engagement officer and senior associate vice president for the Division of Outreach, Engagement and Regional Development (OERD)—has looked for opportunities to bring people together for common good throughout her career.

"Finding new ways to unite the expertise and resources of the University with those of our regional partners to address challenges and create solutions is challenging, fun and deeply rewarding," she said.

Cotsones earned bachelor's degree at Illinois State University, enjoying a great experience because she was very involved in all kinds of activities, including as a resident advisor for three years, a D.J. on the radio station, a news anchor for TV-10 newscasts, and as a singer in a musical group, among other things.

"I always urge NIU students to get involved to maximize their college experience," she said. "My closest friends today are the people I met during my undergraduate years."

After completing her degree, Cotsones' career took off, and she eventually flourished in the role of executive vice president for the Rockford Area Chamber of Commerce. It was then that she was approached by a leader who changed the course of her career.
.
"I was recruited to NIU by President John LaTourette, who I had gotten to know through my work with the Rockford Area Chamber of Commerce," she said. "As soon as I arrived at NIU in 1999, I began exploring master's programs and quickly settled on the Public Administration program because I did so much work with local governments, community leaders and nonprofit organizations. I was encouraged by the public administration faculty to keep going to get my doctorate. I never took a semester off because I didn't want to remember what it would be like to have free time!"

Cotsones notes that there is a reason NIU's M.P.A. program is one of the top programs in the nation. The faculty and curriculum are outstanding, she said, and the alumni are a distinguished group of leaders who remain close to the program and inform the curriculum to keep it cutting-edge.

In her role today, Cotsones is all about collaboration.

"It's important for people to realize that collaboration doesn't 'just happen,'" she said. "It takes leadership, shared vision, functional networks and appropriate resources. There is an intentionality to it that goes way beyond simply coordinating activities. True collaboration is doing something together that none of the partners could do on their own. It's linking and leveraging ideas, expertise and resources in new ways to create—and sustain—positive impact."

Within OERD, Cotsones works with a dedicated team of professionals who are advancing collaborative initiatives to make the Northern Illinois region better. The division provides leadership, partnership and support to faculty, staff, students and community members who want to engage in a meaningful way around a wide variety of issues.

Cotsones feels fortunate to be working at NIU under the leadership of President Lisa Freeman, who understands, supports and models best practices in community engagement. She sees a new level of openness, creativity and collaboration at NIU that is making it possible for ideas to emerge and be embraced in a way that drives success.

"It's an exciting and supportive environment in which to work. Authentic engagement isn't an occasional foray into the community to do a project," Cotsones says. "It is a long-term, consistent commitment to work collaboratively with internal and external partners to make our region a better place to live, learn, work and do business."

She feels great personal pride in her affiliation as both an alumna and employee of NIU, and she is adamant that NIU is an excellent university with strong academics, world-class research, compelling outreach and engagement, and a deep commitment to the success of our diverse student body.

"I am grateful for the many friendships I have made here and the opportunities I have had to achieve educationally and professionally," she said. "Most importantly, I believe in this institution's power to change the lives of its students and to change the trajectory of the community, the region and the state. It is an honor to be a part of that."

Cotsones' commitment has also led to her financially supporting the University through regular donations.

"I give to what I believe in, and I believe in NIU," she said.

Thousands Strong is an opportunity for alumni and friends to engage with NIU in an exciting, virtual initiative that will increase and expand alumni pride and engagement, cultivate donor prospects and celebrate the impact of philanthropy at Northern Illinois University. This year, this day of giving's virtual initiative will start the evening of Nov. 10 and run through Nov. 11, with a variety of opportunities to help students and the University.

Sign up to be an Thousands Strong Ambassador for the event.
Register for the Thousands Strong Kickoff Show on Nov. 10.