Assistant VP of ADEI Monique Bernoudy, M.S.Ed. '92, Invests in the Future
By Eva Richards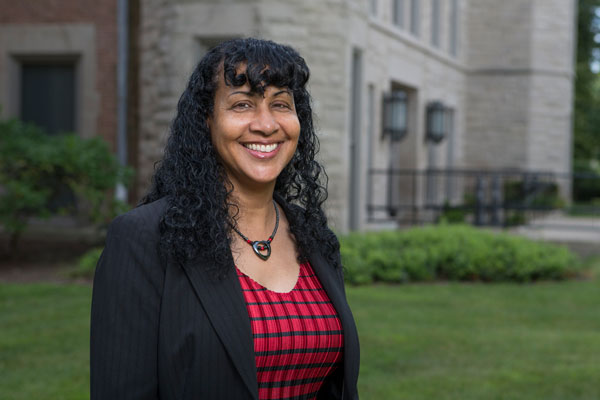 Monique Bernoudy, M.S.Ed. '92, has learned from the positive and challenging experiences of her own education, wanting to give back to her alma mater for the benefit of NIU students.

Growing up in a diverse neighborhood in Detroit, with neighbors of various backgrounds and cultures, and as part of a family with different skin tones, ethnicities and backgrounds, had a tremendous influence on Monique Bernoudy, M.S.Ed.'92.

"I was and still am a curious person. I was interested in science, sports, how people engage, and equity, although when I was younger, I am certain I probably defined it as fairness," Bernoudy said. "Where I came from influenced the lens in which I view the world."

Bernoudy earned her bachelor's degree in psychology from Spelman College, a historically Black liberal arts college for women in Atlanta, and the experience was pivotal in her personal and career growth.

After conducting some research and speaking with a friend and campus administrators at NIU, Bernoudy chose to pursue a graduate degree at NIU. When she was a couple of courses shy of earning her master's degree in public administration, Bernoudy decided to switch to the adult continuing education program.

"I had a good experience and, quite honestly, some challenging experiences with regard to inequity, marginalization and racism," Bernoudy said. "However, the good outweighed the challenges and the engagement and support of peers and campus professors and administrators who mentored me played a major role in having a good experience. All my experiences helped me acquire the skills to work through various situations and helped me solidify that I am an educator at heart. I am determined to make a difference daily in the lives of others and to focus on dismantling oppressive systems, policies and procedures."

Today, as assistant VP of Academic Diversity, Equity and Inclusion (ADEI), Bernoudy revels in transformative work of talking with students, faculty, staff and community. She also enjoys learning about others' experiences, needs and visions and engaging in developing and revising the University's policies, programs, and procedures, with the goal of building a sustainable community where all feel welcomed, valued, empowered, restored, and that they belong.

"The people at NIU are what has given me pride for 30 years," she said. "The students inspire and challenge us to do more, raise the bar and think outside of the box. Faculty and staff work collaboratively to find new ways to help students succeed and are passionate about their work—working with one another, and sincerely making a difference."

Bernoudy notes that she has many colleagues who she admires and is humbled to work with and support.

"Their energy, passion, and determined spirit are fulfilling to me," she said.

Each day, Bernoudy sees students and colleagues on campus and in the community who are working separately and collectively to build a community where voices are heard, people are embraced and empowered, and all can succeed and exceed their goals.

"I am confident NIU wants to do right by our students and our employees want to engage in meaningful ways to help students succeed," she said. "While big hearts, empathy and service are needed to encourage, uplift and support one another in our community, there is also a large need for financial resources in order for us to meet our mission, vision and goals."

Because of these needs, Bernoudy is committed to supporting the University financially, as well as through her professional work.

"We continue to see needs on our campus and within our community that require investment on all levels," she said. "I am proud to give to NIU and the community both financially and in service because I believe the best investment in our future is in the future generations."

Bernoudy says she feels fortunate to have had many people invest in her as she was getting an education, and she wants to return the favor as her "thanks" for the opportunities she received.

"My mom taught me the importance of 'paying it forward,' and I am trying to do my part to do that," Bernoudy said. "NIU has afforded me so many opportunities, such as furthering my education. It taught me to successfully collaborate with a team, to give without any expectation of return, and to have fun in all I do. I have learned from both the good and challenging situations, and all of it has taught me about resilience, being authentic and the importance of leaning on a team to uplift, sustain and strengthen all I do."

Thousands Strong is an opportunity for alumni and friends to engage with NIU in an exciting, virtual initiative that will increase and expand alumni pride and engagement, cultivate donor prospects and celebrate the impact of philanthropy at Northern Illinois University. This year, this day of giving's virtual initiative will start the evening of Nov. 10 and run through Nov. 11, with a variety of opportunities to help students and the University.

Sign up to be an Thousands Strong Ambassador for the event.
Register for the Thousands Strong Kickoff Show on Nov. 10.