First-Generation Student Natalia Dmitruk, '21, Feels 'Strong Bonds' at NIU
By Eva Richards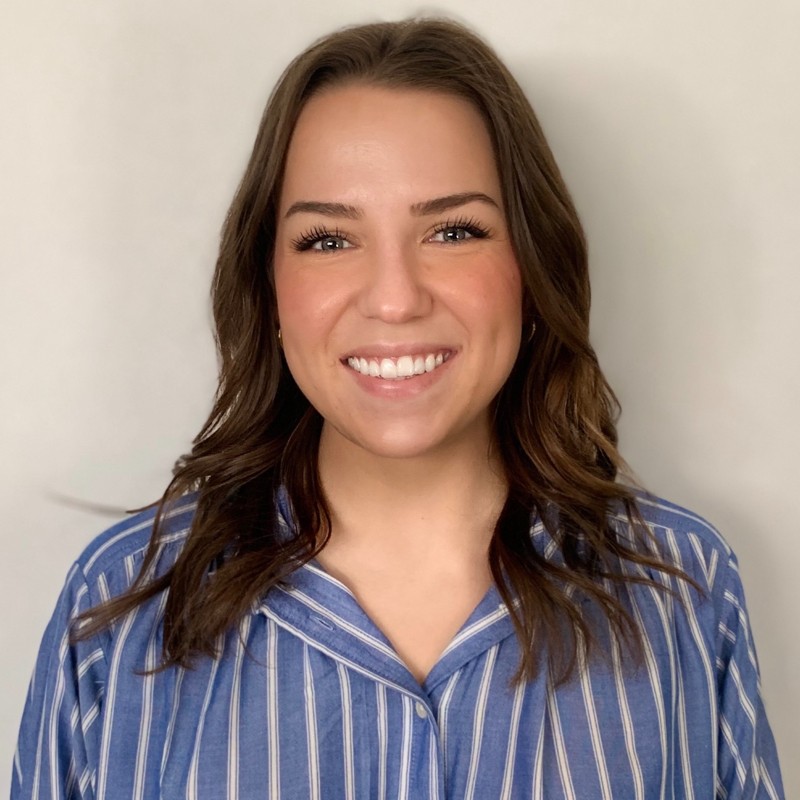 Natalia Dmitruk, '21, works in biomedical engineering for GE Healthcare in Chicago.
Coming from a family of Polish immigrants, Natalia Dmitruk, '21, was a first-generation college student. Knowing the sacrifices her parents made to send her to NIU made it even more special for her.

"I always get very emotional speaking about my time at NIU, in a good way of course," she said. "My four years there really shaped who I am today. As a female going into engineering, I was worried about making friends and finding 'my people.' I was able to do all this and make unforgettable memories."

Even in middle school, Dmitruk had her heart set on becoming a biomedical engineer, due to her love of math and science. Thanks to her parents, she was always taught to respect the importance of education.

"My mom always told me that the one thing a person cannot take away from you is your education, which brought a whole new meaning to having the opportunity to attend NIU," she said. "When I was young, I just knew that I wanted to help people with my job and do something medical, so biomedical engineering was the perfect choice for my goals. Now, thanks to NIU, the knowledge I gained has allowed me to work my dream job in my favorite city, and I cannot imagine doing anything else."

While finishing up her degree last spring, she began a part-time apprenticeship with GE Healthcare in Chicago. After graduating with her B.S. in biomedical and medical engineering in May, Dmitruk began working as a biomedical equipment technician there.

"I started off on the field engineering side of operations, being part of the CT Scanner team," she said. "I was able to assist in installing new CT equipment and repairing the ones already at hospitals. After half a year, I switched over to the biomedical technician side of GE Healthcare. I have been in this position for about two months now at Northwestern Memorial Hospital, fixing medical equipment every day."

As Dmitruk begins building the career she has envisioned for so long, she exudes appreciation, especially for her alma mater.

"My time at NIU spent in the Engineering Building was amazing," she said. "The staff there was super supportive, I was able to form strong bonds with my classmates, and my engineering knowledge grew exponentially in a short amount of time."

Because of her appreciation, Dmitruk has volunteered at NIU, first as a student, and now, as an alumna. While a student, she gave tours of New Hall, showing prospective students her room and sharing her experiences. She also volunteered at open houses through the Honors Program, hoping to recruit students to join the program.

As an alumna now, she has helped primarily with the College of Engineering and Engineering Technology Open Houses.

"Through volunteering at NIU, I have been able to connect to future students, current students, as well as past students," she said. "All these conversations have been very meaningful to me. I love to hear about other Huskies' experiences and stories. It is wonderful to talk and realize the connection that exists all through the NIU community. Everyone seems to have very similar and fond memories to me, so it's great to 'relive' them with others. I hope that, through sharing my experiences, future students realize the unique opportunity presented to them of being a Huskie and joining our family."

Dmitruk goes into each open house with the goal helping at least one student.

"I fulfill this goal of mine at most of the open houses I go to," she said. "I think back to when I was a student and what I would have liked to know. When I connect with that one student and see their eyes light up by the end of the conversation, I'm happy to know I was able to change that one student's day."

Dmitruk believes others should give back to NIU based on what they would liked to have known or seen when they were a student.

"For me personally, it would have changed my mindset going into college a lot to see an engineering alumna sitting at an open house. I would have had a lot more confidence in myself and would have felt a lot more comfortable coming in as an underrepresented population in my major," she said. "The only way to change something or implement what you would have liked is for YOU to act and be the one making that change.

"That is why I go back to volunteer—for the student I was and what would have helped me."