Student Speaks to Distinguished Donor Societies About Gratitude For Scholarships
By Tony Scott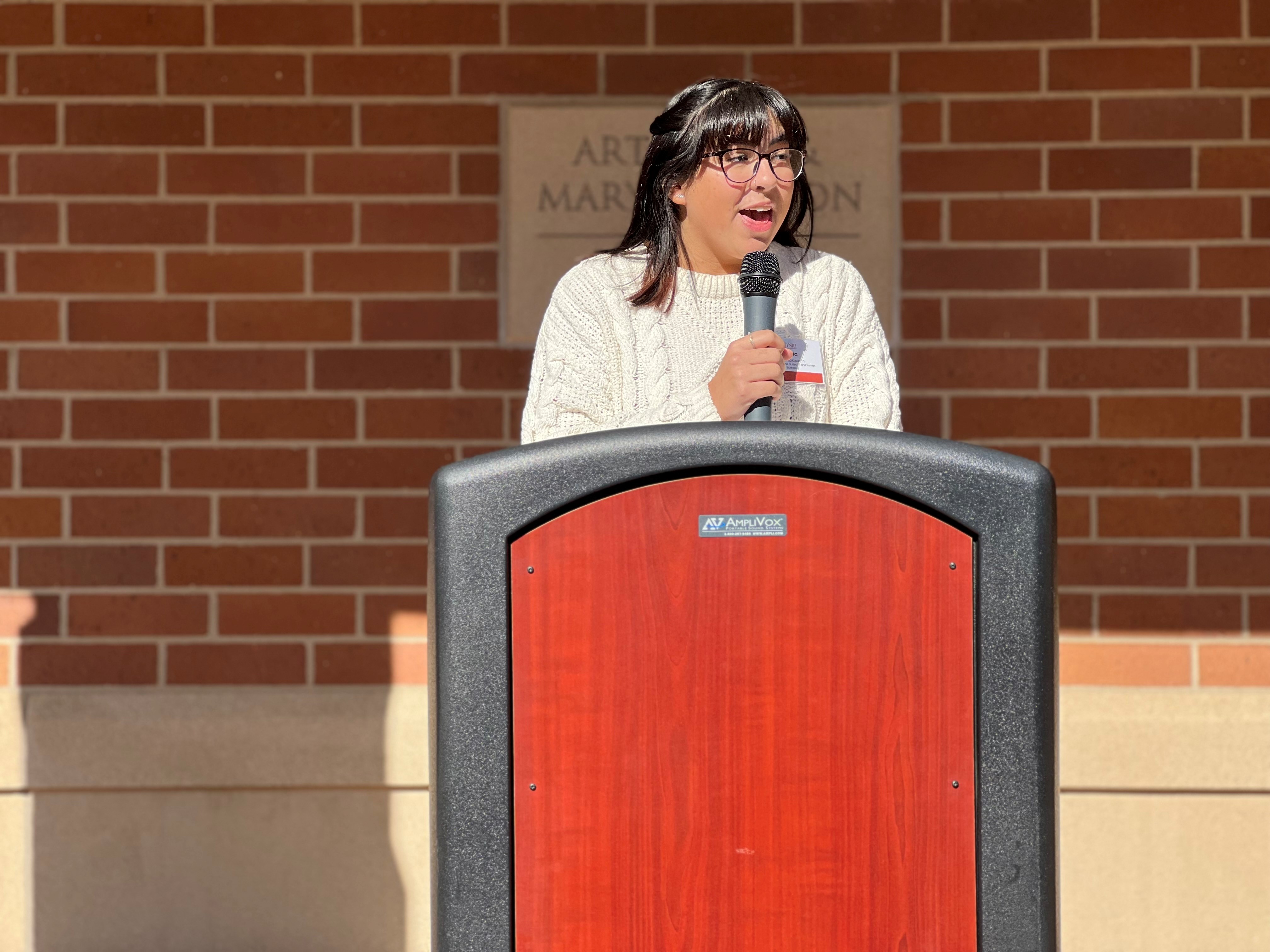 Student Alicia LaRouech speaks at the Distinguished Donor Societies reception prior to the Oct. 16 Huskies Football game against Bowling Green.
Distinguished Donor Society members learned first-hand about the impact their philanthropy has on students during a special Oct. 16 reception before the Huskies Football game against Bowling Green.

During the reception, NIU President Freeman thanked donors for providing crucial support to students.

"Your generosity is what propels us forward," she said. "We are proud of all our students and of all of you—the donors who stand behind us as we continue our mission."

Following remarks by President Freeman and NIU Foundation CEO Catherine Squires, student Alicia LaRouech, a communicative disorders major studying to become a speech-language pathologist, told donors about her experience and how their generosity is still supporting her dreams. LaRouech received the NIU Foundation's Impact Scholarship among other scholarships.

"As a result of receiving scholarships, I feel that I have greater opportunity to explore my future career and search for new, impactful experiences," LaRouech said. "I want to thank you all for your support of myself and students like me, as the Impact Scholarship truly has influenced my education in a way I still can't fully comprehend."

She said, "As I continue to work my way through applying to graduate schools and taking upper-level courses, scholarships allow me to not have to stretch my time by adding outside work; I feel better prepared as a student, and I want to take the values of the NIU Foundation with me as I become a practicing clinician."

Reflecting upon her appearance at the reception, LaRouech said she wanted donors to know that their generosity allows students like her to have the time to become more active and involved in NIU and community organizations. For her, it also has opened up more opportunities to conduct research and participate in other activities that will help her become a better professional.

"Not having to balance a job on top of my club and leadership involvement and course work has allowed me to really have the opportunity to experience what the field of speech-language pathology looks like," she said. "Scholarships allow me to partake in research projects, observe clinical sessions, and participate in various community events. I truly do think my ability to be involved on both the NIU campus and the community comes from the generosity of donors and their desire to see students excel; because of them, I have been able to partake in state-wide research conferences and learn more about community resources, such as the Kishwaukee Special Recreation Association."

Finally, LaRouech said she enjoyed the experience speaking at the reception, and was heartened by the strong display of community and Huskie pride.

"I really enjoyed having the opportunity to connect with everyone at the pregame reception to thank the donors for their continuous support of students here at NIU," she said.