After Career at Disney, Microsoft, Marketing Alumnus Finds Success on TikTok
By Tony Scott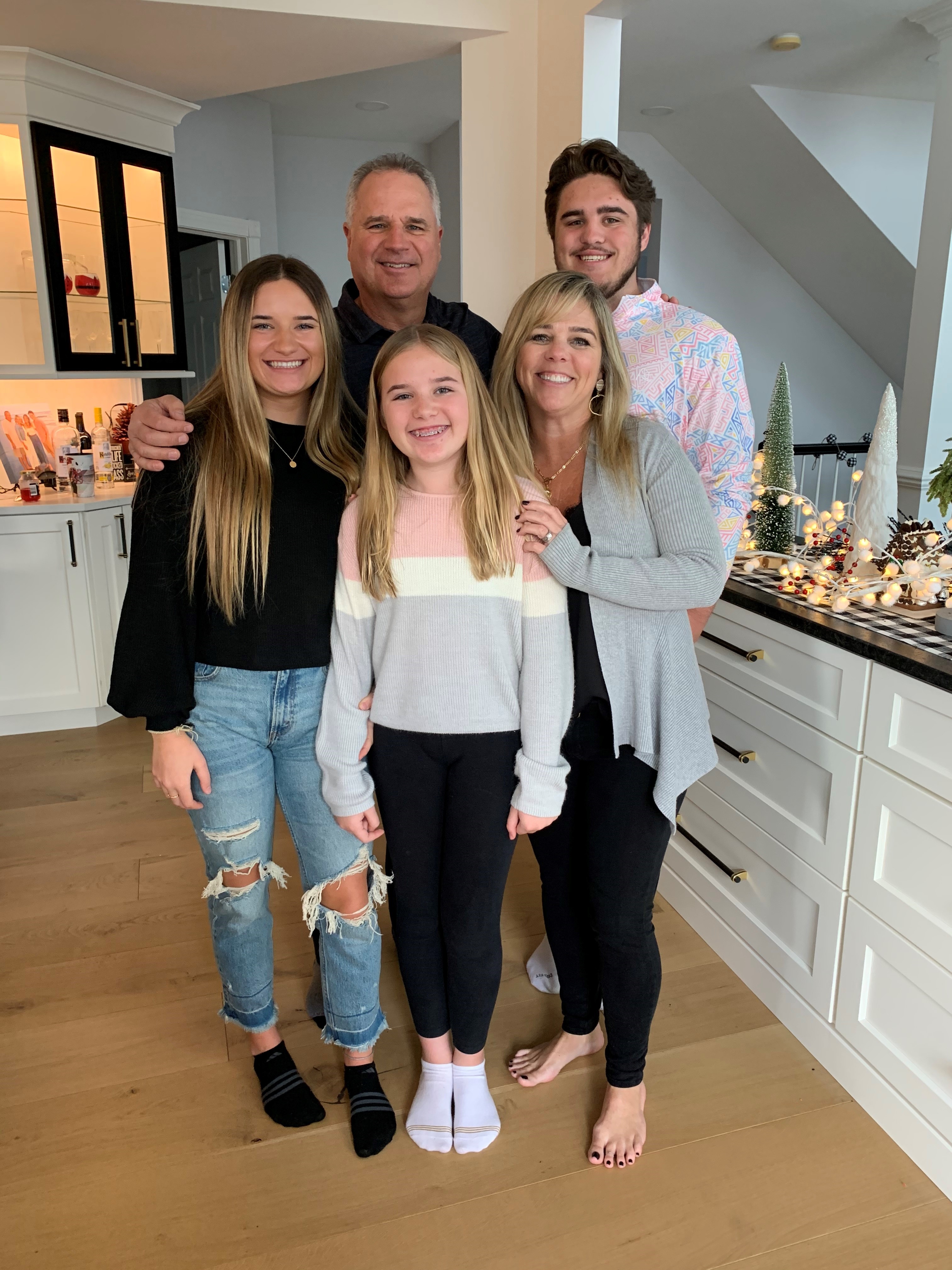 Alumnus Darryl Postelnick, '87, with his wife, Kathy, and children Lexi, Lindsey, and David.
Darryl Postelnick, '87, has seen incredible success during his career, including as an executive at Disney and Microsoft, but his most recent accomplishment has made him a hit with the under-25 set as a cook on TikTok, with a push and some help from his teenage daughter.

Postelnick, who lives in suburban Chicago with his wife, Karen, and their three children – David, Lexi, and Lindsey – has for years loved to cook.

"It's just a hobby, nothing more," he said. "I can remember telling friends of mine at Microsoft that I wanted to take cooking classes, because I enjoy it."

In Fall 2020, Postelnick and a friend drove a car out to deliver to his twins, David and Lexi, who attend Arizona State University. They made a trip out of it, stopping to golf and have fun, and Postelnick said his friend was into TikTok and got him to check it out.

TikTok is a social media platform where people upload short videos – typically no more than one minute long, although recently they have allowed creators to upload three-minute videos. Visitors to TikTok can scroll through several videos in not a lot of time, and Postelnick said he got sucked in during the road trip.

"During that trip, my buddy is huge into TikTok, and he got me into it, and it's just a rabbit hole – you get on it and two hours has passed," he said. "So I started enjoying it, and we got home, and my youngest daughter, who was in eighth grade at the time, said, 'Dad, we should do a cooking video.'"

Postelnick was hesitant. He was not on any social media except LinkedIn, and he initially told his daughter "thanks but no thanks."

"She got a little disappointed, walked away sad, and said 'I just thought it would be something nice we could do together," and he relented, with conditions. "I told her, you've gotta create the account, you've gotta manage it, you've gotta film and edit, because I have no idea what I'm doing."

Postelnick's first video was cooking a beef and broccoli stir fry.

"I think I had nine followers; they were all my daughter's friends," he said.

But the second video he did was cooking up some chili, and that one took off, he said.

Postelnick remembers filming it and then going to his friend's house to watch football, where his daughter kept him updated as the views continued to rise. It currently stands at 4.4 million views.

A shrimp fried rice video posted in November 2020, one of his most popular videos, received 32.8 million views.

What do all these views mean? For creators like Postelnick, it can mean money. He now has an agent, sponsors and sells merchandise on his website.

"I've been able to monetize it really well," he said. "I've created a company. I've got trademarks. At the end of every one, I say 'Are you kidding me?' and I've trademarked the phrase 'R. U. Kidding Me?'"

Lindsey is now 14 and wants to hang out with her friends more, but her dad now knows how to edit and film on the fly.

Although Postelnick admits he doesn't know exactly the formula to getting millions of views on TikTok, he said it helps that he has an authentic presence and does not care whether he's successful as a TikTok influencer.

"People buy from people they like and trust, and maybe that's why I have those TikTok followers, because people trust me," he said.

It also helps that he has had many years of learning to sell, and he began learning those skills at NIU, where he earned a bachelor's degree in marketing from the College of Business.

He has a lot of fond memories of NIU, and regularly gets together with friends he made there more than three decades ago.

"I lived in a house on Augusta Avenue with 14 guys, and I still hang with all (of) them," he said. "We're a really close group, 30-something years later."

Postelnick credits a lot of his learning from an organization on campus that was called the Institute for Excellence in Selling; he was the president of that group for a year.

"I got to meet representatives from all of these companies that came in, people who would come and speak at our meetings," he said. "That experience, dealing with (representatives of) big corporations like Merck and Johnson & Johnson coming in to speak to the group about (topics like) you're about ready to graduate and what you should expect and whatever else, was kind of cool."

He also said he had two internships while a student at NIU, which he says was "everything." He acknowledges that he barely graduated and was not the best student, but that he worked hard, having summer jobs like selling knives door-to-door and working at a beer distributorship. He interviewed with several companies on campus and got a job one month before he graduated.

Postelnick first got hired by Ideal Industries in Sycamore, and worked at SmithKline Beecham, which is now GlaxoSmithKline. His boss there left to go to Disney, and brought Postelnick with him, where he worked for eight years. Postelnick's boss at Disney later left to go to Microsoft, and brought Postelnick along with him to that company. Postelnick stayed at Microsoft for 15 years before retiring at the age of 49.

After his retirement, he was getting bored staying home, so he started his own consulting firm. Postelnick now works as a senior vice president for Opia Limited, a company he was consulting for.

While Postelnick is adament that grades are important, he notes that what students do outside of coursework is crucial in getting a good first job and having a stellar career.

"My message is not, don't study, don't work hard, don't get good grades. It's just, that wasn't me. But what do you do outside of that? That's going to get you your first job, that's it," he said.

"After my first job out of school, I never interviewed for a job again in my life, because someone brought me from that next job. Once you get your first job, nobody cares what your grade point average is, nobody cares what your ACT score was. They want to know how you did in that job," Postelnick said.

Now that Postelnick has built a career in business, he has the time to enjoy the fruits of his labor as a TikTok influencer. He recently launched a beer with Saugatuck Brewing Company called Saugatuck R. U. Kidding Me IPA.

"I can't go anywhere without someone saying 'Oh my God that's the TikTok guy,'" he said.