2008 Alumni Awards
Please note that the following profile information is current as of April 2008.

Distinguished Alumni Award
John P. Sall
M.A. Economics '73
Co-founder and Executive Vice President of SAS Institute
John Sall is executive vice president and co-founder of SAS Institute, a leading provider of statistical and business intelligence software and the largest privately owned software company in the world. SAS provides software for 90% of Fortune 500 companies. Sall and his business partner Jim Goodnight have also worked to make their company extremely employee friendly, always emphasizing the importance of a balanced work and family life. Accordingly, SAS recently made Fortune magazine's "Hall of Fame" for being one of 22 companies included in Fortune's "100 Best Companies to Work for in America" every year since the magazine started the annual list in 1998.
Sall's current interest is in developing highly interactive graphical analytic software for scientists and engineers with a product called JMP. This software program was designed to serve the needs of non-statistical professionals who needed an easy-to-use, statistical software package. Sall has since adapted JMP for use by wildlife organizations like Rhinowatch as a non-invasive and cost-effective method of tracking endangered species.
Sall received his bachelor's degree in history from Beloit College, and a master's degree in economics from Northern Illinois University. He studied graduate-level statistics at North Carolina State University (NCSU), where the SAS project started. NCSU awarded him an honorary doctoral degree in 2003, and he now sits on their board of trustees.
In 1997, Sall helped to co-found Cary Academy in North Carolina — an independent college preparatory school committed to discovery, innovation, collaboration, and excellence. He currently serves on the academy's board of trustees. He is also passionate about wildlife conservation and serves on the board of directors of the Nature Conservancy. In 1998, John Sall was named a Fellow of the American Statistical Association.
---
F.R. Geigle Service Award
Stacey Barsema
President, Barsema Family Foundation
Stacey Barsema's devotion to education and other worthy causes is evident in her commitment to NIU as well as numerous other organizations. In addition to serving on the board of directors of the NIU Foundation, Stacey sits on the boards of numerous not-for-profit organizations.
As president of the Barsema Family Foundation, Stacey oversees the foundation's support of a number of organizations worldwide that are primarily focused on education, poverty, and animal rights. The Barsema Family Foundation supported the funding of Barsema Hall, the state-of-the-art facility built in 2002 to house NIU's College of Business.
Stacey is on the board of directors of Opportunity International, a worldwide organization headquartered in Chicago that annually distributes over $250 million in micro-loans to impoverished people around the world, allowing them to overcome poverty as they become self-supporting entrepreneurs. She is also involved with Opportunity International's Africa AIDS Campaign, which has raised over $25 million to fight AIDS in Africa.
Stacey is also a member of the boards of directors of the Oakland Zoo and Carpenter's Place, a nonprofit organization that provides the homeless with life-rebuilding tools.
---
Outstanding Young Alumni Award
Ryan E. Diem
B.S. Engineering and Engineering Technology 2006
Starting Offensive Tackle for the Indianapolis Colts of the NFL
Ryan E. Diem became the first Huskie to hoist the Lombardi Trophy triumphantly overhead after the Indianapolis Colts defeated the Chicago Bears in Super Bowl XLI. Diem has been a starting offensive lineman for the Indianapolis Colts for the last seven seasons — two seasons at right guard and five seasons at right tackle. During his collegiate football career at NIU, Diem lettered all four years and was a captain for two seasons for the Huskies. He made the honor roll every semester at Northern and currently plays for the NFL team with the highest percentage of college graduates in the NFL. Off the field, Diem and a fellow engineering classmate are pursuing their passion of automotive performance with the opening of Modern Muscle, a custom car shop in Oswego, Illinois. He earned his Bachelor of Science degree from NIU in May 2006.
Aside from his demonstrated skill on the football field, Diem also goes above and beyond in the philanthropic arena. He is an active participant in the Colts' Community Tuesdays—a program in which players participate in various charitable activities every Tuesday during the season. He also participates in an annual reading contest with inner-city students at Calhoun Grade School in Chicago, which motivates the young readers with an opportunity to go bowling with Ryan.
Ryan and his wife, Julie, are actively involved with the Children's Neuroblastoma Cancer Foundation. They became involved with the organization after a family in their hometown community lost a child to Stage IV Neuroblastoma, a devastating pediatric cancer. The mission of "Ryan Diem's Allie and Friends Golf Classic" is to raise awareness and funds for Neuroblastoma research through CNCF. The Diems have been members of the event board for two years, and in its three years of existence, the outing has generated over $300,000 for cancer research.
Diem often credits NIU and head football coach Joe Novak for instilling the values and skills necessary to achieve success in the NFL and in life. He appreciates the quality of both the athletic and the academic experience he received from Northern Illinois University. In that light, Ryan and Julie made a generous gift to name the Ryan and Julie Diem Offensive Staff Meeting Room in the Jeffrey and Kimberly Yordon Academic and Athletic Performance Center. In his short time away from the university, Ryan Diem has had an incredible impact in the world of athletics and philanthropy.
---
College of Business
Nick P. Calamos
M.S. Finance 1989
Senior Executive Vice President and Head of Investments/CIO Calamos Investments
As Head of Investments, Nick P. Calamos oversees research and portfolio management for Calamos Investments' family of mutual funds, closed-end funds, and separately managed accounts, totaling more than $44 billion in assets. Many of the firm's mutual funds have received accolades throughout his portfolio management tenure. The Calamos Growth Fund was recognized as the #1 Fund in the Forbes Honor Roll for three years in a row in 2005; the Calamos Growth and Income Fund earned the Standard & Poor's/BusinessWeek Excellence in Fund Management Award in both 2003 and 2004. Calamos joined the firm in 1983.
A chartered financial analyst (C.F.A.), Calamos received his undergraduate degree in economics from Southern Illinois University and an M.S. in finance from Northern Illinois University. His book, Convertible Arbitrage: Insights and Techniques for Successful Hedging, was released in July 2003 and is used as a textbook in a number of investment management curriculums. He is often quoted in the press, including the Wall Street Journal, Barron's, Fortune, BusinessWeek, and Pensions & Investments. He also regularly appears on CNBC, Kudlow & Company, and Bloomberg TV.
Nick Calamos is active in a number of professional and civic organizations, including Vistage, a CEO peer group, the Investment Analysts Society of Chicago, and the CFA Institute. Additionally, he has endowed scholarship programs at Northern Illinois University.
---
College of Education
Byoung-chul Min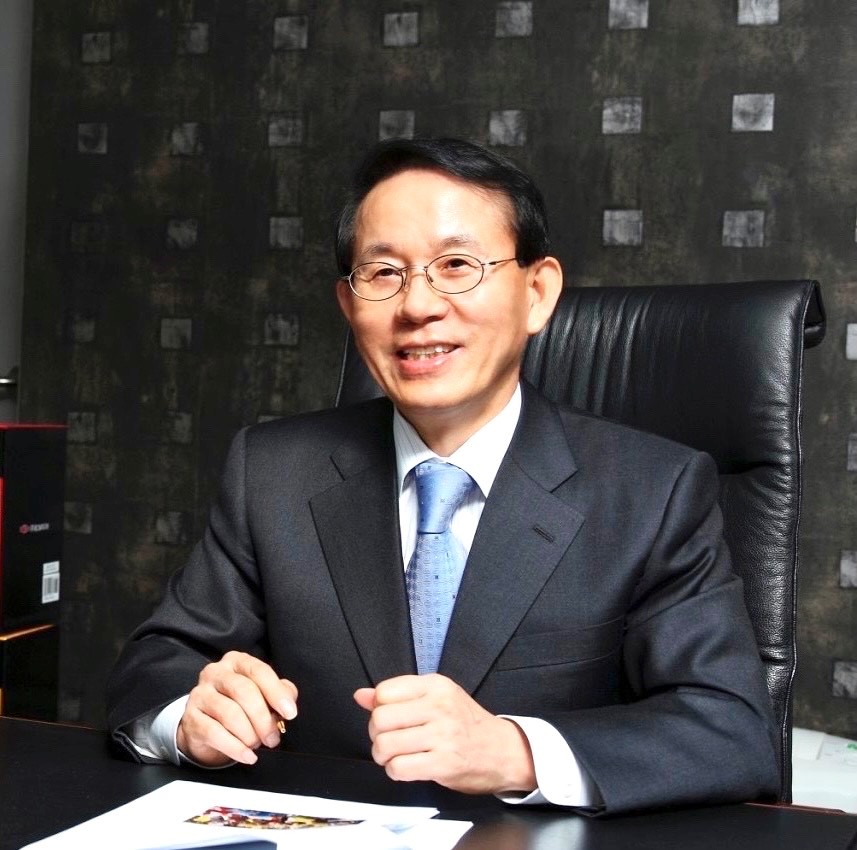 M.S. Ed. Leadership and Educational Policy Studies 1991
Ed. D. Leadership and Educational Policy Studies 1998
Chairman, Sunfull Foundation
Founder, Internet Peace Prize
Byoung-chul Min continues his worldwide Internet Peace Movement that counters cyberbullying and human rights violations on social media and has founded the Internet Peace Prize to recognize those who have contributed to world peace online.

Currently, he is an Endowed Chair Professor at Chung-Ang University in South Korea, where he teaches Business Creativity: Ideas to Reality using Metaverse.

College of Engineering and Engineering Technology
Jeffery C. Camplin
B.S. Industry and Technology 1984
President of Camplin Environmental Services Inc.
Since 1991, Jeffery Camplin has been president of Camplin Environmental Services, a safety and environmental consulting firm. A certified safety professional (C.S.P.) and certified professional environmental auditor (C.P.E.A.), Camplin is also a nationally recognized safety and health expert who is an accomplished author and public speaker. He is serving his second term on the board of the NIU Engineering and Technology Alumni Society (ETAS), having spent the last two years as its board president. He is married with three children.
Camplin has been an accredited USEPA instructor in asbestos abatement for over 20 years. He has also taught USEPA courses on lead-based paint abatement, indoor air quality, and mold. He is currently authorized by OSHA to teach classes in Construction and Disaster Site Safety.
Camplin has been an active professional member with the American Society of Safety Engineers (ASSE), earning the Presidents Award (2004), Outstanding Volunteer Award (2005), and Environmental Safety Professional of the Year Award (2006). He has recently authored chapters for the ASSE Construction Safety Handbook (1st and 2nd edition) and the yet-to-be-published multivolume Safety Management Textbook (June 2008), donating his royalties to student scholarships. He is on the editorial review board of Professional Safety Journal and is currently nominated for a vice presidential position with the association.
Camplin has also dedicated time to his community, volunteering as the lead safety officer for the Illinois Medical Emergency Response Team (IMERT). IMERT responds to disasters and homeland security events around the state of Illinois, acting as the medical team responsible for first responder medical support. He received the 2006-2007 President's Volunteer Service Award through the United States Freedom Corps for his work with IMERT. Camplin is also on the advisory board for Moraine Valley Community College's Safety Program.
Additionally, he has volunteered for the last five years as an environmental consultant for the Illinois Dunesland Preservation Society, investigating why asbestos appears on the Illinois Lake Michigan shoreline. Camplin's efforts were highlighted by award-winning investigative reporter Carol Marin on Chicago's NBC 5 News in 2007 and 2008. He has also coached a 7th grade basketball team at St. Joseph's School in Libertyville, Illinois, for the last nine years.
---
College of Health and Human Sciences
Charlene Dwyer
B.A. Communicative Disorders 1974
M.A. Communication Studies 1976
Ed.D. Counselor Education 1985
Administrator, Wisconsin Division of Vocational Rehabilitation, Department of Workforce Development
Charlene Dwyer has served as the administrator of the Wisconsin Division of Vocational Rehabilitation since 2001. Under her leadership, this agency delivers comprehensive services to persons with disabilities throughout the state of Wisconsin.
Dwyer has continually demonstrated outstanding commitment to improving communities and advancing services to persons with disabilities. This commitment is evident through her career choices and her leadership in several professional organizations including the national Council on Rehabilitation Education (CORE), the Council of State Administrators of Vocational Rehabilitation (CSAVR), and the National Council on Independent Living (NCIL). Dwyer is also involved with several volunteer community organizations as well—including the United Way and the Grand Avenue Club, a community program for persons with mental illness.
Throughout her 17-year career in the Wisconsin not-for-profit sector, Dwyer has worked to establish model service-delivery programs. One such program was the Homeownership Coalition, which was a partnership with the Wisconsin Coalition of Independent Living Centers, the Federal Home Loan Bank of Chicago, and the Fannie Mae Corporation. This coalition earned the "Best Practice" award in 2000 from the Federal Housing and Urban Development Agency.
A three-time graduate of Northern Illinois University, Dwyer is clearly proud of her alma mater. She credits her ability to continue her graduate work at NIU in part to the Alumni Merit Scholarship that she was awarded in 1974.
Correction: In the original article in the Spring 2008 Northern Now and web announcement, we reported that Charlene Dwyer had served as the administrator of the Wisconsin Division of Vocational Rehabilitation since 1991. She has only served in that position since 2001. The information in the biography above reflects the correct information. We apologize for this error.
---
College

of Law
Hon. Bonnie M. Wheaton
J.D. Law 1978
Senior Circuit Judge, 18th Judicial Circuit in DuPage County
Bonnie Wheaton is presiding judge of the Chancery Division in the Circuit Court of Illinois, 18th Circuit in DuPage County. She was elected circuit judge in 1992 and retained in 1998. Prior to her election, Wheaton served appointments as circuit judge and associate judge. She is the former supervising judge of mandatory arbitration for the 18th Judicial Circuit for the State of Illinois and a former partner of the firm Wylie, Wheaton & Associates, P.C. Wheaton received her B.A. degree cum laude from Carleton College in 1966, her M.S.W. from the University of Michigan in 1968, and her J.D. degree magna cum laude from Northern Illinois University College of Law in 1978.
Judge Wheaton is a member of the DuPage County and Illinois State Bar Associations. She served on the DuPage County Bar Association Board of Directors; as chair of the Legal Aid, Entertainment, Younger Members, and Scholarship Committees; and as a member of the Judiciary Committee. She is a member of the National Association of Women Judges and the DuPage Association of Women Lawyers. She served as a member of the Inquiry Board of the Attorney Registration and Disciplinary Commission and as a member of the 18th Judicial Circuit Court Rules Committee. Wheaton serves on the Illinois Judicial Ethics Committee and is a judicial performance evaluation facilitator.
Judge Wheaton has authored several law journal articles and has lectured at the Associate Judges Seminar, Criminal Law Section; the IICLE Seminar on Mandatory Arbitration; and the Illinois Judicial Conference on Economic Distress.
Wheaton has also been an active member of her community, serving on the boards of directors of Metropolitan Family Services-DuPage, Wyndemere Retirement Community, Wheaton Public Library, B.R. Ryall YMCA, and BASIC Child Care Center. In addition, she was a founding member of and volunteer social worker for the Far West Planned Parenthood Clinic. She is a cellist in the DuPage Symphony Orchestra.
Among the numerous awards she has received are the YWCA Outstanding Woman Leader (1994), the Lewis University Distinguished Alumni Award (1991), and the Illinois Woman of Distinction (2000).
---
College of Liberal Arts and Sciences
Jerrold H. Zar
B.S. Biological Sciences 1962
Professor Emeritus, Department of Biological Sciences; Dean of the NIU Graduate School and Associate Provost for Graduate Studies and Research, Retired
Jerrold H. Zar has served Northern Illinois University for 34 years in a variety of capacities. After receiving his undergraduate degree from NIU, Zar went on to the University of Illinois at Urbana-Champaign to earn his master's and doctoral degrees in biology and zoology, respectively. Upon earning his doctoral degree, he was recruited to teach and do research at NIU. Consequently, what Zar anticipated would be an excellent starting point for his professional career turned into a 34-year tenure at Northern.
Jerrold Zar joined the faculty at Northern as an assistant professor in 1968 and rose quickly through the ranks of associate and full professor to become chair of the Department of Biological Sciences in 1978. He served two terms as chair of the department and was then tapped to become vice president for graduate studies and research as well as dean of the Graduate School.
Throughout his career, Jerrold Zar has been dedicated to recruiting and retaining qualified minority students, faculty, and staff at Northern. As a founding member of the Illinois Minority Graduate Incentive Program and the Illinois Consortium for Educational Opportunities Program, he helped create and protect fellowship opportunities for minority graduate students at NIU and across the state. Zar is a member of 17 professional scientific societies, including the highly regarded American Association for the Advancement of Science.
Zar and his family have supported NIU financially as well, by establishing endowed scholarships in several colleges and supporting graduate student projects, the Barsema Alumni and Visitors Center, and other projects across campus.
Zar is a trumpeter in the Kishwaukee Symphony Orchestra and a member of a brass quintet. Zar is also co-president of Friends of the University Libraries and serves on the board of directors of the NIU Annuitants' Association.
---
College of Visual and Performing Arts
Stephen James Prina
B.F.A. Studio Art-Painting 1977
Internationally known Artist, Sculptor, Filmmaker, and Musician
Stephen James Prina is an internationally renowned artist whose mediums include painting, photography, sculpture, film, video, music, and performance art. He is also a tenured professor in the Department of Visual and Environmental Studies at Harvard University in Cambridge, Massachusetts.
After earning his baccalaureate degree from Northern, Prina went on to complete a Master of Fine Arts degree at California Institute of the Arts. He spent time teaching in California and at the École Nationale Supérieure des Beaux-Arts in Paris before arriving at Harvard. Prina is a contributor to several art publications and is a frequent guest lecturer at universities across the country and around the world. Prina has received numerous accolades and awards for his art, including the prestigious Guggenheim Fellowship in 2003.
In addition to his academic career, Prina's artwork has been on display around the world in solo and group exhibitions in artistic "hotspots" like Paris, Vienna, London, Toronto, New York, Los Angeles, Chicago, and more. His most recent solo exhibition is on display at the Baden-Baden Sammlung Haubrok in Berlin, and his most recent group exhibition is the Whitney Biennial at the Whitney Museum of American Art, New York.
Stephen Prina's installation What's Wrong? Open the Door was on display at the NIU Art Gallery in Chicago in 2001.