Cathy Blozis, '73, Keeps Huskie Connections Close After Nearly Five Decades
By Eva Richards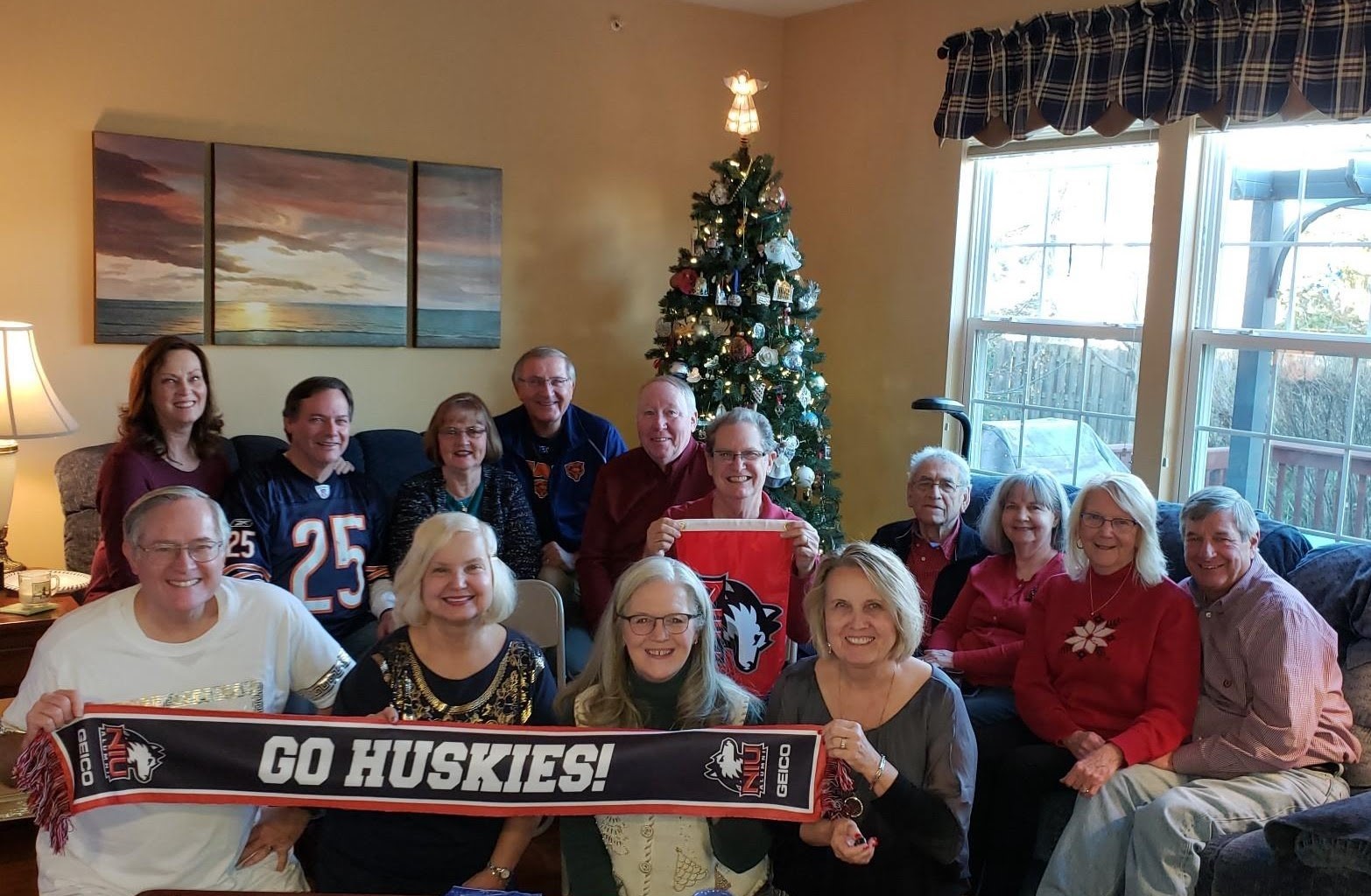 Many of Blozis' Huskie crowd came together in 2019 for Christmas. Even in 2020, the group attended a virtual Christmas, so as not to break their 39-year tradition!
Back Row
(L-R): Linda Thunder, '75; Tom Thunder, '74, M.A '76; Cathy Blozis, '73; Mark Pienkos, '72, M.S. '74; John Blozis, '71; Michael Montes, '71; Anthony Scantlen; Steph Rusnak, '73, M.A. '79; Linda Mullen, '72; Michael "Moon" Mullen, '71
Front Row
(L-R): Greg Flanagan, '72; Anita Flanagan, '73; Barb Montes; Ann Pienkos, '73
So much of Cathy Blozis' life began on NIU's DeKalb campus.

It was there that she decided to pursue home economics education, which led to career as a caterer and high school teacher in Batavia, Illinois.

NIU helped her to meet the love of her life—her husband of 49 years, John Blozis, attended a University ski trip to Chamonix, France, with his future wife in 1971, and the pair has been inseparable since.

Her friends? Blozis has been lucky enough to maintain a large group of friends over the years, comprised of six women—Anita Flanagan, '73, Linda Thunder, '73, Ann Pienkos, '73, Linda Mullen, '72, Steph Rusnak, '73, M.A. '79—and their significant others, and eventually their children and grandchildren. The connection, which stemmed from their common experience at NIU, and love of the University is truly something special that sustains her.

Growing up in Oak Lawn, Illinois, Blozis attended Mother McAuley Liberal Arts High School, a college preparatory school. It was always understood that she would attend college, but her choices were limited to a few.

"I had three brothers, and one was deaf, so I knew it couldn't be an expensive school," she said. "I knew that I could go to Northern and have some freedom, living away from home, or I could go to a closer school and borrow my father's car to commute from home. I knew commuting wouldn't work, so I enrolled at Northern." she said.

Blozis, who always had a passion for cooking and gardening, started as a dietetics major but quickly switched to pursue a home economics education degree.

"I liked working with people, so it was something that seemed right for me," she said.

During her sophomore year, when she and John met during the ski trip, the trajectory of her whole life changed.

"We spent the day in Geneva, and then a day in Paris, and I have been with him ever since," she said. "Next year is our 50th anniversary, and we have six grandchildren now—four girls and two boys."

The couple were married after Blozis' junior year and moved in together on campus while she finished her degree, then relocated to the Chicago suburbs to pursue her career and build a family. While it was a time of transition for many in Blozis' close-knit Huskie friend group, the seven couples who formed a tight bond on campus made efforts to stay connected, establishing an annual Christmas get-together and reuniting for important milestones together, as families grew.

After earning her degree in education, Blozis taught home economics at Batavia High School for six years before having her children. At that time, she started her own cake-making business and catering company, before going back to teaching at Batavia High School in the early 2000s. Now retired after 43 years of work, 23 of which she spent in teaching, she devotes her time to family, friends, and her beloved hobbies, like developing her own recipes and publishing a cookbook for her friends and family to use.

Through the many stages of her life, Blozis' friends remain a constant source of strength and joy.

"My friends Anita and Greg Flanagan ('72), are the ones who host our yearly Christmas party," Blozis said. "They organize and send out fun invitations, and there is always a theme. This year's is "That '70s Show," because many of us turned 70 this year!"

Looking back, Blozis says that, while she chose NIU for a good education, it turned out to teach her a lifestyle."

"For me, college was about the people I met and the choices I made," she said. "That has stayed with me for my entire life."

Huskie pride continues to run deep for Blozis and her friends. After five decades, the group, which is mostly based in Illinois, boasts some impressive stats! Nearly all the group graduated from NIU, except for a handful of spouses who earned degrees from other institutions. Many earned their graduate degrees and four have their Ph.D.s, while two of the friends went on to teach at NIU. All seven couples remain married, with 17 children and dozens of grandchildren among them.

Through their friendships, the importance of education has been passed down to the next generation.

"All of our children have degrees, and some have graduate degrees," Blozis said.

Now that the group is mostly retired, they have more time to volunteer and do their passions, including being active with NIU. In November, the group got together for a football watch party together. They tailgated, wore their cardinal and black and cheered for their Huskies.

"Your passions keep you going," Blozis said. "For us, we have a lot of interest and pride in NIU. The University afforded me a lot of opportunities. I met forever friends and earned an education that helped me find success in my job and trying new things. NIU has a lot of possibilities!"