ABC 7 Chicago's Trenier Ward, '14, Credits Career to Skills Learned at NIU


By Eva Richards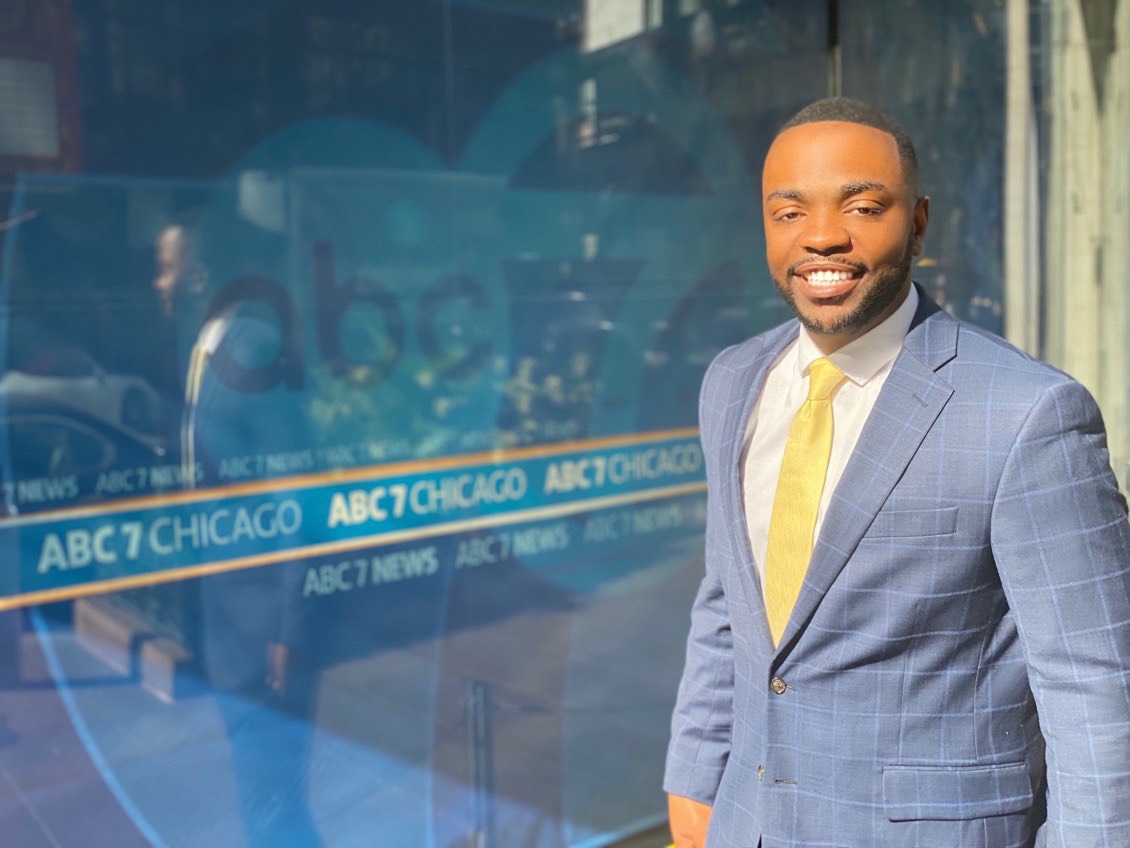 Trenier Ward, '14, is happy to share differing view points and stories from all walks of life, always remembering his role as an informer is a privilege.
Growing up in the North Austin community of Chicago, Trenier Ward, '14, spent his time sitting with his mother while she watched "her shows," which included TV talk shows like Montell Williams, Jenny Jones and Oprah Winfrey, and the local news from sunup to sundown.

He was also influenced by his father, who hosted a personal protection dog show twice a year.

"As a young boy, I used to work his events and watch him host the show," Ward said. "At home, he used to allow me to play with the microphone he used to host. I playfully interviewed my action figures and family members with it. I never knew it would be what I would do for a living decades later."

Ward's journey to NIU began when he took a tour of the campus in high school.

"Where I come from, there aren't that many people with high school diplomas, let alone college degrees," he said. "As studious as I was throughout my life, earning valedictorian in 8th grade and completing honors courses in high school, I never imagined I would go to college and actually see it through to graduation."

Ward admits that he chose NIU because it was an easy choice, but it quickly turned into more than convenience.

"What seemed to be a simple choice turned into a decision I'll never regret," he said. "If it weren't for instructors like Mr. Allen May or Jennifer Corvino, and the Northern Television Center they ran, I wouldn't be the journalist I am today. To this day, there are times I hear their voices in the back of my head when I'm reporting on a story. Being a Huskie is a highlight of my life."

Ward earned his double bachelor's degrees in journalism and communication studies, and from there, his career might seem like a steady incline up the ladder.

However, Ward insists it was much more about work ethic and luck than that.

He started behind the scenes as a news producer in Davenport, Iowa, when the opportunity came a day or two after he uploaded a producer reel to the station's job site. There, he was not a reporter—his eventual goal—but the role allowed him to get his foot in the door and obtain industry experience. In Davenport, he produced early morning weekend shows, as well as the 4 p.m. show on Fridays. After morning shows were wrapped, he often went out to report on stories with reporters, in order to build his reporter reel, getting just eight hours of sleep each weekend!

"Actually, a lot of the times, I just took risks on myself without knowing the outcome," he said. "But they were sacrifices I'd do again because I eventually landed my first on-air job in Huntsville, Alabama. That station taught me how to be resilient in this industry, and eventually I continued my career in Louisville, Baltimore, and shockingly, Chicago. I spent years trying to create a home away from home when Chicago was always in my destiny. I feel blessed."

In October, Ward began as a general assignment reporter at ABC 7 Chicago, reporting on a full spectrum of topics.

"My day usually starts off with preparing for our editorial meetings. I am usually combing through news articles to see what we already know and figuring out how to creatively further the news of the day. I'm also looking through social media for unique stories or even exclusives," he said. "Once I get my story, I'm then thinking of ways to humanize the topic so the regular viewer could better relate to the story. I'm communicating with my assignment desk and producers throughout the day. There is also a chance for breaking news to come and put a pause to my efforts at any time. Basically, I have to be ready for anything."

For Ward, one of the most fulfilling parts of his job has been realizing that his writing abilities and storytelling is allowing certain voices to be heard by other communities that might not go through what that person goes through.

"I'm able to add warmth to a tragic story and understanding to more complicated pieces that are still important to tell our viewers," he said. "I've always been a writer, but being an informer is a privilege I never take lightly."

Connecting with his audience continues to fuel his pursuit for stories each day.

Ward said, "Whenever I get a message or tweet from a viewer that was touched or inspired by my piece, it feels the most rewarding. It's in those moments when I know I'm doing something right in the world."