Professor and Author Paul Booth, M.A. '05, Turned 'Nerdy Interests' Into Career


By Eva Richards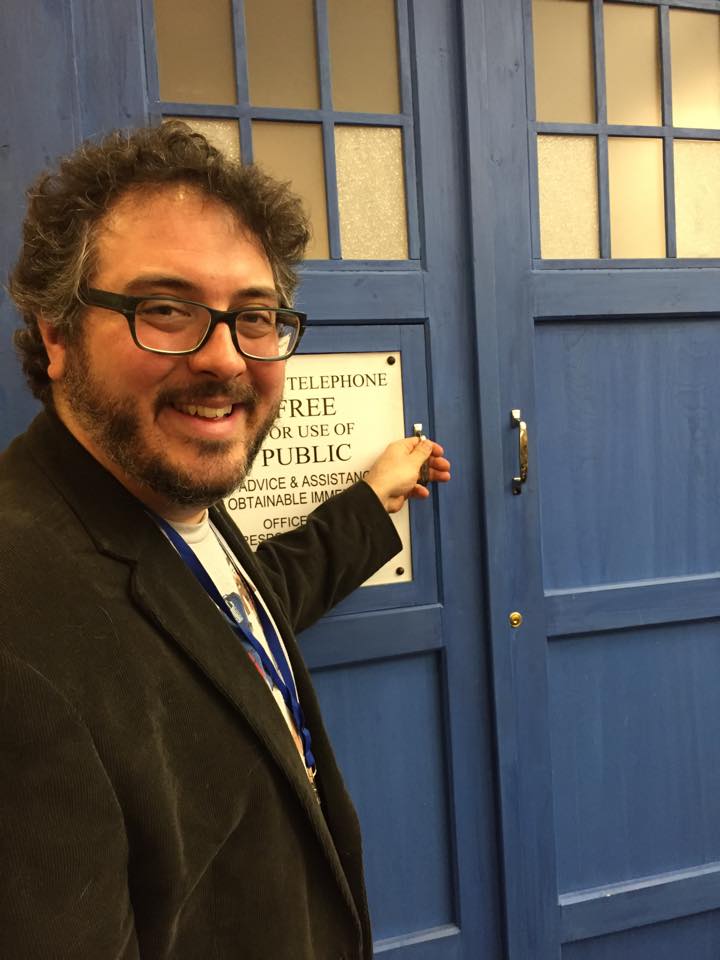 Paul Booth, M.A. '05, stands next to the doors of the "TARDIS," the famed time machine and spacecraft from the television' series "Doctor Who."
As professor of digital communication and media arts at DePaul University in Chicago, Paul Booth, M.A. '05, has built a career talking about the things that interest him most.

Booth has authored books and taught classes on everything from board games, fandom, cinema, social media and pop culture. His ability to deconstruct media's importance in our lives, he notes, came from his NIU education.

"Without a doubt, NIU was hugely influential in my success as a professor and an author," he said. "I learned how to be a professor by watching and emulating the excellent faculty in the Department of Communication. I learned how to think for myself, how to construct arguments, and how to think critically about the media through the classes I took. I learned how to teach and most importantly, how to love teaching, through the classes I had the opportunity to lead while at NIU.

"It may only have been two years, but it set my life on track."

Growing up in DeKalb, Booth's parents worked for NIU, with his father working as chair of the Department of Geology and his mother running the community music school.

"When I was growing up, I had very typical nerdy interests—things that I am very happy I have been able to turn into my career!" he said. "I was a big fan at the time of sci-fi television and literature, and watched a lot of "Star Trek," "Doctor Who," and "X-Files," and I read my way through Asimov, Bradbury and Clarke. I also did a lot of theater and speech at DeKalb High School."

When it came time for college, Booth earned his bachelor's degree in English literature from the University of Illinois at Urbana-Champaign. During his senior year, he realized he was not ready to leave the classroom.

"I had finally figured out what I really liked studying," he said. "I started as an English major but transitioned to cinema in my senior year, and I was getting really into that field. I did some research and talked to friends and realized that NIU's Department of Communication was right up my alley. It covered all the things I wanted to study and provided a great background in things I didn't even know yet. In all honesty, coming to NIU completely changed my life, as it was in there that I learned how much I loved teaching and research, which has been the foundation of my career."

After earning his master's, Booth went on to earn a Ph.D. in communication and rhetoric from Rensselaer Polytechnic Institute in Troy, New York. From there, he came back to Illinois to teach at DePaul University, where he has remained for the past 13 years.
"At DePaul, I've enjoyed working with undergraduate and graduate students, and I've been able to help some folks go on to get their own advanced degrees. I've also had the opportunity to publish a number of books and scholarly articles and speak at conferences and conventions around the world."

A prolific author, Booth's writings have included academic and unique takes on media, including the recent books "Poaching Politics: Online Communication During the 2016 Presidential Election"; "Watching Doctor Who: Fan Reception and Evaluation"; "Board Games as Media"; and his most recent work, "A Fan Studies Primer," which he co-edited.

"It's hard to say what work I prefer doing the most, because my research and my teaching go hand in hand," he said. "A lot of the work I do in the classroom informs the work I publish and a lot of what I publish I bring into the classroom. One great example of this is my two most recent books."

For instance, Booth's book "Board Games as Media" examines the popularity of board games today and how we might understand what they are saying about the world and culture around us. He was able to use that book in a new class he designed at DePaul, which focused on contemporary board games. His book "A Fan Studies Primer" came out of his realization while teaching a fandom course, that there were lots of areas that needed some classroom-friendly material.

Never at a loss for his next project, Booth is always thinking about what's next, and what's coming with media, and he is eager to get to work on his next project as soon as he puts a book to rest. His passion comes from what he sees as the universality of fandom and media phenomena.

"To me, fandom is meaningful because it represents something that unites all of humanity," he said. "We may not all be fans of the same thing, but we've all found ourselves getting swept away in the love of a media text, musician, sports team, celebrity or something equally interesting. We all know what it's like to lose ourselves to the crowd. It's beautiful and utterly human."

Even though Booth's research often looks at specific fandoms, he understands that underlying feelings apply across so many different areas.

"Our ancestors sat around campfires telling stories, and today we experience the flickering remnants of their imagination," he said.