First-Generation Huskie Pam Diaz, '90, Champions Opportunity and Diversity as Entara CEO


By Eva Richards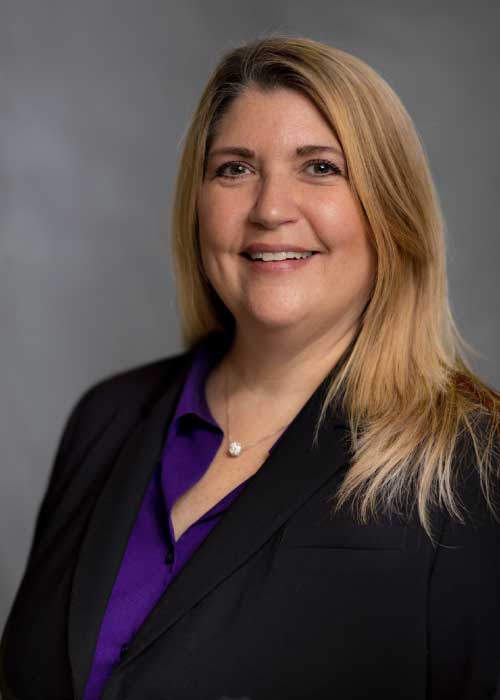 Pam Diaz, '90, works to mentor women through a key initiative at Entara.
Pam Diaz, '90, grew up and lived in the Oak Lawn, Illinois, neighborhood her whole childhood. When several friends decided to attend NIU after high school, she worked hard to be able to do the same. After attending community college for two years, she got good enough grades to be accepted to the College of Business at NIU.

"It was great to be able to navigate a new adventure with people I knew, and some have continued to be lifelong friends," she said.

The first in her family to attend college, Diaz threw herself into her education and new experiences.

"I didn't have a college fund, but NIU had a great business program that I knew was right for me," she said. "Being a part of the school of business management program was a challenge for me. I had to work full-time—and then some—at the cafeteria as a student manager to cover expenses, so classes and homework time were limited"

Diaz partnered with other students to ensure she did not fall behind on her studies.

"My grades weren't straight A's—actually far from it—but I gave it everything I had," she said. "My time at NIU prepared me with the technical knowledge I needed to succeed, but it also taught me how to be a better colleague and leader. My professors and classmates helped me develop the skills needed to empathetically lead. They also taught me how to recognize both problems that needed to be addressed in a business, as well as talent and up-and-coming leaders who could benefit from my mentorship and guidance. "

By the time, Diaz graduated with a degree in executive management in 1990, she felt very prepared for her career, especially since she had secured a job before graduation at Chicago asset management firm Brinson Partners.

"It was a struggle but so incredibly worth it," she said. "The sense of accomplishment I felt walking across the stage in front of my parents and family made every sleepless night worth it."

Diaz noted that her international business class helped her many times at Brinson. She stayed at the company through several mergers and ultimately worked at the company, which later was acquired by Swiss Bank Corporation and merged with Union Bank of Switzerland, for 23 years. She held the role of executive director and global operations business manager before leaving the company in 2013.

Diaz then moved to Ariel Investments, where she worked as the senior VP of global operations and as the interim CIO.

"That was the beginning of my IT-focused work," Diaz said. "While at Ariel, I made the decision to outsource my IT department to ensure we had 24/7/365 coverage. We ended up hiring Entara, a premier partner for IT and cyber security solutions. I was not only impressed by Entara but intrigued by the industry. So, after leaving Ariel, I decided to change my career focus and joined the team at Entara as president."

Diaz started at the company as the president and was recently appointed to the additional role of CEO. She is excited to take the next step of her career journey and looks forward to continuing to grow Entara's eXtended Service Provider (XSP) services for their current and future clients.

"Cybersecurity is such an impactful risk component for every company, and I want to work with our clients to minimize that risk while providing a great client experience," she said.

Diaz is also focused on developing the diversity, equity and inclusion (DEI) efforts at Entara.

"Creating a great workplace culture is not only important for the health of our employees and their communities, but it also impacts the health of Entara as a company," Diaz said. "I believe that supporting the development of our DEI program at Entara will have lasting effects on the company and our employees, and I am grateful to be in a position where I can champion it."

Diaz continues to be most proud of her work to empower next-level leaders throughout her career. As a first-generation student who has achieved many of her professional goals against the odds, Diaz is driven to to mentor up-and-coming women leaders.

"It is so important to me to leave a legacy of confident leaders who aren't afraid to make mistakes while learning from them," she said. "Mentoring women is a key initiative of mine. Spending 30-plus years in primarily male-dominated industries made me realize women should champion other women, not fear them or see them as competition."

As Diaz looks back on her successes, she goes back to those years on campus in DeKalb and all she learned during college.

"At NIU, if you wanted to find clubs and activities, they were very prevalent. If you wanted to work, there were always on-campus opportunities," she said. "For me, being a student manager at the Neptune Hall cafeteria was one of the best learning experiences for me, especially because it was the first opportunity I had to be a leader in the workplace. When I started the position, management was new to me, but I thrived and learned I loved working with a large team.

"The environment at NIU was conducive to being able to grow not only academically, but personally."