Ray Decker, '98, Helps Portland Trail Blazers 'Rebound' After Injury


By Eva Richards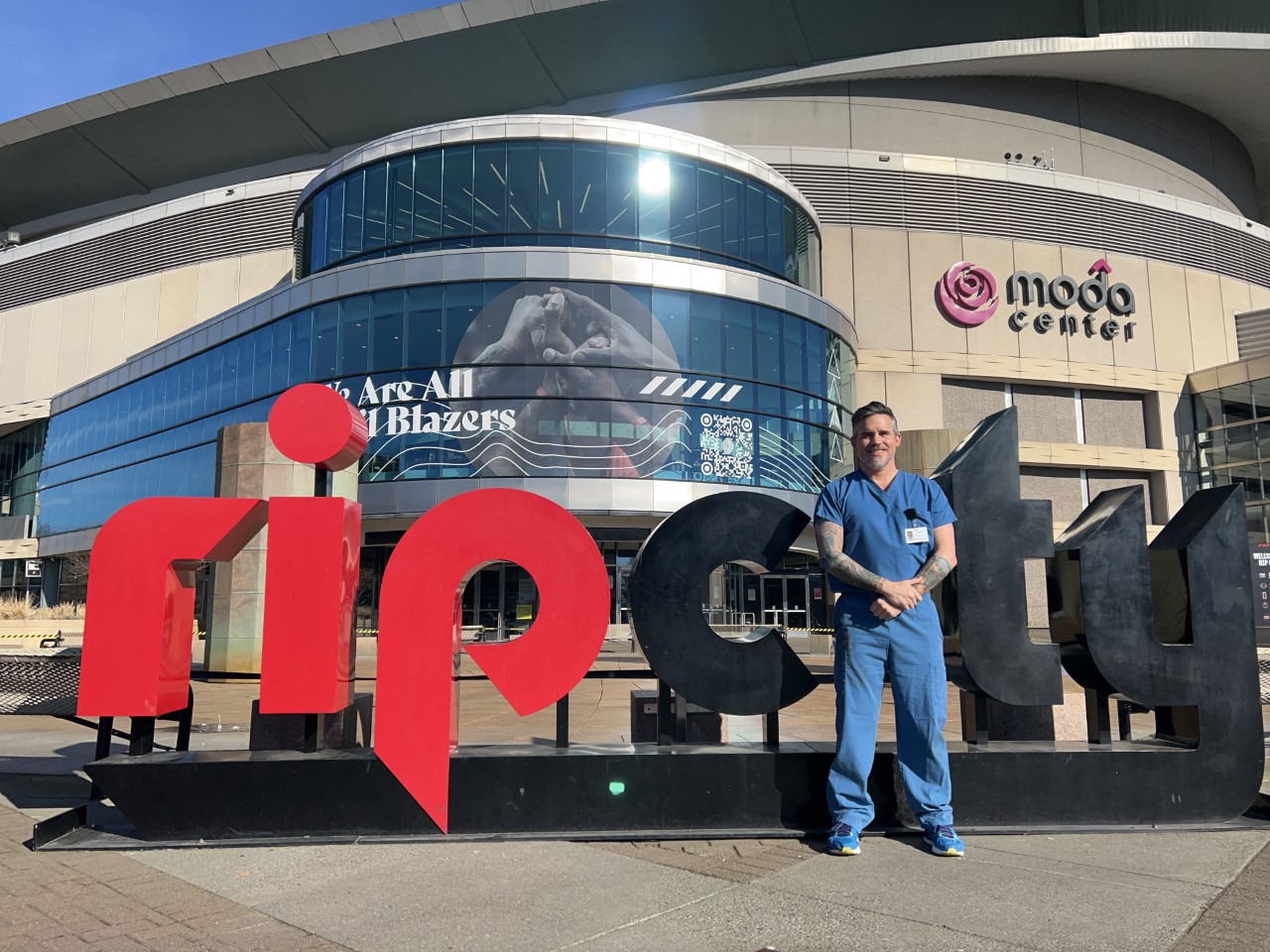 Ray Decker serves patients from his office at the Moda Center, home of the Portland Trail Blazers.
As an orthopedic technician, Ray Decker, '98, combines his love of sports with creativity and science.

"I like to say that being an ortho tech is like a combination of shop and art class," he said. "I get to work with power tools and plaster and fiberglass. I get to handmake custom devices for patients. I love the creative side of this career."

Decker puts his ingenuity to work for some high-profile patients at Rebound Orthopedics & Neurosurgery in Portland, Oregon. Rebound has multiple locations throughout Portland, Oregon, and Vancouver, Washington. Decker is based out of the Moda Center—Portland's NBA stadium—in a smaller clinic, where he works by himself.

"We are the team doctors for the NBA Portland Trail Blazers," he said. "I work as a jack of all trades, just helping out where I'm needed. Each day brings different schedules, doctors and needs."

Known to many as the "cast guy," Decker does all the casting, splinting and bracing for his patients, while also assisting the physicians with minor procedures in the clinic. He is also trained to do wound care and sutures.

"It's great to have such a good job with a great company, but it is also great to have the perk of being a part of the team doctors for an NBA team," he said. "Having an office attached to the stadium is fun, especially when there is a home game after I finish work."

"It does take some getting used to, noticing very tall athletes walking through the halls of the office occasionally," he added with a laugh.

Growing up in the small south suburban village of Evergreen Park, Illinois, Decker loved playing sports and games with his buddies. By high school, he competed in football, wrestling and track. He had planned to wrestle in college, but an ACL tear during his senior year of high school brought those dreams to an end.

"I started looking more closely at some of the larger state schools in Illinois because my college wrestling dreams were put on the backburner," he said. "My uncle went to NIU, and I knew it was a good school. When I checked it out, I knew it was the best choice for me."

Once on campus, Decker began searching for his major, landing on exercise science.

"I always enjoyed health and fitness, and this degree led me into fitness and then healthcare sales, and without my degree from NIU, I wouldn't be where I am working today," he said.

When Decker injured his other knee and suffered a severe lower back injury in college, he was in and out of orthopedic doctors' offices.

"I developed an interest in this field and a respect for those who took me from having an injured back to playing sports once again," he said.

Looking back, Decker claims NIU provided "the perfect college experience." He enjoyed being a part of Phi Sigma Kappa fraternity but also focused on his courses.

"NIU provided me with a balanced foundation that is necessary to survive in the world, while also providing me with a great education," he said. "College is about the classes and grades, but it is also about being on your own and learning to be an adult. (NIU is) a larger university with smaller school advantages and a campus that wasn't too spread out. Once I got into my major, my class sizes were not too large, and it made them much more interactive. This also provided me with greater access to my professors when I needed assistance."

While Decker is happy to share his success story now, he wants people to know his career was not a straight line. He worked hard and took a lot of time and soul searching to find a job that was fulfilling to him.

"I bounced around careers for a while, searching for what made me happy," he said. After earning his degree from NIU, he tried different roles in the fitness and healthcare sales fields, never feeling satisfied.
"I even dabbled in construction and worked as a union laborer in downtown Chicago for a short while until the economy collapsed in 2008," Decker said. "I lost my job three weeks after my ex-wife and I split up. I found myself living in my parents' house again. My father and I were both unemployed due to the economy, so he and I both took any work we could find. This was an extremely hard point in my life. I started to think outside the box and looked at all jobs and careers."

While bartending, Decker moved from Chicago to Idaho, then to Southern California.

"I was living an exciting life, although I knew I eventually needed to get back into a career that was more stable for myself," he said.

By his late 30s, Decker was searching for a new career and decided to pursue the medical field but with more of a hands-on role this time.

"As luck would have it, I broke my hand and got to go into a cast room at the orthopedic doctor's office," he said. "I had never been in a cast room or had a cast. I was instantly intrigued by the ortho tech's job. I spoke with the tech and the physician about the job and schooling required. Six months later, I was sitting in my first class to earn my degree in orthopedic technology."

The week Decker graduated, Rebound Orthopedics & Neurosurgery offered him his position, and the rest is history. Never having been to Portland before, he packed up and moved from San Diego.

"I knew I couldn't pass up this opportunity. Rebound is the best ortho group in the region by far," he said. "I find orthopedics fascinating and interesting. Helping people from day one, when they have a fracture or dislocation, and seeing them slowly progress until the day they are fully recovered is a great feeling."