De'Andrea Robinson, '95, is an Open Book as Children's Associate at CPL


By Eva Richards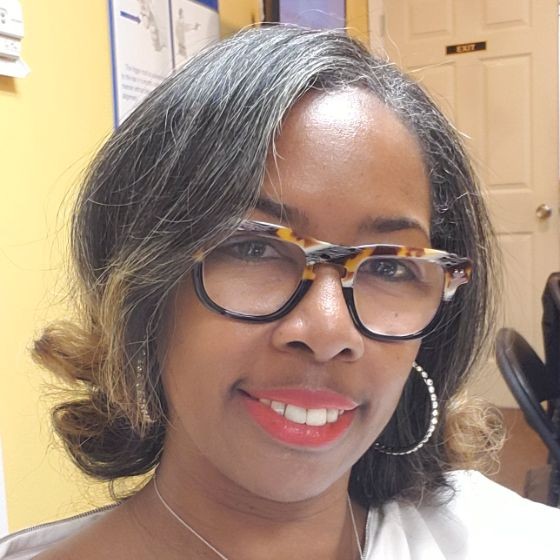 De'Andrea Robinson serves library patrons in the South Shore neighborhood on the South Side of Chicago.
When De'Andrea Robinson, '95, sits downs to lead storytime at the Chicago Public Library's (CPL) South Shore Branch in the South Shore neighborhood, she looks forward to seeing her "little friends" happy and excited to listen to a new book.

"The thing I like most about my work is promoting literacy to children and seeing the excitement on their faces when they come for storytime," Robinson said. "I am happy to be a reflection of them! You don't see a lot of African American librarians. I am proud to be a mirror of the community I serve. When the children see me, I hope that they can see themselves and think about librarianship as a career."

As a children's library associate, she provides customer service, reference assistance, school outreach, community engagement, and develops and executes children's programs for daycares, schools, and youth centers in the community. In her role, Robinson enjoys making reading fun for kids and building relationships with the community and the library staff.

However, library science was not always part of Robinson's plan. It would take years and unforeseen changes to bring her to this fulfilling role.

Born and raised in South Shore, Robinson attended NIU after being convinced by a good friend who was also enrolling there.

While she earned her bachelor's degree in sociology, Robinson had a blast making friends and experiencing life on her own. As an only child, DeKalb was her first taste of independence.

"Honestly, my experience was amazing," she said. "This was my first time being away from home and away from my parents. Being an only child, I relied on my parents a lot. NIU introduced me to other like-minded women who I can call sisters. They taught me a lot of life lessons and skills, such as time management, how to be independent, learning how to figure things out on my own and get it done! Classes were challenging. However, I did what I had to do to graduate."

Robinson noted that NIU helped her develop the skills essential for her career and life. She gained valuable knowledge and social skills that are helpful for future growth, such as effective communication skills (both written and verbal), problem-solving, critical thinking skills, teamwork, and being detail-oriented.

NIU also taught her that she is her own best advocate and helped her to learn to interact with others outside of her race for the first time.

"As soon as I stepped on campus, I met friends who introduced me to their friends, and the rest is history," she said. "I am grateful for my NIU family that I met in my freshman year. To this day, I am still friends with the majority of my peers from NIU. Relationships were built and lifelong friendships were created."

After graduation, Robinson went on to work at Aunt Martha's Youth Services , where she served a residential group home for five years as a family educator, and she quickly advanced to the role of director. Always dedicated to children and families, she worked in group homes that housed children, ages 3-14, and in other homes that housed sexually aggressive children and youth.

Wanting a change in the population she served, she began working with the Chicago Department of Aging as a residential service coordinator for the Chicago Housing Authority, remaining there for seven years, advocating for seniors and providing services to assist with maintaining their independence.

In a twist of fate, in 2007, Robinson was laid off from this role and was transferred to another department—the CPL. While this was a change she never saw coming, she has since spent the last 15 years digging into the finer points of librarianship and enjoying all that comes with being in this role in her community. In fact, she is currently enrolled in the graduate program to obtain her master's degree in information and library sciences at Dominican University. Her eventual goal is to advance to the role of branch manager, followed by district chief within the CPL system.

"When I was laid off and transferred to the Chicago Public Library, I was a little afraid," Robinson said. "I hadn't studied librarianship, nor did I experience years or months of training at that time. However, what I am most proud of is that I made sweet lemonade out of lemons! Even though I did not get my degree in library science or receive adequate training, in the beginning, I persevered in this field by asking questions, attending workshops, and professional development training to educate myself in the field."

In her current role, she displays excellent customer service and makes sure the community has access to what they need within their library. Her role varies from day to day, from doing outreach to creating programming for children, both in-person and virtually, for newborns through age 14.

"I assist patrons with finding books, research, applications, resumes, and provide technical assistance with computers, our website, and catalog," she said, noting that on any given day, she may also do the work of a clerk or a page, or she may be the person in charge, when the branch manager or first assistant is not present. "There is a lot of flexibility working in the library. 'Teamwork makes the Dreamwork!'"

Robinson's "team" expands beyond the library, though. She has been married for 17 years to her husband Johnny. Together, they have one high school-aged son—Kenneth—who Robinson refers to as her "SONshine."

"He is God's greatest gift to me," she said.

Robinson devotes the rest of her time to volunteering in her community. She is a member of the Chicago Alumnae Chapter of Delta Sigma Theta Sorority, Incorporated, a national public service organization, as well as a board member with the NIU Alumni Association Black Alumni Council. Recently, she was appointed as a board member with JMD Angels Foundation, Inc., a 501c3 organization founded for the purpose to provide assistance to communities with the most vulnerable citizens.

While Robinson didn't foresee a career in library sciences while she was at NIU, she is glad she decided to start her journey in DeKalb.

"From the NIU staff, the CHANCE Program counselors, and my friends, I was encouraged to always do the best that I can and persevere through my challenges," she said. "I was encouraged to try new things and not to be afraid to fail. I chose NIU! It was the first and best decision I made for myself!"