Beer On A Sphere: Can Climate Change Impact Your Favorite Brew?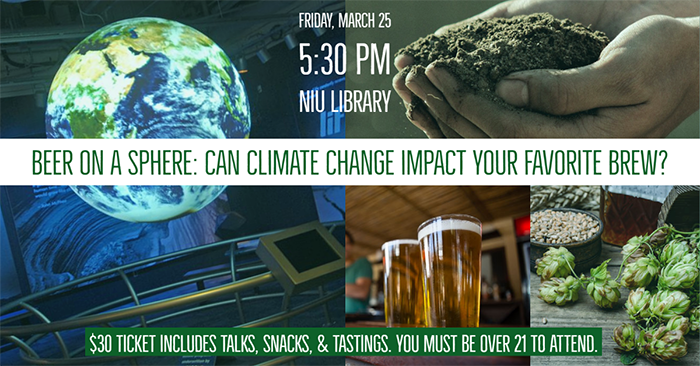 Friday, March 25 - Founders Memorial Library
Climate change will undoubtedly disrupt our future, but will it disrupt our beer? Beer on a Sphere is your chance to taste local brews, learn how brewers source their ingredients and understand how barley, hops, water and other brewing essentials might be impacted by severe weather and a warming world.

This event will make use of cutting-edge datasets and a specialized 5-foot spherical projection system from the National Oceanic and Atmospheric Administration to help attendees grasp the global impacts of weather and climate disruption.

So tip your glass, open your mind and join us for a night of learning and libations.

This is a ticketed event for audience members 21 years and up. Registration will close on March 23. Tickets to this event must be purchased in advance and will not be sold at the door.

The cost for this event is $30 and includes samples of local beers, a variety of light appetizers and stimulating conversations with experts and enthusiasts. Additional beverages will be available for purchase.

EVENT DETAILS
Cost: $30
Must be 21 years and over. Registration will close on March 18. Tickets to this event must be purchased in advance and will not be sold at the door.
MagnetWidget::Event Dashboard
Agenda:
5:30-6 p.m.—Doors open, tastings available

6 p.m.—Think Global. Drink Local. Experts studying weather, climate, and water will explore how brewing essentials are impacted by a warming world. After the talks, experts will welcome questions from the audience. Speakers include Associate Professor Victor Gensini, '08, M.S. '10 (NIU)​​​​​​.

6:30 p.m.—Intermission

6:45 p.m.—Brewers' Panel. Meet some of the creators behind some of your favorite local brews and hear their views on growing sustainable, local businesses. Speakers include Steve Byers (Byers Brewing), Ryan Weidner, '98, M.B.A. '12 (Pollyanna Brewing), and Jenna Spychal, '09 (Jonamac Orchard and Cider House).

8 p.m.—Attendees are encouraged to continue the conversation at their favorite local eatery or brewery.
Contact Information:
libevents@niu.edu

The NIU Foundation follows the protocols and guidelines established by NIU regarding how to navigate the COVID-19 pandemic, which is based on the recommendations from the Centers for Disease Control and Prevention (CDC) and local public health organizations. NIU's protocols and guidelines are located at: www.niu.edu/protecting-the-pack.

The NIU Foundation and NIU Alumni Association recognize that the pandemic is, and will continue to be, a fluid situation and will abide by whatever mandates and guidelines that have been established at the local and state level.

We deeply respect and greatly appreciate our donors, alumni, community and friends. As we move forward – together – the NIU Foundation and NIU Alumni Association are committed to following the above guidance and making every effort to reduce any threat to everyone's safety, health and well-being.

We hope that you will decide to join us at an upcoming event and we look forward to seeing you.

Hand sanitizer and disposable masks will be available at our events. We encourage you to consider your health and personal well-being when deciding whether to attend.

Be well, and stay safe.