Malika Green, '05, M.M. '07, Forges Passion for Jewelry-Making Into Business


By Eva Richards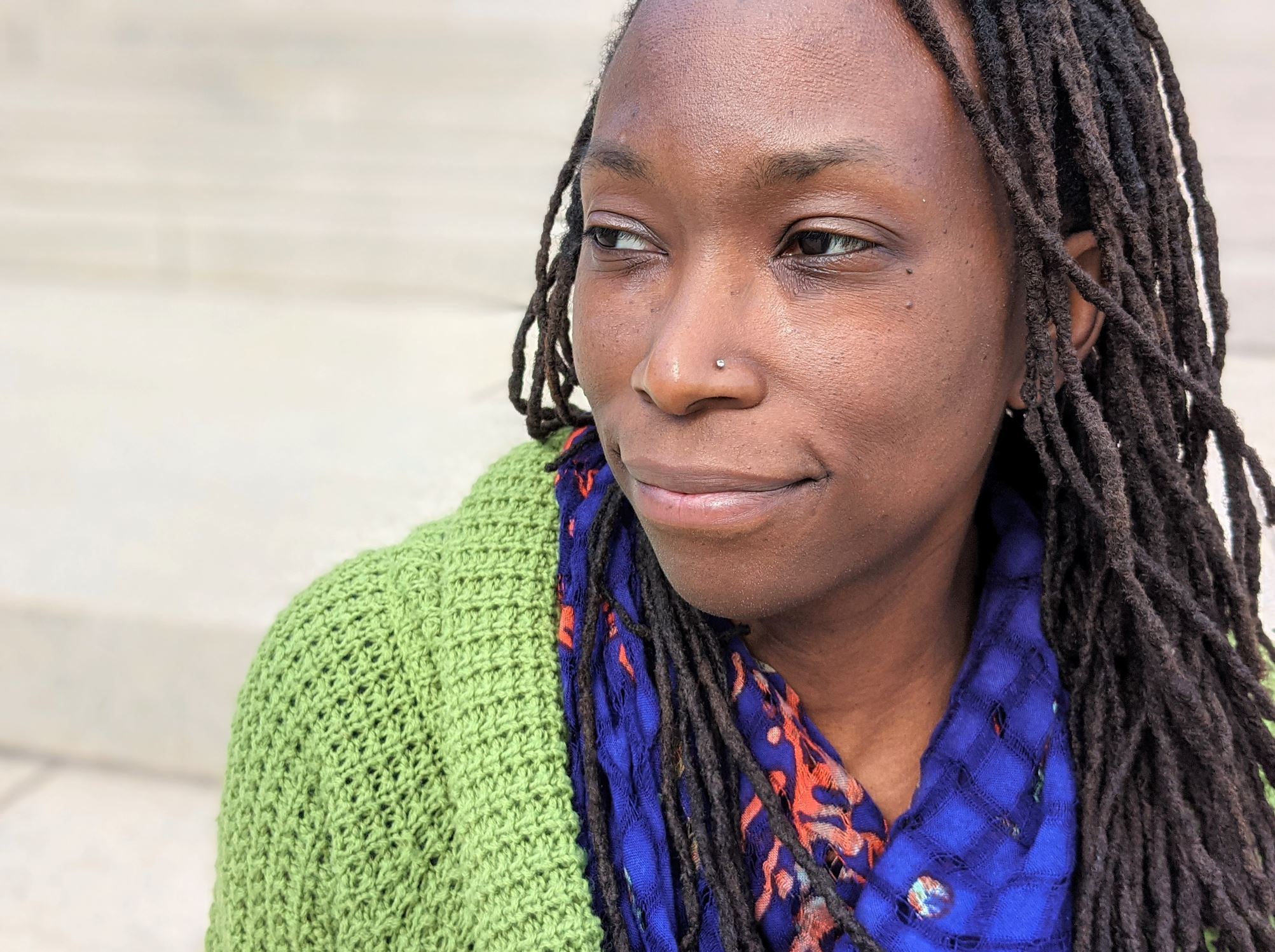 Malika Green, '05, M.M. '07, has found success as a steel pan instructor and a jewelry designer.
Malika Green has always been an artistic soul, and her passion for creating has manifested itself in several ways and stages throughout her life.

Growing up in Maryland in the suburbs of Washington, D.C., Green was always an introvert, but she never shied away from expressing herself through her arts.

"I liked crafty things, making things with my hands, making necklaces and earrings with found objects, like wire and paper and cardboard, old keys and my mom's old jewelry," she recalled. "I liked music, too. I started piano at age 8, and at age 10, I heard a steelband and loved it. At 12, I visited Trinidad and learned to play the steel pan. Then everything changed, steel pan became my life. When I returned to the U.S., it was with a steelpan, and that was it!"

Green started college at Drexel University in Philadelphia, where she completed her first two years. Wanting to take steelpan more seriously, she transferred to NIU because Drexel had no pan program.

"At NIU, I studied with Liam Teague and Cliff Alexis," she said. "It was a huge change to be in the middle of cornfields of Illinois. I'd never been there before. It was good place to focus, practice and hone my craft."

Green credits her late instructor, Alexis, who anchored the program at NIU for decades, with teaching her this flexibility and patience.

"He was a person who always supported his students, in the steelband and outside of the steelband," she said. "He would always call the hallway in the music building his 'office' because that's where he learned everything he needed to know about his students. If he felt like you were going after something and were motivated, he'd be your cheerleader. I always appreciated someone like that in my corner."

Green appreciated that support so much that she stayed at NIU after receiving her B.A. in music in 2005, and she earned her master's in music in 2007. Her last year at NIU, she took a fine arts credit, and the experience brought another of her passions to light.

"I took jewelry and metalsmithing, and I fell in love with it," she said. "I loved the physicality of it, the sensuality. I loved the fact that you can hit something and see its shape change immediately, like tapping a pan and hearing the sound. There is an immediate gratification, although I also love the designing and the constant problem-solving to create something beautiful and special."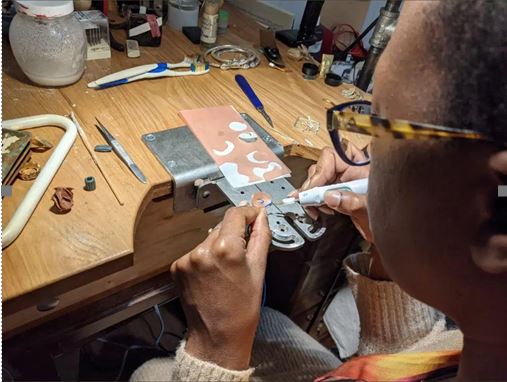 Jewelry-making became a hobby, and because there were none of the distractions of the big city, Green continued the discipline of practicing every day, which he had learned with music.

"When I took the metalsmithing course, I learned how to solder things, how to use the flame, when I needed to sand something a bit longer to get it just right," she said. "I practiced constantly, and years of doing that and seeing improvement from day to day, week to week, year to year, it's a very transferable quality. You develop the patience to say, 'I may not be good today, but I will be if I practice.'"

She moved back to Maryland and spent four years working for the Cultural Academy for Excellence (CAFÉ), a program her mother started. In this role, she used the steel pan as a tool to help kids excel academically. Then, Green spent the next eight years in the Midwest, working with the Chicago Youth Symphony Orchestras (CYSO), first as community engagement coordinator, then as director of the four steelbands she created. In her last years at CYSO, Green received a Fulbright Fellowship to study steelband pedagogy, which took her to Toronto, London and Trinidad.

Since moving to Trinidad in 2019, Green has worked with the University of Trinidad and Tobago Pan Fellowship but her passion for jewelry was always an undercurrent. Then, when she interned with a local jeweler—Robert Mouttet of Mouttet Jewelers—she was swept away by her passion for the process of making jewelry out of metal.

"I did a lot of repairs, fixing chains, making school rings, maybe doing simple designs for necklaces out of stones laying around the shop," she said. "Then, when I was not in the workshop, I focused on my own work and commissions for people, creating Caribbean-themed bangles, working on new designs, finishing whatever items I needed to add to my stock at the store where my pieces were sold."

Suddenly, this art took precedence over everything else.

"It was all I wanted to eat, sleep and drink," Green said.

Today, through her business, MR Designs, Green sells handmade metal jewelry online.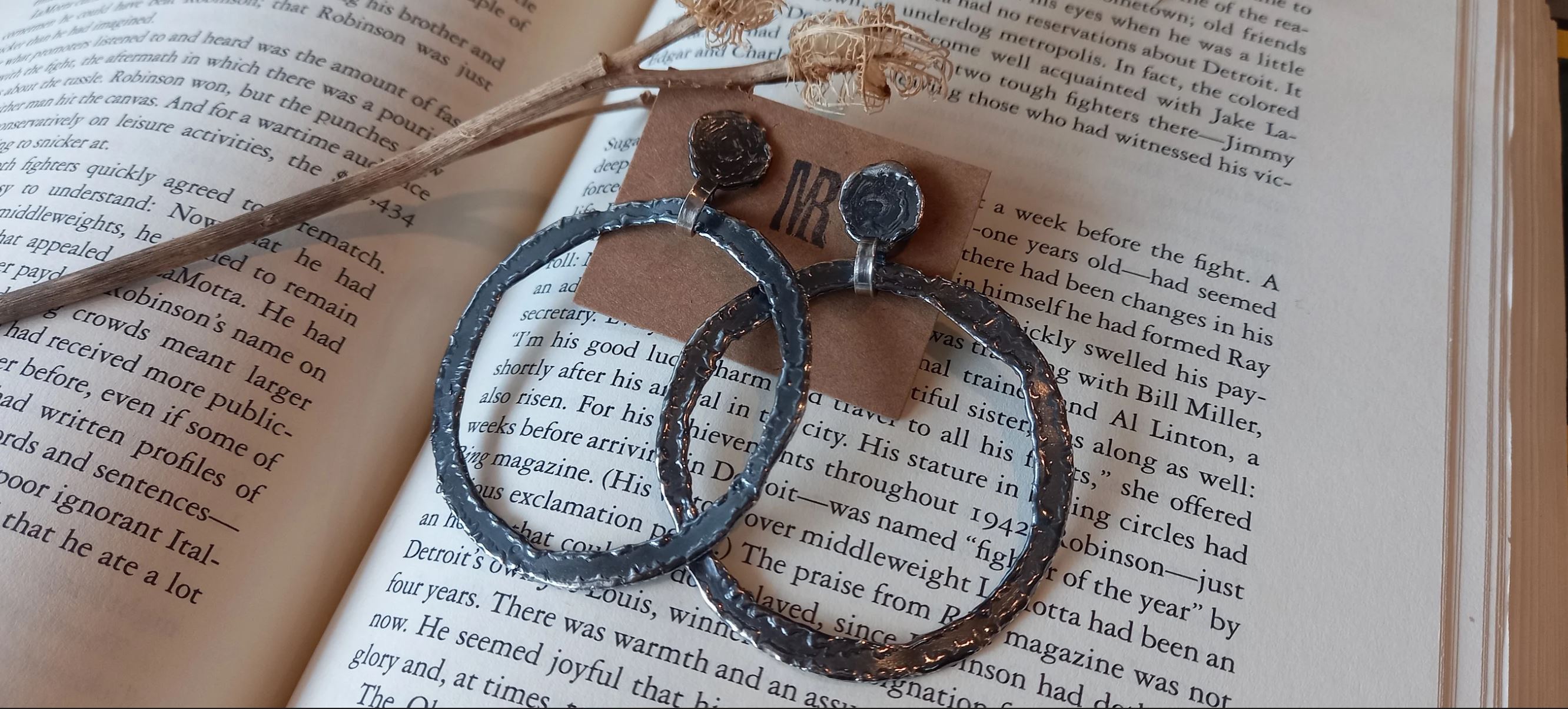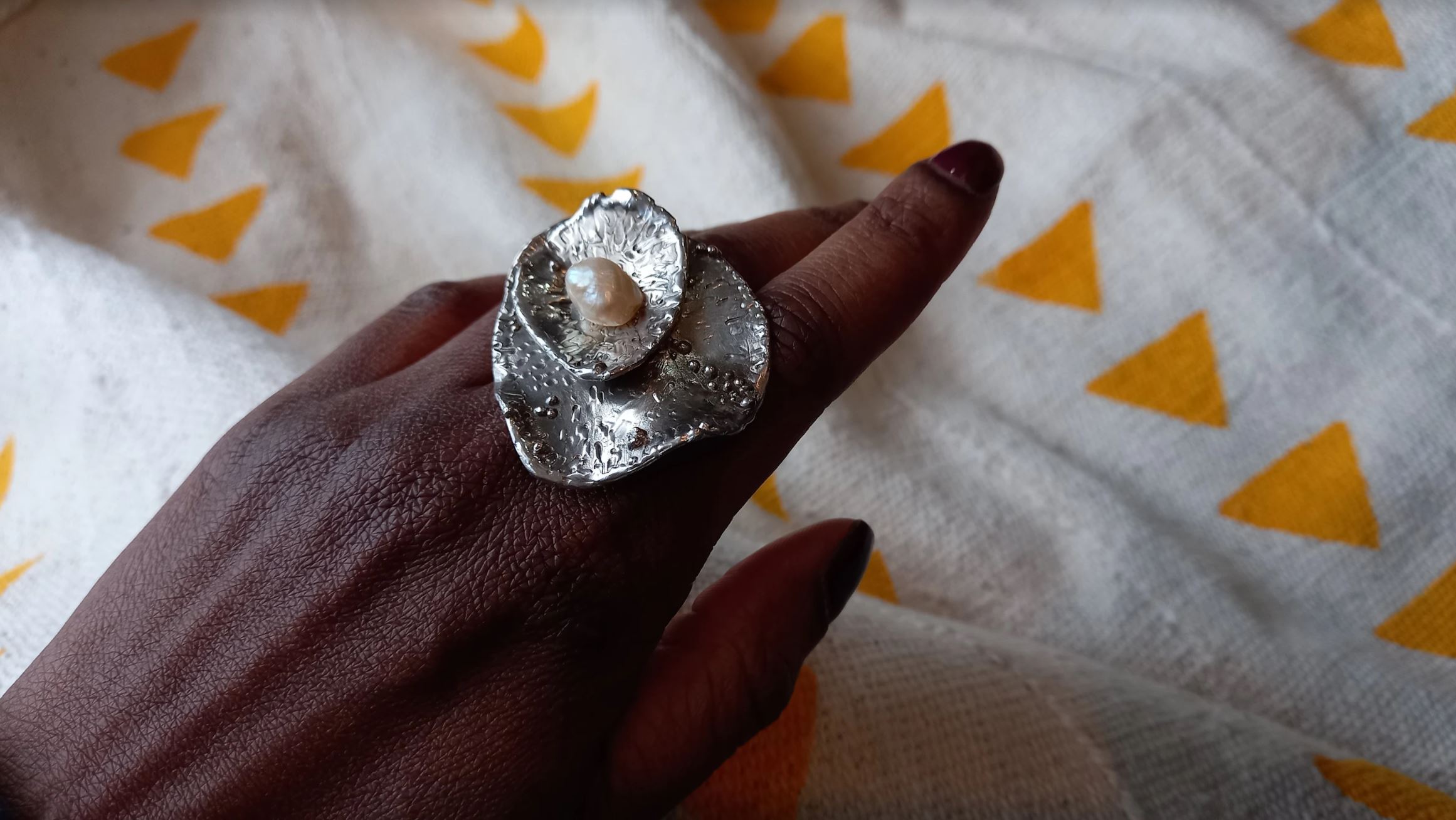 "I like to work with silver and gold. All my materials are recycled, and I like slow-made work. Everything is handmade. Even the tiny, tiny rings I use as connectors I make myself. I like having a hand in every part of creating the piece, from beginning to end," she said. "I like knowing that every piece was thought out and made for that specific item and person and is not just a generic component bought somewhere."

Green also likes the tangible aspect of this work and the close relationship she must have with the metal.

"You have to know what it's going to look like at each stage, so you don't ruin it," she said. "It's just a few degrees between a melted piece and a masterpiece. I like the excitement, the risk of making a one-of-a-kind piece. And I get a huge sense of satisfaction when it's completed."

For Green, jewelry-making is fulfilling because of what it becomes for the customer.

"When you think of where people wear jewelry—at the neck, arm, fingers, arms, ears, the parts of your body that only they touch on a daily basis… There's a joy in knowing that someone is so connected with something you made that they want to wear it on special occasions," she said. "To be part of someone's joy and journey in that way, it's really fulfilling to me."

In general, Green's pieces are inspired by nature, and she likes to incorporate multi-colored stones that have many inclusions and can change shades at different angles.

"I love textures. I love flowers and leaves and shells and things you find in the sea," she said. "That's just an extension of my love for tangible things. I want to touch something, I don't want it to be completely smooth, I want it to have a unique texture, a memorable texture."

Today, while she is temporarily working in the U.S. with CAFÉ in Maryland, Green splits her time between arts administration and teaching, and making her own jewelry—a perfect balance of two loves. Whether it's with the steel pan or with a metal piece of jewelry, Green is proud of her work.

"I'm proud of the new body of work I'm now doing with jewelry," she said. "II'm now using a technique that's new to me—wax carving followed by lost-wax casting. I've fallen in love with that technique, and it's changed my approach to making my pieces. It's more daring, more artistic and I'm really excited about a collection I'm bringing out late in March."

Green credits Professor Alexis with giving her the peace of mind to know it's okay to leave music and pursue other passions.

"He'd seen so much in his life, and he'd done so many things and taken risks," she said. "At the age of 20, he couldn't imagine getting an honorary doctorate and influencing so many young people. He was always the one to say, 'It's okay, you don't owe anyone anything, it's your life, live it with joy.'"