Brianna Smyles, '19, Excels at SPX FLOW, Mentors Engineering Students


By Eva Richards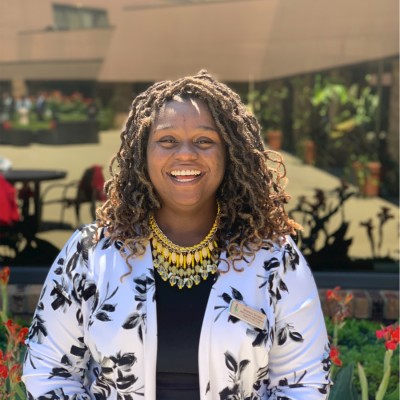 Brianna Smyles, '19, mentors students through NIU's National Society of Black Engineers and serves on the Engineering and Engineering in Technology Alumni Society.
Brianna Smyles, '19, has learned that "settling for second choices" can, in fact, bring better-than-expected results.

Raised in Chicago's Rogers Park and Austin neighborhoods, Smyles was always interested in creative pursuits, like painting and drawing, as well as several sports, including floor hockey and volleyball. She also enjoyed volunteering in her community when she had extra time.

During high school, when Smyles needed to make decisions about her future and college, it took time to find her niche.

"Engineering was never my first choice when I was growing up," she recalled. "At first, I wanted to go to school and major in the visual arts. It wasn't until 'Senior Day' at my high school when I began to think seriously about what I wanted to pursue with not only my creative mindset but my very analytical and mathematical mindset."

Smyles admits she was never exposed to engineering careers growing up, so she never had the full understanding of what engineering was.

"Once I understood that creativity and mathematics intersected within many engineering careers, I began to realize it was for me," she said.

Smyles came to NIU with low expectations but was pleasantly surprised.

"I ended up at NIU simply because I was not able to attend my first college choice, Michigan State," she said. "I simply did not have enough scholarships to attend, and I didn't want to put the financial burden on myself or my mother and father."

However, when NIU accepted Smyles into its engineering program, she began to feel at home.

"My experience at NIU never had a dull moment," she said. "I was very active with many campus events and organizations, from being a community advisor in the residence halls to being vice president of the National Society of Black Engineers (NSBE) organization on campus. I also had a wonderful opportunity to play rugby and be a part of the NIU women's rugby team."

While her social life was seamless, her major of mechanical engineering remained challenging for several reasons.

"The experience of being a black woman going through the engineering program at NIU was challenging from time to time simply because I always felt like the minority in every single one of my classes," Smyles said. "However, I was able to find my family and friends within NSBE to help me through those hard times."

Once she was on campus, it took time for Smyles to be sure she was headed in the right direction.

"I had no idea that engineering would be something that I would thoroughly enjoy or want to continue to teach people about until my sophomore year, when I really felt that engineering was the right major for me," she said.

Smyles noted that her studies a NIU have helped her greatly and her NIU network has afforded her many opportunities, including hands-on experiential learning that has proved priceless in her career as a buyer and planner for SPX FLOW Hydraulic Technologies, based in Charlotte, N.C. With operations in more than 30 nations and sales in more than 140 countries, SPX FLOW constructs holistic production lines and unit operations in several different sectors from chemical processing to industrial. With their state-of-the-art collaboration labs, where they partner with leading nutrition, health and industrial manufacturers, SPX brings together trusted brands and technologies to meet new consumer expectations and anticipate industry trends. The result: new standards of quality, consistency and cost-effectiveness, as well as safety and sustainability.

Smyles enjoys her responsibilities as a buyer and planner for the Johnson Pump Marine product line, where she purchases materials from suppliers all over the world. While this role is different than a true mechanical engineering role, Smyles uses her engineering skills and knowledge, as well as her creativity, to solve problems.

"My career during the pandemic has been really interesting," she said. "I bet I am told every day that this is not what normal supply chains look like. However, this is my new normal, and I am making every day count in days where it seems to be impossible to get product and projects completed because of the supply-chain shortage. At this point in my career, I am listening and absorbing all the advice and skills that I can while I have the resources available to me."

When Smyles graduated, the world was just beginning to shift with the first identified cases of COVID-19. It was hardly an ideal time to be job searching, but Smyles landed her SPX FLOW position through connections she had made within the NSBE.

"At the time of applying, I thought of it as an opportunity that I received to start my career somewhere. I did not realize how much being in my role would help me understand more of how the world works and how every major issue change or situation can truly affect the supply chain at every turn," she said. "This work is fulfilling to me because every day is a problem-solving opportunity and every day there's a new solution that can be found. I find enjoyment in fixing and working with processes to find them ways on the becoming more efficient and producing higher performances after such changes are made.

Even as she devotes so much to her job, giving back to students remains a big part of Smyles' life philosophy. Outside of her day job, she is still heavily involved in organizations at NIU and STEM education.

"I am the president of the College of Engineering and Engineering Technology's Alumni Society, and I am a programs advisor for the NIU NSBE chapter," Smyles said. "I am also involved with an organization called Project SYNCERE, which provides underrepresented students with year-round opportunities to become engaged in STEM through its innovative project-based learning curriculum."

While Smyles' career is only beginning, she has a lot to be proud of.

"I am proud of the fact that I am never shying away from difficult situations or complex issues that require a great deal of time and dedication to solve," she said. "Going through a STEM career is never an easy journey, and I commend all of those who have been through the journey. Having a support system is the best thing you can do for yourself, even if it's just one or two people."

Smyles also feels good that she has been able to morph her mechanical engineering degree into something both creative and technical, drawing on her strengths.

"Just because you pursued one area of study does not mean you can't expand and develop that degree into something different," she said. "You're not limited to just what your diploma says. You have the opportunity to grow it into something that you want, and you're responsible to understand what those steps are to get to where you want to be."

Smyles continues to grow in her career but often reflects on how much NIU gave her.

"NIU has influenced me and my success by allowing me to understand that there are so many opportunities available to me. It only takes effort to go out there and find which opportunity is the best for you," Smyles said. "NIU has provided me with great friendships and mentorships, and from those friendships and mentorships, I have received a lot of advice on how to move and navigate my career. My studies have helped me in my career to help me understand that every moment is a learning moment."