Carla Redd, '93, Makes History As Police Chief in Hometown of Rockford


By Tony Scott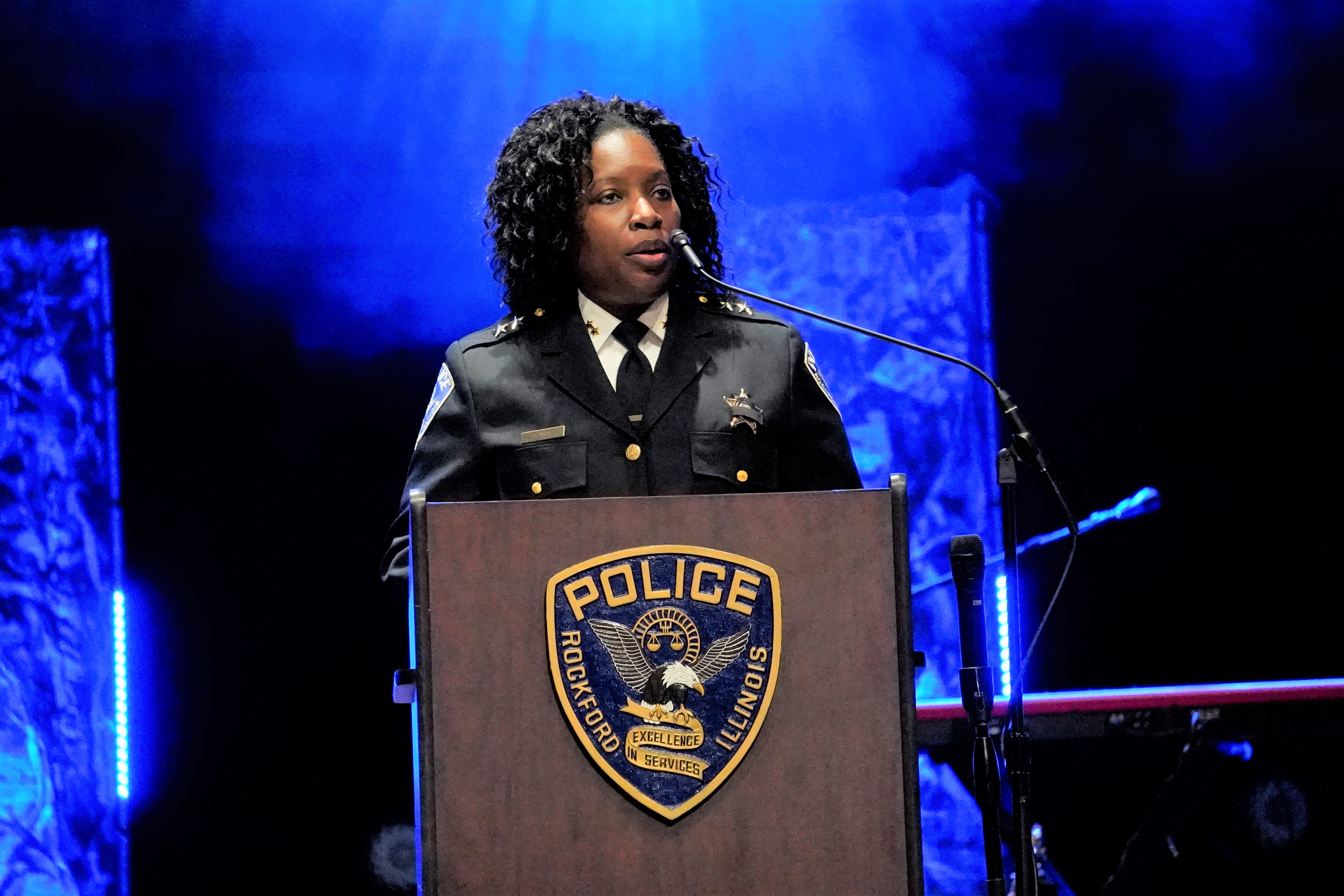 Carla Redd, '93, was hired as Rockford police chief in August of 2021. She is the first Black person and first woman to hold that position in the city's history.
Carla Redd, '93, is making history in her hometown of Rockford, Illinois.

In August of 2021, after 23 years of rising through the ranks of the Rockford Police Department, starting as patrol officer, Redd was hired as the city's first Black and first female police chief.

Redd said she had plenty of encouragement to get her college education from her mother, an educator, and her father, a factory worker.

Redd has two Huskies in her immediate family. Redd's mother Dorothy, '76, earned a Bachelor of Science degree in home economics education from NIU, while her sister, Kisha, '01, M.S. '13, is a nurse practitioner who earned both a Bachelor of Science degree in health administration and a Master of Science degree in nursing with a family nurse practitioner emphasis from NIU.
Her brother attended diesel mechanic school and is now a professional mechanic, she said.

"Growing up, you didn't have a choice in the household – you were going to college, it was just a matter of what college you were going to," she said. "Mom just made sure that college was in our future. It wasn't always an option when she was growing up, so you were going to get that education."

After graduating high school, Redd attended Iowa State University. She said a high school guidance counselor told her she wouldn't be able to get into that university despite having good grades and being in the top 20 students of her graduating class.

"It was almost like you dared me to get into this school," Redd said. "I didn't really have any interest in going to school in Iowa, but because this counselor told me I couldn't get into the school it was almost like, I'll show you."

But after a year in Iowa, she returned home to Rockford. She said she found she wasn't quite ready to be away from home.

"Mentally you have to really be prepared to be away from home for the first time at 18; there are so many temptations out there," she said. "It didn't take long for me to snap back into reality."

Once back home, Redd began taking classes at Rock Valley College, her local community college, and earned an associate degree in criminology. She entered NIU and was a commuting student, she said.

"When I got to NIU, I was focused," she said. "I remember at one point carrying 19 credit hours and working 25 to 30 hours a week."

Redd acknowledged it was not her childhood dream to be a police officer. Rather, she wanted to become an attorney and was considering going to NIU's School of Law. However, she said she wanted to get some work experience before applying for law school, so she first got a job in probation.

"After I received my bachelor's, I thought, I made some good connections through some of the internships I had at NIU, I wouldn't mind doing a little work before I jumped into law school," she said.

She wanted to work in the probation department in the local court system but there were no openings at the time. However, a local drug treatment facility had just started a new program that reported clients' progress to the courts. She worked in that program for nearly a year before an opening became available in probation, she said.


During her two years working in probation, Redd said friends who were Rockford police officers would visit her office.

"They were working with our housing unit," she said. "They got to wear shorts to work, ride bicycles, and were outside every day."

The Rockford Police Department also had a recruiter who had been in contact with Redd about joining the force since she was young, she said. When a friend of hers told her about wanting to test for becoming an officer, Redd told her she knew the recruiter and went with her to meet with him.

"Then the recruiter asked me, 'Carla are you ready to test yet?'" she said. "And I told him, you got me at the right time. I took the application with me, and lo and behold my friend never tested. It was full speed ahead from that point on."

Sgt. Dorsey Thompson, who Redd referred to lovingly as "Mama D," was someone Redd looked up to as she rose through the ranks of the Rockford police. Thompson, who retired in 2008, was the first Black female sergeant in the department's history.

"She is someone I will reach out to, to this day," she said. "She definitely was a big asset in my life and has been. I appreciate her so much."

During her time working for the Rockford police, Redd said she never considered moving away to a larger city. She said she's invested in her community and wants to make it safer.

"My parents and a lot of my family are here," she said. "I have so many fond memories of growing up in Rockford and seeing the city take a turn, and the kids not necessarily having the same experiences that I had as a young person, being able to stay out in the front yards until the streetlights came on or until mom yelled for you and you got home, I'm definitely invested in the area."

Redd said the department is busy battling a variety of crime, including violent crime, and, like many departments across the country, faces a challenge of finding new officers. She said the department is implementing programs to help get at the root cause of violent crime.

"When we talk about the crime, we're definitely talking about disrupting the violence in our young people's lives," she said. "What's taking place is, we're seeing our youth that are exposed to the violence, so many of them later become perpetrators of violence themselves. So I'm looking at some programs we can implement in the immediate future to start disrupting some of that behavior that we're seeing."

Redd said she didn't feel any additional pressure in being an historic pick for chief but said she has spoken on panels for several organizations about representation in law enforcement for women and people of color. The Rockford Police Department currently employs 36 female officers, she said.

"Being able to be the first African American and female in the position, it feels good breaking that glass ceiling, I can tell you that," she said. "I appreciate being that example to show people what they can do when they set their mind to it, especially women stepping into those roles."

Redd said it was common that she would be the only woman when she would attend law enforcement conferences and other related events.

"It's a male dominated field, so many times I would go in and I'd be the only female there," she said. "That's OK, it won't be like that always."

Redd also recalled being in college in Iowa and not seeing people of color.

"The one thing I can't stress enough, individuals have to be comfortable and secure with who they are," she said. "In college, there were times I'd look around the auditorium and I'd be the only African American person in there. This was not as prevalent when I was at NIU but when I was in college in Iowa, you would rarely see another person of color. We might pass each other walking across campus, you'd have no idea who that person was but you were just happy to see someone who looked like you and say 'Hey, how are you doing?'"

During her time at NIU, Redd said she took advantage of professors' office hours and encouraged current students to do the same.

"I appreciated the time the professors had for office hours – I definitely believed in utilizing those," she said. "There were a few professors who went above and beyond."

Redd and her husband have two children, a daughter who recently graduated with her master's degree and a son who is graduating high school this year. Redd said she encourages young people to be aware of the temptations of the college life.

"Stay focused," she said. "Mom and dad's not there to look over your shoulder so you've got to have that control yourself. Don't be afraid to step back and check your own self."