NIU Day With the Chicago White Sox
The White Sox have arranged a special patio party for NIU Day on July 31!
Northern Illinois University alumni, students, faculty/staff, family and friends are invited to NIU Day with the Chicago White Sox on Sunday, July 31. The White Sox take on the Oakland A's at 1:10 p.m. at Guaranteed Rate Field.

The special Patio Party ticket package includes a pregame buffet, beverages, a lower-box game ticket and a co-branded White Sox – NIU road jersey, based upon availability. The Patio Party entrance is located at Gate 1, while the nearest parking lots are Lots D, E, F and L.
The pregame buffet will feature an all-you-can-eat menu of BBQ ribs, fried chicken, hot dogs, hamburgers, coleslaw, potato salad, beer, wine and Coca-Cola products. Food and beverage service on the patio begins at 11:30 a.m. and concludes at 1:30 p.m. This is an $86 value that is being offered to the NIU community for as low as $68! Get your tickets at whitesox.com/NIU.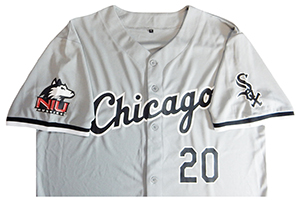 ** SPECIAL NOTE FOR JERSEY VOUCHER: When you purchase your Patio Party package, you will automatically receive a jersey voucher for each ticket purchased. Jersey vouchers are limited to the first 1,000 tickets purchased. Jersey sizes will be distributed on a first-come basis the day of the game. Sizes include Medium, Large, XL, and a limited number of XXL. You can redeem the voucher at the Patio Entrance (Gate 1), or at the Group Sales Redemption area, which is located on the left field concourse behind Sections 160/161 between 1st and 3rd innings. You must have your voucher in order to receive your jersey.**

The NIU Foundation follows the protocols and guidelines established by NIU regarding how to navigate the COVID-19 pandemic, which is based on the recommendations from the Centers for Disease Control and Prevention (CDC) and local public health organizations. NIU's protocols and guidelines are located at: www.niu.edu/protecting-the-pack.

The NIU Foundation and NIU Alumni Association recognize that the pandemic is, and will continue to be, a fluid situation and will abide by whatever mandates and guidelines that have been established at the local and state level.

We deeply respect and greatly appreciate our donors, alumni, community and friends. As we move forward – together – the NIU Foundation and NIU Alumni Association are committed to following the above guidance and making every effort to reduce any threat to everyone's safety, health and well-being.

We hope that you will decide to join us at an upcoming event and we look forward to seeing you.

Hand sanitizer and disposable masks will be available at our events. We encourage you to consider your health and personal well-being when deciding whether to attend.

Be well, and stay safe.