Volunteer Spotlight: Travis Matthews, '08
Returned Peace Corps volunteer shares his unconventional path of service with Huskies


By Eva Richards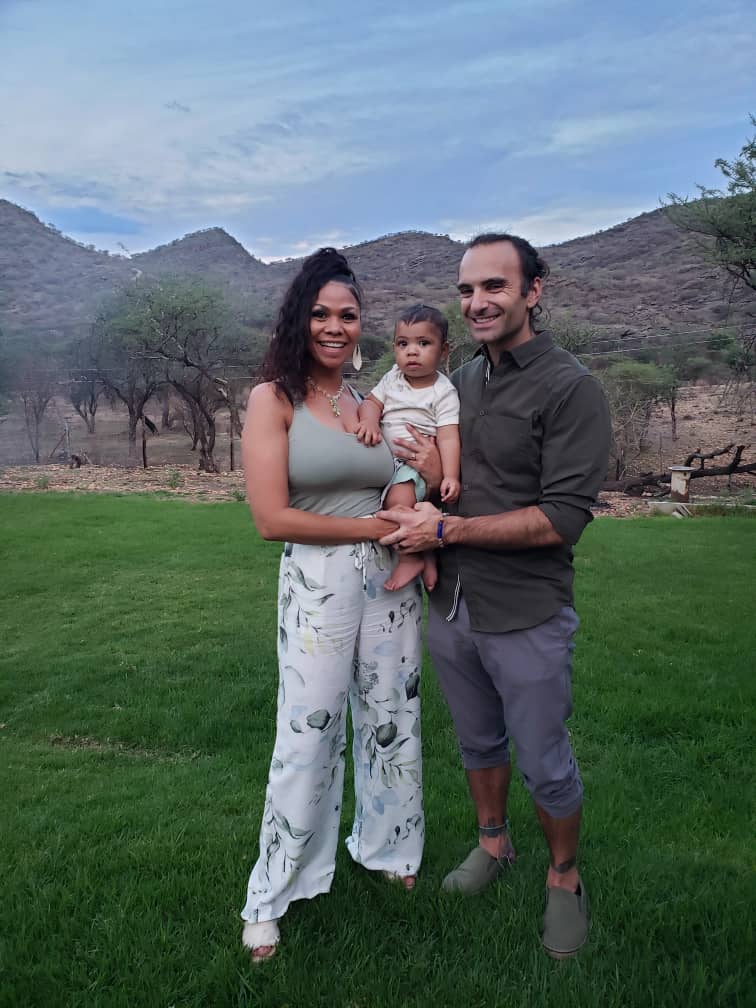 Travis Matthews, '08, has reconnected with NIU through virtual volunteer opportunities. He currently lives in Namibia, after completing the Peace Corps program, with his wife and young son.
When Travis Matthews, '08, applied for the Peace Corps in 2015, he knew he wanted to serve others but could never have imagined how much he would enjoy his new lifestyle.

A few months later, in 2016, he moved to Namibia to serve as a community and economic development (CED) volunteer under the Peace Corps Program.

"Having had roughly 10 years of professional experience prior to my service, I fell in love with a life that was not expecting a raise, a promotion, or a better apartment, job, or situation," Matthews said. "I was just there to serve my community. It is an amazing thing to do something with no expected remuneration in return. Obviously, we all have to earn an income somewhere, but to act without that expectation is a real blessing."

Upon completion of his two-year Peace Corps service in 2018, Matthews moved to the capital city, Windhoek, where he now works for the Namibian Chamber of Commerce and Industry as its development officer for small and medium-sized enterprises.

Matthews grew up in Homewood, Illinois, where he spent his free time acting in community and school theater and skateboarding, but his main passion was running his DJ business.

"I started Oncore Productions DJ service when I was in Grade 10 and ran that business for over 10 years before merging with a much larger company in 2014," he said.

During those years, Matthews found himself on the NIU campus, pursuing a double major in business administration and economics.

"Since my path after graduation has been a little unconventional, I try to find myself in volunteer spaces where I can shed some light on the reality that a career can take many turns," he said. "Therefore, I love engagements with new students, as well as soon-to-be alumni."
Matthews had a well-rounded and comprehensive university experience at NIU.

"I was fortunate to meet the right people early on, and that opened me up to a variety of involvement and leadership opportunities," he said.

During his five years at Northern, he was a community advisor, an open house coordinator, and an orientation leader—all while DJing many campus events, including Homecoming, football tailgates, and NIU's "Welcome Weekend."

"NIU provided me the opportunity to blossom during some critical years in my personal evolution," Matthews said. "I feel I was able to get the absolute maximum fulfillment out of college by attending NIU, and that has led to some pretty substantial doors being opened up after graduation."

Pursuing the Peace Corps after graduation was something Matthews always had in the back of his mind since starting at NIU, but he ended up living in Chicago for seven years, working a variety of jobs before he applied.

"Many volunteers enter Peace Corps right out of university, though it may surprise most that the average age of a Peace Corps volunteer is 28. I was 32," he noted.

Peace Corps was an overwhelmingly positive experience for Matthews, although he admits there were tough, often unexpected challenges. When he completed his service, he wanted to be sure to share his experience and perspective with others considering similar development pursuits.

"I think major transitions in life are incredibly exciting, and, at the same time come with a lot of anxiety, uncertainty, and stress," he said. "I have experienced several of these transitions and have been fortunate to have received love, care, and support, which has allowed me to thrive. Even so, anxiety, stress, and uncertainty have been huge challenges at various times in my life. I find it rewarding and cathartic to share my experiences and resources with others as they embark on their own journeys in life."

From the time he earned his degrees in 2008, to the day he left for Namibia in 2016, Matthews had stayed connected to NIU, mainly through his DJ business. He was fortunate to have a consistent connection to his alma mater when he was living in Chicagoland, and this kept him engaged and brought him back to campus quite often.

Naturally, during the pandemic, it was an easy decision when Matthews saw that NIU was recruiting virtual volunteers. He has continued to give back to NIU, finding ways to virtually connect to current NIU students from his home in Namibia. He has helped students practice their professional writing skills, and he recently spoke with first-year students about making the transition into college life.

In addition to the satisfaction he receives by offering his time as a volunteer, Matthews claims that volunteering at NIU is also great for networking, as it has helped him to stay connected to the community he left six years ago.

"One of the obvious challenges of living overseas is the attempt to stay connected with one's networks, and this is where volunteering with NIU has helped quite a bit," he said. "As I opened up more channels to engage and volunteer, I was then able to bridge some of the gaps that were created by moving to Namibia."