Joan Bottarini, '93, CFO of Hyatt Hotels Shares Wisdom About Hospitality


By Tony Scott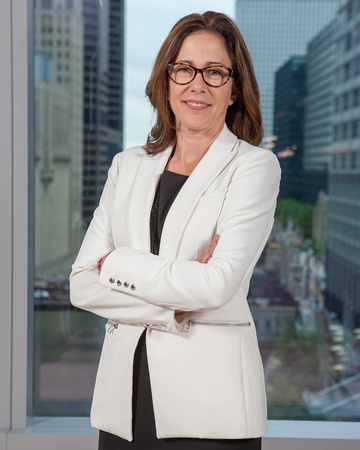 Joan Bottarini, '93, is CFO of Hyatt Hotels
Joan Bottarini, '93, still keeps in touch with the friends she made at NIU and has made connections with other NIU alumni in her capacity as chief financial officer of Hyatt Hotels.

Bottarini, who received a B.S. in accountancy, has been with Hyatt for more than 22 years and was named CFO in 2018. She credits her time at NIU with preparing her for the competitive world of business and hospitality.

"When I was a student in the College of Business, it was intense and rigorous, and I believe it really prepared me and prepared students in general, for general business skills," she said. "Many disciplines are focused in the College of Business and the intention here is to make you well-rounded."

Bottarini and fellow College of Business alumna Donna Collins, '78, recently shared their experience as part of the college's Wednesday Night Wisdom webcast series.

Bottarini recalled how excellent the professors were in the accounting program, including Donald Kieso.

"I had the great fortune of having Don Kieso for my financial accounting class," she said. "He literally wrote the book on financial accounting, and it was a great source of pride. I remember when I took the CPA exam, people from other schools were there and they were walking around with their financial accounting books with Don Kieso on the cover. And I would think, yeah, I learned from that professor."

Bottarini said the College of Business's job placement program helped her land an internship at KPMG, where she worked for five years after graduation. Following some time working for firms on the West Coast, she was hired by Hyatt.

"I go back to the great foundation that NIU provided me, to find my place in my career and my journey and a company that I love," she said. "The hospitality business is about people and relationships."

Bottarini talked about her experience working as Hyatt's vice president of hotel finance at the company's Asia Pacific divisional office in Hong Kong. She lived and worked in Hong Kong for approximately two years, she said.

"It was a very tough decision—my husband and two children and even my dog moved to Hong Kong," she said. "I received great support from the colleagues there because they understood the magnitude of the decision and that it would be a transition for somebody who had never worked outside of the U.S."

She said that, at the time, she had been with the company for 10 years and was confident that she had a lot to offer. However, she found that she had a lot to learn culturally, and it was a humbling experience.

"The leaders there helped me understand how listening was so important and that working in the region, being with different cultures, opened my eyes," she said. 'I really understood that I had to ask and not assume that I knew how to handle certain situations, and that really helped me understand how to solve problems. At Hyatt we're very focused on inclusion of ideas and people—you never know where good ideas are going to come from. And, honestly, that inclusive approach and focus really leads to better outcomes from a business perspective."

Being the CFO, Bottarini said she has the opportunity to work on a variety of initiatives at the company, and collaborate across a number of functions. For example, she said she is a sponsor of the company's environmental, social and governmental initiative.

"We focus on the environment and the social impact we have on our communities," she said. "As a CFO, it's very important that if a company is committed to responsible business that leaders at all levels really show that commitment. This collaborative work that I'm privileged to do across the company really comes from that well-rounded student experience that I had at NIU, something that's important and that I turn to in my career even today."

As the world begins to recover from the COVID-19 pandemic, Bottarini said there is a great demand for travel and for people wanting to gather for business and leisure purposes.

"There's this healthy and everlasting demand for travel, and we have great confidence in the future of travel," she said.

She said there are 1,200 hotels in Hyatt's portfolio and 500 additional hotels in their pipeline to be opened over the next several years.

"This is a testament to the health of the industry and the growth and demand for travel all over the world," she said.