Living the Dream
Chargers Head Coach Brandon Staley and Wife Amy Staley, '07, Bring Huskie Values to Football and Family


By Eva Richards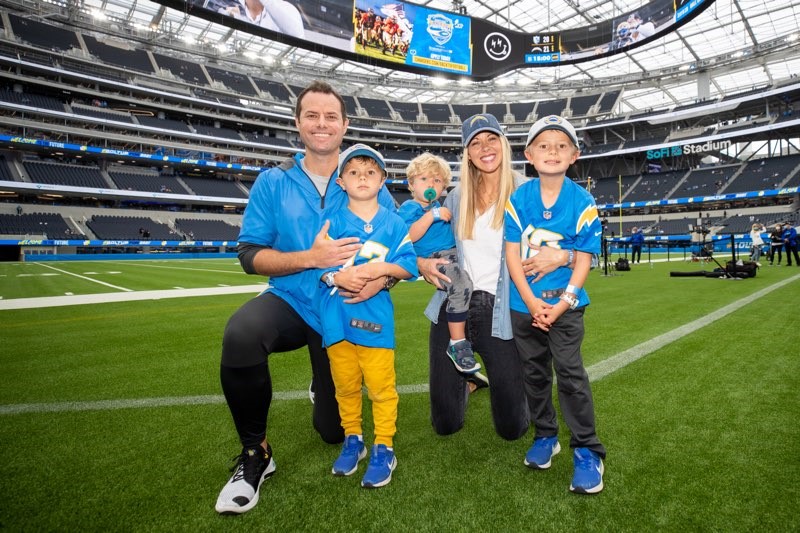 Brandon and Amy Staley, '07, relocated to California when he was hired as the head coach of the L.A. Chargers. (Photo courtesy of L.A. Chargers)
Amy Ward Staley was two months away from earning her education degree when she met her future husband—a graduate assistant coaching for NIU football named Brandon Staley. Even though they were both in their early twenties in 2007, she could tell Brandon was a man with a plan.

"When I met him, he said, 'I'm going to be a coach in the NFL.' And so, I said, 'That's really great,'" Amy recalled with a laugh. "Brandon looked at me and said, 'No, I'm serious, and this is how I am going to do it.' I could see that he had the ambitions, brains and work ethic to see it through. He has an undeniable will. These were things I had never witnessed before, so I was drawn to that instantly."

Fast-forward 15 years later, and Brandon is now the head coach of the L.A. Chargers, having fulfilled a lifelong goal when he got the job in 2021. He and Amy have been married for 11 years, and they are proud parents of three sons—Collin, 7, Will, 5 and Grant, 2.

However, the only thing about the Staleys' story that has hinged on luck has been their chance meeting and connection while Amy worked in the student recreation center on campus. After that, their shared journey of calculated risks and big plans has only been possible through diligence, determination and mutual ideals.

"I didn't know it would happen this quickly. It's pretty non-traditional to become head coach in five years," Brandon said. "But I think the people that were with me at NIU and earlier in my life believed I would get here eventually."

It's no secret why the pair made an instant connection. Both had had grown up in the Midwest—Amy in Sycamore, Illinois, just across town from the NIU campus, and Brandon in Madison, Ohio, 35 miles northeast of Cleveland. Both mothers were educators, instilling in their children the importance of prioritizing school. But, truly, sports were their passion.
We have brought our core values with us. I solidified those at NIU. When we moved outside NIU, I think I was secure with who I was, proud of my Midwest values, and loved that I could get along with different people. That has helped us as we tried to raise resilient kids in new places.
-- Amy Staley, '07

"My mom was a PE teacher, so I was trying as many things as I could—camps, soccer, softball and volleyball. In 6th grade, I began playing travel and club volleyball." Amy said. "But growing up where I did, I was also picking and selling sweet corn each summer for my high school volleyball coach, whose husband owned land in the Kirkland area. The other girls and I would drive trucks to the corn stand and sell the corn."

Like Amy, Brandon was "all sports and all school all the time," working hard alongside his twin brother and best friend Jason.

"I was involved in all the sports you can think of," Brandon said. "My first love was basketball. But growing up, I did all the sports, including tennis, swimming, basketball, football and soccer."

"I have extended family on both sides in the Sycamore-DeKalb area," Amy said. "Back then, we used to joke that you couldn't go to Rosita's on a Friday night without saying goodbye to 10 tables. I knew and was related to so many people there. I was committed to being a ball girl for NIU volleyball games, events and NIU camps. It was everything I had ever imagined, so it just felt right. I loved that my family was close by and could be at the games."

In high school, Amy lived the "club volleyball life," and those years were geared toward landing opportunities to play in college. She willingly spent 10 months a year playing volleyball, working to be a good student, and participating in extracurricular clubs—all with the main goal of getting a full-ride scholarship. When she graduated high school in December of her senior year, Amy began spring training with the NIU volleyball team, as a way to prepare for playing on the varsity team her freshman year in the fall.

Meanwhile, Brandon, who was most devoted to basketball in high school, decided to pursue football in college, playing as the quarterback for the University of Dayton. Because he had red-shirted his freshman year there, after earning his degree in journalism from Dayton, he went to play for Mercyhurst College, where Jason was finishing his degree.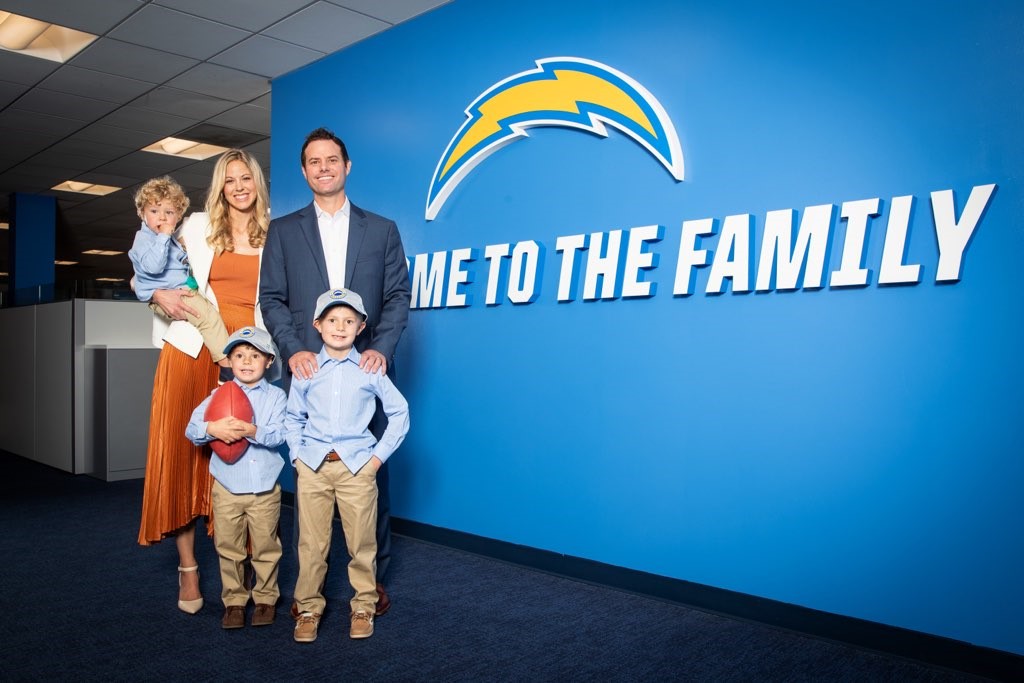 "We played together for one season. It was as chance for my brother and I to reconnect. The stars aligned and we were able to make some memories and make up for lost time. I was meeting guys that would be my groomsmen. My former coach is now my offensive coordinator, Joe Lombardi. It was a wonderful year."

Next, Brandon headed to NIU in DeKalb, where he earned priceless football coaching experience under then-Head Coach Joe Novak.

"My coaching career started at NIU in 2006, and we ended up going to the Poinsettia Bowl. It was a really memorable experience," he said.

Amy, who had sustained a bilateral foot injury, could not continue playing volleyball. While she turned her focus to her teaching studies, she also helped the NIU Athletic Department by staffing the front desk of the newly opened Yordon Center, which is where she first spotted Brandon.

"I knew everybody on campus and in the area, so when I first saw Brandon, I had no idea who he was, and I was intrigued," Amy said, adding that she remembered waiting on him, as a server at Fatty's, the summer before they started dating.

At that time, however, Brandon was facing a new opponent that required much of his time and energy. At only 24, he had just been diagnosed with Hodgkins Lymphoma.

"When I would see him in the Yordon Center, he would have his head down and go straight upstairs. He was clearly in his own world," Amy remembered. "I didn't know it at the time, but he was coming back from radiation treatments, which he underwent Monday through Friday each morning in Chicago. For three straight semesters, he endured biopsies, chemotherapy or radiation treatments."

Finally, when a group of athletics graduate assistants went out to a bar one night, Amy and Brandon began to talk.

"That kind of sealed the deal," Brandon said. "It's one of those things I know neither of us was expecting or looking for at the time, but I tell people, when I got past my cancer treatments, I really felt like I was on a mission to get back to my best self. I made a lot of changes to make that happen—physically, mentally and emotionally. I wanted to make sure I was back. I really feel like I was me, all the way, and that's when this wonderful thing happened."

Brandon credits Coach Joe Novak for helping shape his coaching career, and the few years on campus proved to be very important to his professional journey. In 2010 and 2011, Staley went on to serve as the associate head coach and defensive coordinator at Hutchinson Community College, and then spent the 2012 season at Tennessee as a graduate assistant. Next, he worked as the defensive coordinator/secondary coach at John Carroll University and as the defensive coordinator/linebackers coach at James Madison University.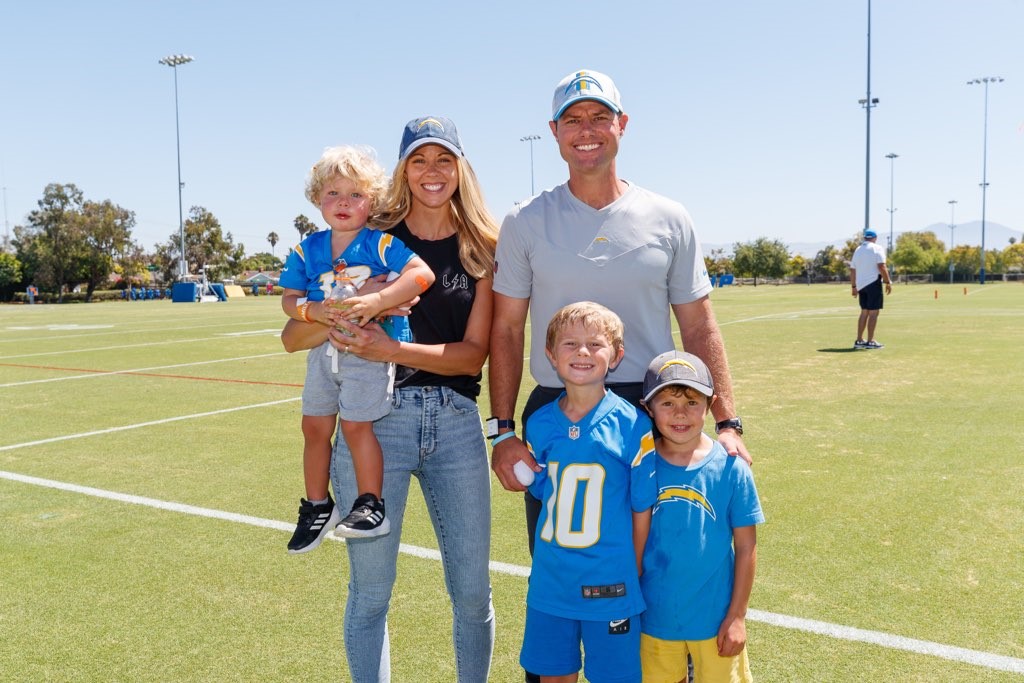 At this point, Brandon's track record had proven he was ready for the NFL. In 2017, Staley was hired by the Chicago Bears as their outside linebackers coach before moving to the Denver Broncos in 2019, as their outside linebacker coach. In 2020, Staley was hired by the Los Angeles Rams as their defensive coordinator. In his only year as coordinator in 2020, Staley helped guide the Rams defense to a league-best performance in points and total yards allowed, positioning himself as an attractive head coaching candidate in the league.

"(Moving around the country) has made it challenging, but it has enriched my experience," said Amy, who taught elementary school for seven years in northern Illinois, rural Kansas, Knoxville, Tennessee, Ohio, and Palm Beach County, before having children. "In seven years, I worked in six districts. It's one of the hallmarks of college coaches. They usually marry teachers and nurses because they can get a job anywhere."

Of course, there have been sacrifices. Along the way, Amy earned her graduate degree in reading from John Carroll University, and when she was hired on as an instructor there, the NFL called for Brandon, and she had to turn the position down, knowing there would be more opportunities to come. Now, as a stay-at-home mom, Amy also advocates for literacy in the community—a cause that is close to her heart.

"It's been a huge blessing," Amy said, noting that Brandon's role as a public figure has allowed her to have influence in areas that are important to her. "Here at the Chargers, we are able to advocate for two initiatives that are so important to our family—cancer research and support and literacy. I collaborate with communities here, reading at schools, giving books to classrooms, and providing reading opportunities."

Being a football family has provided its share of logistical challenges, but the Staleys have managed these stresses by remembering their priorities.

"When I was at NIU, it was great opportunity for me to discover who they are, and that I was really rooted in family," Amy said. "Now, we are part of a heartwarming community, with good people, and we have brought our core values with us. I solidified those at NIU. When we moved outside NIU, I think I was secure with who I was, proud of my Midwest values, and loved that I could get along with different people. That helped our kids to be resilient in new places. Our kids have lived in five states, and they jump right in, wherever we go. We have really worked hard to show them the benefit of being brave and daring."

While Brandon's role as head coach often pulls him away from home, Amy's sole focus remains on their kids.

"I don't travel with the team, and I really limit the amount of times I have to get on a plane for business. We don't have a nanny or any family here, so it is all me with the kids. That frees Brandon up to do his job. When we do get the time together, we make the most of it."

Living out their principles leaves room for the Staleys to make new goals.

"I am really focused on bringing this team to a Super Bowl championship," Brandon said. "When they offered me the job, they were not just picking me, they were picking our family. So, it's important to Amy and me that we become Super Bowl champions. We know we are going for a Super Bowl championship because that's how you're judged."

Even today, in California, Brandon says he cannot go anywhere without meeting someone from NIU, and that Huskie grit has remained with Brandon and Amy in all their travels so far.

"My goal was always to be here, and I invested everything in order for it to happen," Brandon said. "I was so happy to meet Amy. She supported the vision I had in my career, and I credit the strength of my marriage, of our relationship before all this NFL stuff happened. It's been a long journey to get here. We don't forget it."