Huskies United Poised to Raise Funds, Change Students' Lives Through Programs and Centers
By Eva Richards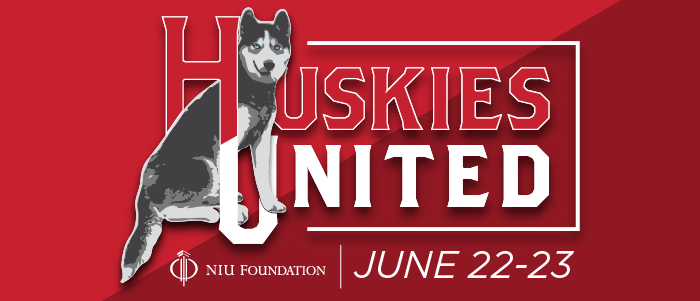 Huskies, come on, you Huskies!

We are counting on our community, once again, to come together to make a difference during this year's Huskies United day of giving, which begins the afternoon of Wednesday, June 22, and run until 11:59 p.m. on Thursday, June 23. Traditionally, this is a day when NIU alumni, staff, faculty, and friends come together to show their support for the next generation of Huskies.

Over these 1,895 minutes, the Huskie Nation will have the opportunity to unite around the mission, vision and values of Northern Illinois University through this event.

The lifeblood of Northern Illinois University is in its community and inclusivity. With that in mind, Huskies United will have a special emphasis on funding the programs, centers and campus partners that support our students and faculty. These areas allow Huskies to find their niche on campus, forming bonds and continuing education outside of the classroom.

To up the ante, there will be plenty of encouraging challenges during the giving event, which will unlock special gifts and amplify impact when certain milestones are achieved. For instance, Dan, '87, and Diane Calkins have announced the Calkins Huskies United Northern Fund Challenge, which will unlock a $20,000 gift into the Northern Fund's totals when 200 gifts are made to the Northern Fund. We look forward to announcing more exciting challenges as the day of giving approaches!

Together, we can make an enormous difference, and we only need to look at last year's results to understand our power. When all was said and done, the NIU family came together and donated over $1 million through Huskies United in 2021. That total exceeded expectations and doubled the year prior's Huskies United total, when just over $496,000 was raised. Will we double the total again?

The Huskie Pride felt in our community is strong, and it can work wonders. Let us come together once again to move our beloved University into an even brighter future!

Forward, together forward
There's victory in view
Come on you Huskies, Fight on you Huskies
And win for NIU!

For more information on Huskies United, please visit the website: https://dog.niu.edu.
To sign up to become a Huskies United ambassador, please visit this website: https://dog.niu.edu/giving-day/56762/signup.
If you have questions about becoming an ambassador, please contact Liz McKee, M.S.Ed. '14, at Lmckee@niu.edu.