Huskies Unite to Support Immediate Aid for Undocumented Students


By Tony Scott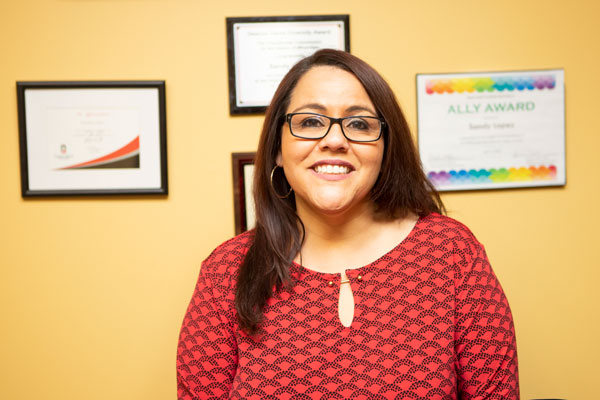 Sandy López, '91, M.S.Ed '02, serves as director of the Office of Undocumented Student Support
Students have told Sandy López, '91, M.S.Ed. '02, director of the Office of Undocumented Student Support, that among the myriad of services and programming the office provides, perhaps the most powerful thing is hope.

"One student said, 'You've given me hope, and I haven't had that for so long,'" she recalled. "I don't promise students that everything's going to be OK. We don't know what's coming. But I can tell them that we're going to work really hard to be there for you, so you don't have to do this heavy lifting that the undocumented students had to do before my office was established. To give students hope is one of the best things we can give them. Because so many have lost that hope."

Donors can help provide that hope by giving to the Immediate Assistance Fund for Undocumented Students, which helps pay for students' emergency needs such as car repair, rental assistance, or a DACA (Deferred Action for Childhood Arrivals) renewal fee, or to help pay legal fees, during the Huskies United day of giving June 22-23.

The Immediate Assistance Fund is in addition to other aid offered to undocumented students through the Office of Undocumented Student Support, which includes the Promise Fund and the Dream Scholarship Fund.

There are also students who are eligible for the Huskie Pledge and merit funding, but not everyone qualifies - Huskie Pledge funding is for incoming freshmen, and many students who use the office's services are transfer students, López said. There are also state programs, such as the Retention of Illinois Students & Equity (RISE) Act and the Alternative Application for Illinois Financial Aid, that some students may qualify for and others may not.

"There are layers of need within the student population I work with," she said. "I have to ask them, 'Do you have DACA? Do you qualify for the RISE Act? Are you a freshman or a transfer student?' And depending on their situation, they may have very little aid coming."

López explained that the Immediate Assistance Fund gives a different kind of aid than a scholarship. Sometimes, for example, a student may owe expenses on top of tuition so while a scholarship may pay for tuition, other needs may not be met.

López said undocumented students who use the Immediate Assistance Fund come from all walks of life and are studying a variety of majors.

"I have students from all the different majors, so many different ethnicities, identities, and so if there is an affinity you have, chances are they're going to come through my office," she explained.

López grew up in a family of five children in the south Chicago suburbs. Her father is an immigrant, and her mother is from a Texas border town. Along with López, her husband is also an alumnus of NIU, and her daughter will be attending NIU in the fall. López was the first in her family to go to college.

"I didn't know what I didn't know," she said.

López had a friend whose mother knew about filling out the FAFSA, or Free Application for Federal Student Aid, so she could get money for college.

"She taught me how to fill it out and she told me, 'You hold on to that for the next four years,' and it was like my Bible, and that got me through school," López said. "That and applying for every scholarship under the sun that said Latina, Mexicana, teacher, what have you, that's how I did it."

In the days before Google, López would spend hours pouring over a scholarship book to find ways to pay for college.

"I know the importance of having scholarships when you are the first in your family to go to college, when you are from a low-income family," she said. "My parents never helped me pay for college. As a matter of fact, sometimes when I had money left over, I was helping them pay for some bills, or sometimes during my breaks I'd work to support my family."

Between her scholarships and a job as a dorm advisor that paid for her room and board, she left NIU with zero debt.

"That's the importance of scholarships, and people donating and giving, to let our students have a rest," she said. "These students have worked so hard; let's ease their load a little bit and let them enjoy being Huskies."

One of the reasons López is so passionate about immigration, and why she began her work for undocumented students, is because she is from a mixed immigration status family.

"My father was a legal permanent U.S. resident and when we went to renew his green card, they treated us inhumanely, and I thought, never again, I'm not going to stand on the sidelines," López said. "And that's when I started working with and for undocumented students."

After a career working as a teacher for the deaf, then taking a job in information technology, López joined the Center for Latino and Latin American Studies in 2010. She was initially hired in 2018 as a coordinator and is now director of the Office of Undocumented Student Support.

"It is an office that only exists because of the advocacy of the undocumented students and their allies," she said. "And because of them and with them and for them, I have a job that I love."

López said she would like people to understand that not all students who use the office's services come from Mexico or are Latino, Latina, or Latinx dentifying.

"It's so important that people understand that not every undocumented student who comes through our office is a Latino, Latina or Latinx-identifying person," she explained. "We are serving more than 20 countries beyond Mexico."

She also wants people to know that many of the students the office serves do not have DACA. The federal program allows some undocumented immigrants protection from deportation if they came to the U.S. as a child, along with a work permit.

"More than half of my student population no longer has that protection from deportation or work authorization," she said. "So now more than ever I'm seeing the need for assistance from students who can't have a good paying job because they don't have that work authorization. So oftentimes they're working for cash, and those are the most vulnerable and get exploited. We have people who work for $3 an hour because their bosses can pay them that little."

López shared a note from an undocumented student who uses her office's services and would like people to donate during Huskies United. The student wrote that NIU alumni who received scholarships understand the financial pressure to pay for college.

"They know what type of expenses, on top of tuition, are required each semester because they have gone through it," the student wrote. "Some of these expenses include living expenses, transportation, food and clothing. Although all Huskies need to pay for these, undocumented students also have a financial pressure to help out at home with bills or their parents' rent or mortgage. Little money is left after these expenses are met; therefore they require the most financial assistance."

Additionally, the student wrote, not every undocumented Huskie qualifies for alternative state funding.

"Undocumented students at NIU are bright students who value education and studying to be the next engineers, doctors, lawyers, teachers and so forth," the student wrote. "Consider donating, because money should not be an excuse to not let these students cross the graduation stage."

For more information on Huskies United, please visit the website: https://dog.niu.edu.
To sign up to become a Huskies United ambassador, please visit this website: https://dog.niu.edu/giving-day/56762/signup.
If you have questions about becoming an ambassador, please contact Liz McKee, M.S.Ed. '14, at Lmckee@niu.edu.