Nestlé's Jasmin Nava, '17, M.B.A. '21, Brings Entrepreneurial Mindset to NIUAA Board


By Eva Richards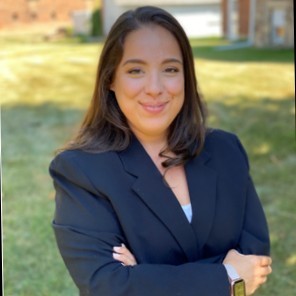 Jasmin Nava, B.F.A. '17, M.B.A. '21, joined the NIU Alumni Association Board of Directors in July 2022.
As an undergraduate student at NIU, Jasmin Nava changed her major several times, as she began to understand her passions and strengths.

"I realized I could be an independent and entrepreneurial artist while also thriving as a businesswoman in a corporate environment," she said. "I would not have realized I was capable of both qualities without trying different majors and honing in on my specific capabilities."

After earning her B.F.A. in 2-D fine arts with an emphasis in printmaking, she went on to earn her M.B.A. from NIU's College of Business last year.

"As an independent artist and a businesswoman working in a corporate setting, the highlights of both careers are the connections I have made locally and globally. I have comrades across the world, and this networking has provided me multiple opportunities that challenge me and help me grow professionally," she said.

While also pursuing her art, today, she works as a load compliance coordinator for Nestlé Premium Waters (NPW).

"My favorite part is that there is never a dull day!" Nava said. "My workdays are filled with collaborating with international business partners and finding solutions for maintaining and improving the business. Nestlé Premium Waters is a year-old venture and requires international imports, so in today's current climate, it is interesting to see how local government and supply can impact the business."

Growing up in the Chicago suburbs, Nava has many interests, including sports and the arts. When it came time to plan for college, she was planning to leave the state but had second thoughts when she visited DeKalb.

"After I had done a campus tour of NIU, I realized I enjoyed the atmosphere and quality of education, in comparison to other establishments I was considering," she said.

She enrolled in 2013 and never looked back.

"I have had many amazing experiences with my time at NIU," Nava said. "The best experience has been the continued experiences I have with my alma mater and the effort they make to keep alumni engaged and connected. I am often chatting with my graduating classes about the next NIU event we are coordinating, and I hold this camaraderie dear to my heart."

As a member of the NIU Alumni Association's Board of Directors, Nava hopes to give back to her community and engage with other NIU alumni and future students.

"I owe much of my professional development to NIU, and I am proud of having graduated from this institution," she said. "Personally, as an engaged alumna, I take pride within my accomplishments, recognizing who helped me along the way, and now giving back to my alma mater by supporting students who are in a position I was once in."

In addition, Nava believes serving on the board will allow her to develop new skills, as well as build on existing experience and knowledge.

"NIU has taught me valuable lessons in many areas of my life, including how I conduct myself in my personal life, career and relationships," she said. "While at NIU, studying in the arts, I learned how important engagement with communities was and the value in networking and creating friendships along the way. The NIU College of Business taught me to always think with an entrepreneurial mindset by being forward-thinking, solution-oriented, and to lead with compassion.

"This is what makes Huskies special. Huskies confront obstacles with compassion and a forward-thinking mindset, and these qualities are timeless in any professional or personal setting."