Middle School Teacher Rebecca Perry, '10, Earns Golden Apple Award


By Tony Scott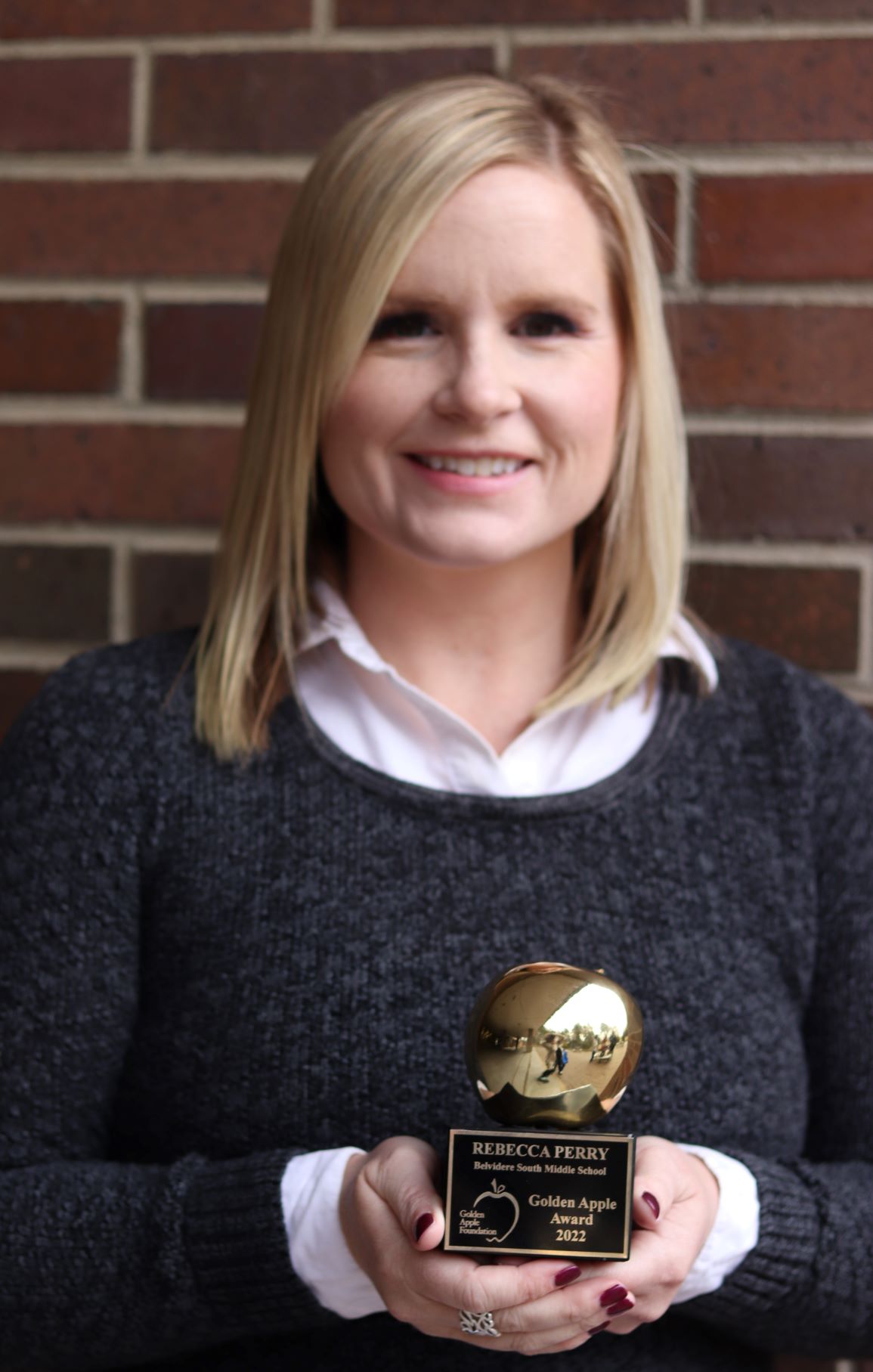 Rebecca Perry, '10, recently earned a Golden Apple Award for her teaching skills at Belvidere South Middle School in Belvidere, Ill..
Rebecca (White) Perry, '10, grew up having education as a priority, and it shows as she is among a group of five Rockford-area teachers who recently received a Golden Apple Award.

Awarded by the Rockford-based Golden Apple Foundation every year since 1997, the award recognizes teachers for making a difference in their communities through their commitment to educational excellence. As part of the award process, 20 semi-finalists, including Perry, participated in a rigorous selection process that included classroom observations by trained Golden Apple community volunteers and a final interview by teams of Golden Apple Foundation volunteers.

Perry, a science teacher at Belvidere South Middle School in Belvidere, Ill., wanted to be a teacher at an early age growing up in Caledonia, Ill.

"Education was always a priority- it was never not an option to go to college," she said. "I always wanted to be a teacher. I had a classroom setup in my basement with a chalkboard and desks where I played school with my cousins."

In addition to earning a Bachelor of Science degree in biological sciences from NIU, Perry earned a master's degree in curriculum and instruction from National Louis University in 2014 and a master's degree in principal preparation from Concordia University in 2021.

"I attended Rock Valley College for my first two years of college and transferred to NIU for my remaining two years," she said. "I was still coaching tumbling at a local gymnastics gym, so I liked the convenience of traveling home on the weekends to still work."

Perry said she lived off campus during her time at NIU and regrets not being more engaged in campus life. She recommends students be active in campus organizations.

"I was very focused on my science labs and getting home on the weekends to coach," she said. "I always tell my students they need to join clubs in college and attend different games."

Perry counts Jon S. Miller and Judy Boisen as mentors at NIU.

"I had wonderful mentors during my time in the teaching program," she said. "Dr. Miller and Dr. Boisen from the Biological Sciences Secondary Teaching Program did an excellent job providing us with a variety of scenarios and feedback to help launch our teaching careers."

Perry said her assistant principal and principal at her school have also provided crucial support, as have other administrators and fellow teachers.

"My current assistant principal, Mrs. Colson, has been with me since my very first day of teaching as a staff developer and continued to have an impact in my career as she has been my administrator the last seven years," Perry said. "I appreciate that she has been a consistent person throughout my career that has helped support me both professionally and personally. My current building principal, Mr. Commare, has also served as my mentor during my Principal Preparation Program, and has encouraged and supported my professional goals since the first day he hired me."

She added, "It is very powerful to have someone ask you, 'What are your goals and what support do you need to achieve them?' I know both of them will always be there to help with anything I need."

Being a recipient of a Golden Apple Award was an honor, she said.

"Both my students and I were completely surprised when more than 20 people barged into the classroom to present me with the award," she said. "I teach five sections of science, so the other four classes were disappointed they did not get to see me receive the award, especially the classes that were involved in the observations. It was sweet to see how much the award meant to my students."

Perry said there are both challenges and rewards to being an educator today.

"Let's start with the rewarding part of teaching- the students," she said. "You develop great relationships with students that make it fun to come to work each day and see them grow. There is nothing better than seeing a student grow academically, socially, and/or emotionally in front of you."

She continued, "That being said, teaching can be incredibly challenging to balance it all especially with limited times and resources. As a middle school teacher, I have 150 students that all have a variety of needs. Since the pandemic, the academic gaps have grown and there are more students that need behavioral and emotional support. It is important to lean on your teaching team to work together to ensure all students are receiving the support they need."

As for her advice for new teachers, Perry said to be kind to yourself and focus on the good in each student and each day.

"Teaching can be incredibly isolating even though you are surrounded by students all day," she said. "Find your teaching community to help support you. There is never enough time in the day, so give yourself grace to prioritize. You have to take care of yourself to be able to take care of your students."