Second Annual NIU Homecoming Brunch
Saturday, Oct. 8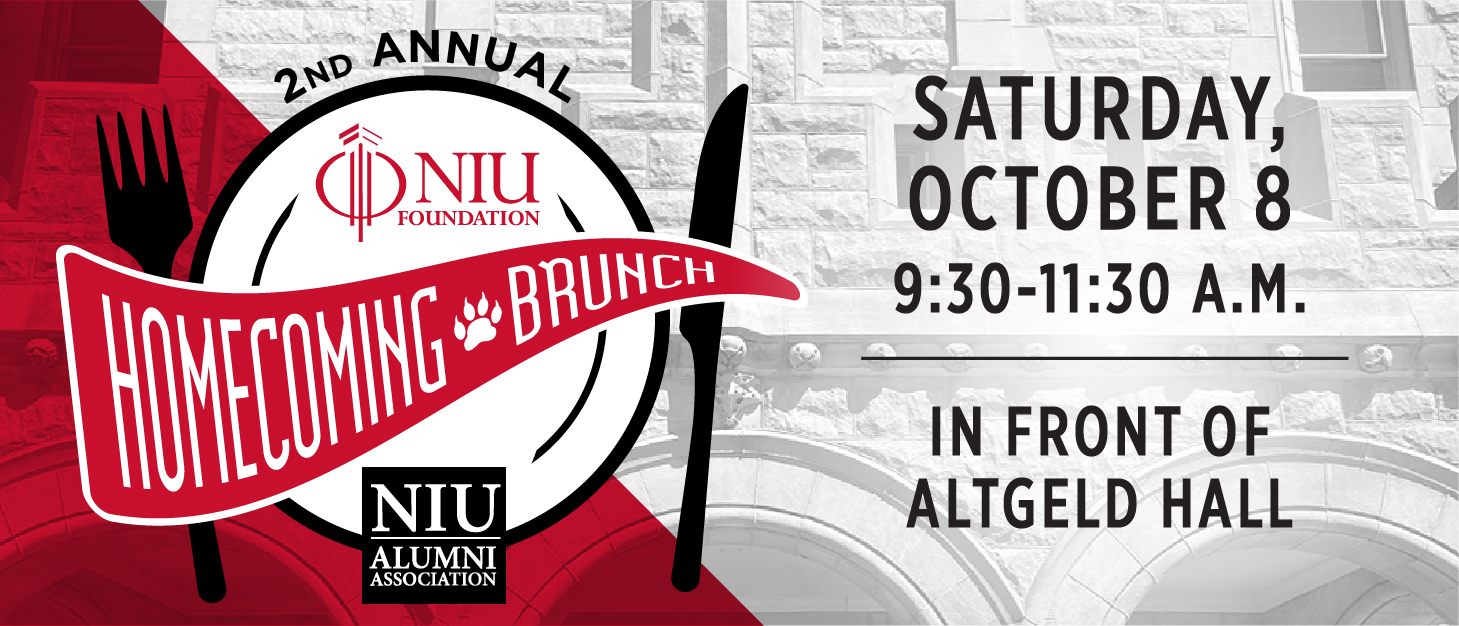 Who wants a second helping?

The Second Annual NIU Homecoming Brunch, hosted by the NIU Alumni Association and NIU Foundation, will take place from 9:30-11:30 a.m. on Saturday. Oct. 8 in front of NIU's historic and picturesque Altgeld Hall on College Avenue.

The brunch will take place outdoors under a tent, so please dress accordingly. There will be plenty of opportunities to take pictures with our favorite mascot, Mission II, as well!

Each registration includes a full buffet of scrambled eggs, hashbrown casserole, bacon, fresh fruit, biscuits and gravy, assorted pastries, coffee and juice. With their tickets, guests who are over 21 years old will receive one ticket for a Dawgma beer from Pollyanna Brewing & Distilling or a bloody mary featuring Blue Ice Handcrafted Vodka with their tickets. Additional bar beverage tickets will be available for purchase for $5.

Parking is available in the lot on the north side of the lagoon, as well as in the art building parking lot, which are both located off of College Ave.

Golf carts will be running throughout the brunch to bring guests to Mission's Grove.

Questions? Please contact Dana King, '05, at dking1@niu.edu or 815-753-5421.

All sales are final. No refunds will be given.

Event Details
COST:
Adults: $20 ($25 at the door)
Kids (4-17): $10 ($15 at the door)

When:
9:30AM - 11:30AM Sat 8 Oct 2022, Central timezone

Where:
Altgeld Hall
Castle Drive and College Avenue
DeKalb, IL 60115
[ Get Directions ]
RSVP Today!
The NIU Foundation follows the protocols and guidelines established by NIU regarding how to navigate the COVID-19 pandemic, which is based on the recommendations from the Centers for Disease Control and Prevention (CDC) and local public health organizations. NIU's protocols and guidelines are located at: www.niu.edu/protecting-the-pack.

The NIU Foundation and NIU Alumni Association recognize that the pandemic is, and will continue to be, a fluid situation and will abide by whatever mandates and guidelines that have been established at the local and state level.

We deeply respect and greatly appreciate our donors, alumni, community and friends. As we move forward – together – the NIU Foundation and NIU Alumni Association are committed to following the above guidance and making every effort to reduce any threat to everyone's safety, health and well-being.

We hope that you will decide to join us at an upcoming event and we look forward to seeing you.

Hand sanitizer and disposable masks will be available at our events. We encourage you to consider your health and personal well-being when deciding whether to attend.

Be well, and stay safe.