Nigerian-born Helen Asimegbe, M.B.A. '22, Works to End Hunger and Create Jobs Through Foundation


By Eva Richards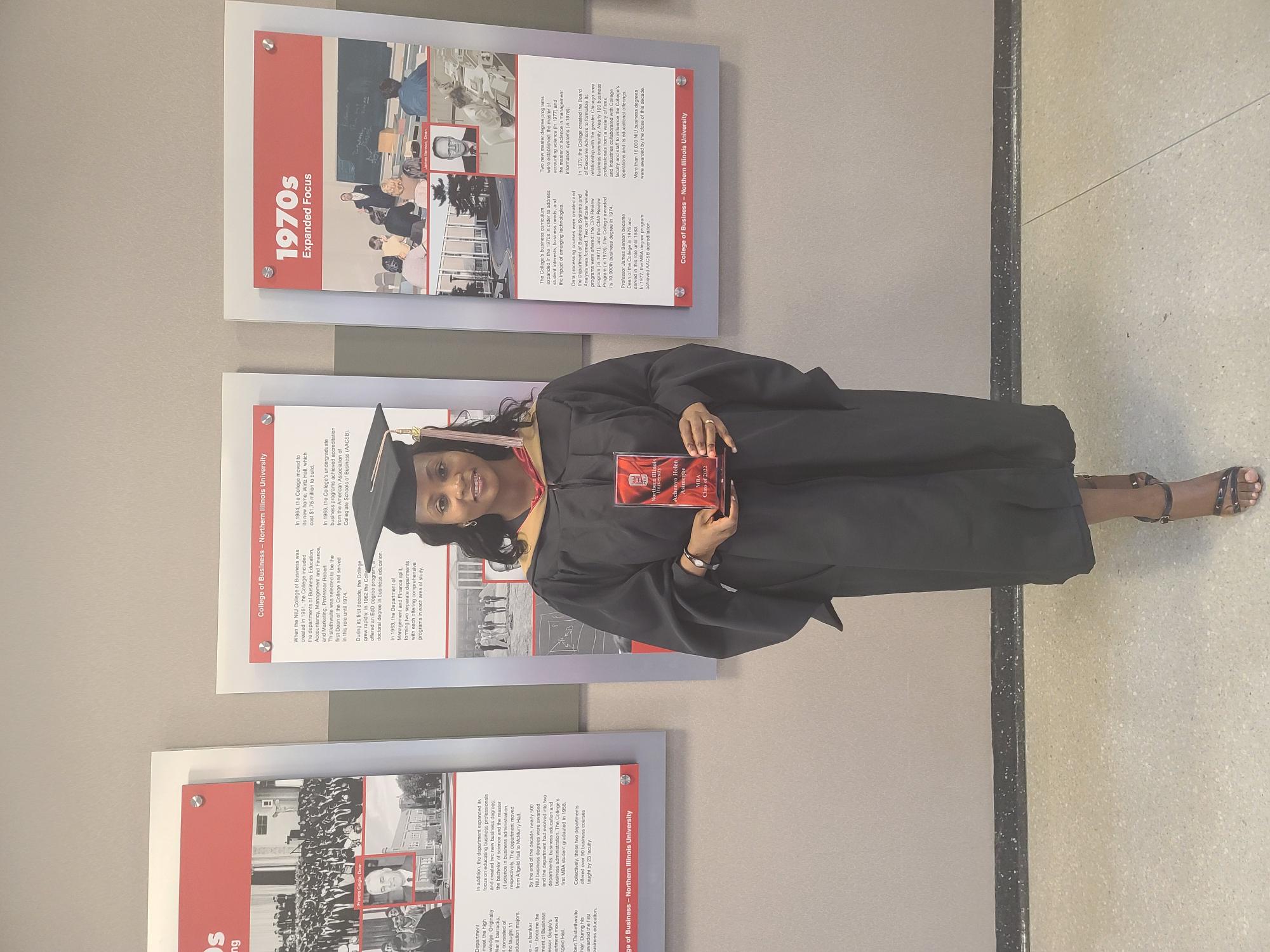 Helen Asimegbe earned her M.B.A. from NIU in 2022.
Growing up in Lagos State, Nigeria, Helen Asimegbe, M.B.A. '22, has always thought globally.

Even at an early age, she felt called to pursue her passions for helping others—advocating for two of the UN's Sustainable Development Goals—providing decent work and economic growth for Nigerians, as well as working to end hunger.

After earning her bachelor's degree in business administration from Kogi State University in Kogi, Nigeria, she went on to work for five years as a manager in the banking industry in Minna, Nigeria.

At that point, her passion to helping Nigerians to start businesses of their own, as well as helping to end hunger, inspired her to step away from her corporate role and begin a new journey—founding her own business before she turned 30.

"I was committed and passionate about setting up my own business and being that go-to person for people who desire to launch a business," she said. "They need a mentor or someone to be a guide. I am happy about my accomplishments and just looking at how far I have come, it only gets better from here."

Since 2014, Asimegbe has dedicated her life to supporting over 3,000 growing businesses in her home country, offering mentorship and actively providing market access for their businesses, which has helped reduce the problem of unemployment. She has also been a volunteer for Cheri Blair Foundation for women in business, the United Nations Youth Investment Readiness Program, The Tony Elumelu Foundation, and much more.

To help her reach her goals, Asimegbe pursued weighty credentials. She has earned certificates of entrepreneurial management and start-up finance from University of London and London Business School, as well as a fashion innovation certificate from the University of Leeds and a nonprofit management certificate from Pan-Atlantic University. Asimegbe earned her M.B.A. National Open University of Nigeria in 2017—the same year she founded the Helen Asimegbe Foundation, which is a nonprofit enterprise that gives voice to the voiceless in society and cares for underprivileged people.

"Working as a humanitarian aid worker is one of the most fulfilling projects I have ever undertaken," she said. "Being good and a blessing to many who may never be able to repay you is fulfilling. My team and I, with other non-governmental organizations, hospitals, and private businesses, have had over 50 intervention projects. These have all been geared toward improving the livelihood and wellness of people who have suffered from insurgencies, have been internally displaced and are forced to flee their homes and live in camps for internally displaced people in Abuja, Nigeria."

In 2021, she decided to pursue a business administration degree in the United States with NIU's Global M.B.A. program.
"I had a clear goal of getting enrolled in graduate school to be able to earn an M.B.A. degree," Asimegbe said. "I began my research for universities, and Northern Illinois University stood out for me amongst all others. I particularly liked the robust curriculum for the Global M.B.A. program, and the faculty, seasoned professors, and the best in their fields of endeavor."

"I have gained so much knowledge, experience and diverse skills over the years," she said. "I am a young African changemaker who is intentional about daily living out my purpose here on earth. All my life I have dreamt of being very successful in my endeavors, and I have constantly achieved every goal I have. Someday, I hope to place the icing on the cake by earning a Doctor of Business Administration degree."

Asimegbe's experience at NIU was very positive, and she is thrilled to bring back all she has learned to her foundation and the companies she mentors.

"NIU's M.B.A. program offers a very robust learning opportunity, and all its faculty members are experienced and the best. NIU is my biggest blessing. Studying at NIU changed my career life and my perspective of global business," she said.

Many NIU professors impacted Asimegbe's life. She lists Anthony Preston, Mark Groza, Amanda Ferguson, Eunha Myung, Ramona Ruiz, Burim Ramadani and Timothy Dimond as having made a personal difference in her path forward.

"It's hard to ever be able to forget these people," she said. "They helped me bring my authentic self to class and work and were available anytime I needed support," she said. "I had several opportunities to work in teams, carry out presentations and learn a lot about new areas of international business. I would say NIU is the best thing that could happen to anyone who is on a journey to achieving greatness and developing oneself."
Asimegbe notes that NIU is the best place to pursue an academic goals and aspirations.

"I have never witnessed an entire system that stands so strong in support for you," she said. "The University has experienced and seasoned professors who are excellent at what they do. You just never remain the same once you take a class at NIU."